150 Life-Transforming Letters by Osho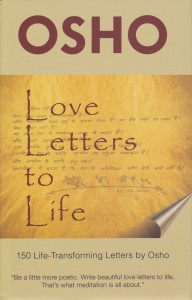 "Be a little more poetic. Write beautiful love letters to life. That's what meditation is all about." Osho
Each one of these 150 letters is a personal message by Osho, written to someone directly by him. The letters are encouraging statements and responses to people, supporting their process of meditation and inner discovery.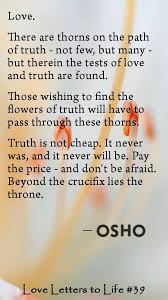 Love.
"Live each moment. Whatever task comes your way, do it. Do not leave anything for tomorrow. The habit of postponement is suicidal.
Where is tomorrow anyway? What is, is today. What is, is now. This has to be lived. The moment has to be lived.
Only the moment is real. He who becomes capable of living the moment, reaches the eternal. The lived moment becomes eternal. Unlived, even eternity is nothing but momentary." Osho
150 Life Transforming Letters by Osho
'Love Letters to life' bevat 150 brieven vol transformatie-hints van Osho. "Be a little more poetic. Write beautiful love letters to life. That's what meditation is all about." In veel boeken staan beschrijvingen die pure proza betreffen. Osho's woorden spreken tot het hart en zijn vaak poëtisch. Uit dit recente boek dat nog maar kort geleden uit 't
Hindi vertaald is, blijkt deze poëtische benadering nog eens extra. Niet alleen worden de poëtisch geformuleerde brieven van Osho gepresenteerd. Maar hij moedigt ons ook aan om zelf meer poëtisch in het leven te staan.
Deze kwaliteit kunnen we aanwakkeren door liefdesbrieven aan het Bestaan te schrijven. Het geeft een veel grotere vrijheid dan dat normaal bij liefdesbrieven gebeurt, aangezien het Bestaan geen
verwachtingen ten aanzien van ons heeft. Osho's eigen brieven vormen een welkom support voor ons meditatieproces en de verdere ontdekking van het innerlijk.
Het boek 'Love Letters to Life' is verkrijgbaar bij de Boekhandel.
Impressie van het boek 'Love Letters to Life'
Zo schrijft Osho aan een briefschrijver: 'Het verlangen en de dorst naar waarheid die je hebt zijn een zeldzame zegening. Als die aanwezig is, dan zal op een dag je sprong i
n de oceaan van meditatie
absoluut gebeuren. Ik zie je daar precies op de oever staan – een eenvoudige sprong is alles wat nodig is.'
Er wordt dan ook gezegd dat dit geen brieven zijn aan mensen en hun persoonlijkheid, maar aan hun (en onze) ziel.
De topics die Osho in de brieven aan de orde stelt, zijn onder andere: Bewustzijn, zelf-acceptatie, wijsheid, de zoektocht in het leven, een leven in vrijheid, omgaan met boosheid, de aarde is ons thuis,
angst loslaten en rebellie.
Over de waarde van brieven legt Osho uit: 'Als ik iets schrijf, schrijf ik brieven want een brief is net zo goed als iets dat gesproken wordt. Hij is geadresseerd Ik heb niets geschreven behalve brieven, want voor mij zijn ze een manier van praten. De ander is altijd aanwezig voor mij als ik een brief schrijf.'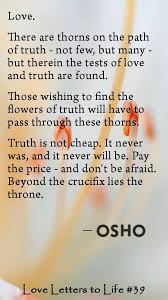 'Liefde
Er zijn doorns op het pad van de waarheid – niet weinig, maar veel – maar daarin zijn de tests op liefde en waarheid te vinden. Diegenen die de bloemen van waarheid willen vinden, zullen door deze doorns moeten gaan. De Waarheid is niet goedkoop. Zij was dat niet en zij zal dat nooit zijn. Betaal de prijs – en wees niet bang. Voorbij het kruis staat de troon.' Liefdesbrieven aan het leven # 99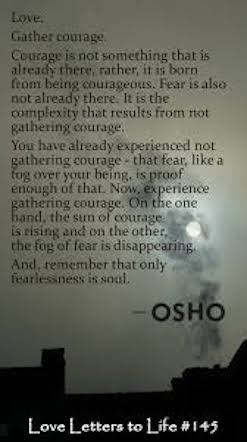 'The longing and the thirst that you have for truth is a rare blessing. If it is there, then one day your jump into the ocean of meditation is bound to happen. I see you standing on the very shore – a simple jump is all that is needed.'
150 letters newly translated from the Hindi.
Each one of these 150 letters is a personal message by Osho, written to someone directly by him. The letters are encouraging statements and responses to people, supporting their process of meditation and inner discovery.
Preface:
'You write that my words ring in your ears;
what I want is for their echo to carry you
into that space where everything is silent, empty.
This is the way from words to emptiness.
There one meets oneself.
I am in bliss.
Take my love
I have nothing else to offer, it is my only wealth.
The marvel of it is that the more of it you give,
the more it becomes.
Real wealth is like that –
it grows as you give it away;
and if it diminishes, it is not wealth at all.'
from: A Cup of Tea
# 38.
Love,
Existence worries about those who stop worrying about themselves. But as long as one is, this worrying will not go away. In fact, the existence of "oneself" is the real problem; all other problems are but a pale echo of this basic one.
Ignoring this fundamental source, man wastes this whole life trying to destroy the source's shadows. But like Ravana's head, before one head has fallen, a new one has already grown. We keep fighting with the branches while sill watering the roots. Such is the idiocy that is masquerading as man.
But one who has the branches in his hands can also look for the roots. Don't fight the branches – rather, with their help, go to the depths and seek out the roots.
There will be nothing to concern you there. The sense of "I", the ego, will be there, but just seeing it will be enough to make it disappear. It can only live when it is hidden away in darkness.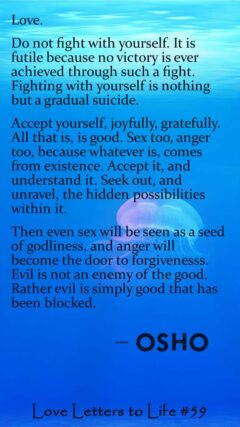 "Love.
I received your letter when I returned from Delhi the day before yesterday. I am happy to know that you are experiencing bliss and contentment.
Bliss lives within us, but we do not find it because we are looking for it on the outside. Once the inner journey begins, new sources of bliss are continuously opening up.
In the kingdom of the inner, there is neither sorrow, nor pain, nor death. Once you reach this state of deathless you will be reborn, and you will cut all that binds you.
Reaching this liberated state is the very goal of life. In this state, the self and the other drop, and only isness remains: without boundaries, indescribable; formless and figureless.
Before, there was the isness of "I"; now, there is the isness of the whole. Once this is attained, everything is attained. Once this is known, everything is known. Once you are in this state, violence and hatred, sorrow and pain, death and darkness – all will disappear, and what will remain will be sat chit anand: truth, consciousness, bliss.
May you attain sat chit anand. That is my wish."