Talks on Zen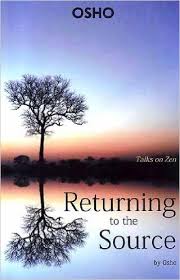 This book is a glorious mixture of no-nonsense Zen and sublime poetic mystery. Being ordinary, says Osho, is the most extraordinary phenomenon possible. He uses stories about many different Zen masters to illustrate the timeless power and magic of Zen and its potential to transform contemporary humanity. A Zen master is nothing special: he meditates, but also goes to the forest to cut wood because winter is approaching, and has a wonderful sense of humor. He does many things just like an ordinary man but with an extraordinary awareness. Zen doesn't believe in renouncing the world or not renouncing the world; the basic thing is just to be alert wherever we are.
Zen gives us total Freedom
Zen gives us total freedom; our lifestyle doesn't matter. All that counts is our awareness, which will take us back to our original source. "If you are courageous and you don't go backwards, if you don't fall back to the ego and you go on and on, there is a hidden center within you that you have been carrying for many lives. That is your soul, the atman, the self." Osho
NOBODY IS BEING UNJUST TO YOU; IT IS YOUR CLAIM
"Just a few days ago a man came to see me, he insisted. Ordinarily, I don't want to see persons who have never meditated, who have never listened to me, because it is going to be futile. But he insisted so I said: Okay. He had been writing letters to me for many years where he said: There is a deep problem that I would like to discuss with you, and I am in much misery. He talked continuously for half an hour saying that he is a graduate of Oxford, that he is in the Secretariat on a very high post of the Ministry of Education in New Delhi, and he has done this and that. I tried again and again to bring him to the point: What is the problem? But he would not come to the point.
How to Stop the claim of Being Worthy
He went round and round. I said: But your time is nearly finished, come to the point. These are not problems. You are a graduate of Oxford, okay, it is not a problem. What is the problem? Then he said: The problem is that too much injustice has been done to me. I am a very capable man with many degrees and achievements, and nobody takes any notice of me, so how can I tolerate this injustice? He would have liked to be the Prime Minister or the President or something, but then too it would not be just because nothing can be just if you have expectations. I told him: There is no problem. The problem is not how to tolerate injustice, the problem is how to drop the claim of being worthy.
Thinking too much of Yourself…
If you think too much of yourself, if you think of yourself as somebody significant, then every day, every moment you will find that injustice is being done to you. Nobody is being unjust. Who bothers about you? Who has time to do injustice to you? Who cares? But you feel that the whole world is being unjust to you. Nobody is being unjust to you; it is your claim." OSHO, Returning to the Source
Talks over Zen
Het boek 'Returning to the Source' bevat bekende en minder bekende Zen-verhalen.

Enigszins bekend is waarschijnlijk het verhaal over de Chinese Zenmeester Nansen. Deze had een zekere faam en daarom kwamen ver weg wonende zen monniken naar hem toe.
De Zenmeester was echter ondanks zijn beroemde naam uiterst eenvoudig.
Dit is natuurlijk geheel overeenkomstig ZEN, want Zen bevat het leven zelf, dus: water halen, kleren wassen, dat is waar ook de Meesters steeds aan mee doen.
Het boek Returning to the Source is verkrijgbaar bij de Boekhandel.
Review van Returning to the Source
Op mijn logeeradres las ik Returning to the Source, voor de tweede of derde keer.
Dit adres is op een prachtige plek in Drenthe, waar ik een beetje vakantie houd en ontmoetingen heb met bewoners van de nabijgelegen psychiatrische kliniek.
Ik ervaar weer wat een totale manier van vakantie vieren dit is:
in de stilte van dit rustige dorp zijn, af en toe de natuur in gaan en dan daarnaast te kunnen delen met mensen van wat wezenlijk voor mij is.
Na jaren van zoeken, was er opeens deze goddelijke plek. 
Het boek bevat bekende en minder bekende Zen-verhalen.
Enigszins bekend is waarschijnlijk het verhaal over de Chinese Zenmeester Nansen.
Deze had een zekere faam en daarom kwamen ver weg wonende zen monniken naar hem toe. De Zenmeester was echter ondanks zijn beroemde naam uiterst eenvoudig.
Zen meesters leefden uiterst Eenvoudig
Dit is natuurlijk geheel overeenkomstig ZEN, want Zen bevat het leven zelf, dus: water halen, kleren wassen, dat is waar ook de Meesters steeds aan mee doen. 
Maar de monnik dacht, dat de Meester toch wel iets speciaals zou hebben.
Dus, toen deze monnik bij de tempel aan kwam en daar een man hout zag hakken, dacht hij zeker niet, dat het Meester Nansen zou zijn.
En hij vroeg hem dan ook: "Is Meester Nansen aanwezig?
De houthakker antwoordde de monnik: "Ik heb deze bijl voor twee koperstukken gekocht."
En hij tilde de bijl op tot boven het hoofd van de verbijsterde monnik en zei: "Hij is heel scherp." De monnik liep in mineurstemming weg om later te ontdekken, dat de houthakker nu juist de Zenmeester Nansen was geweest.
Osho zegt: "Spirituele zoekers denken vaak, dat ze bijzonder zijn en dat ze iets heel speciaals zoeken. Maar: Zen is niet speciaal, Zen is doodgewoon. Het draait weer om het ego.
Het Ego wil de Wereld verachten
Het ego wil de wereld verachten en op zoek gaan naar het eeuwige. Maar op die manier is het zoeken ook weer een trip. Het gaat er niet om wat je zoekt, maar om wat voor iemand de zoeker is.
Als je ego degene is die zoekt, dan is alles wat je zoekt alleen maar van deze wereld En als je het ego in jezelf hebt laten vallen, dan is alles wat je doet goddelijk, of je nu hout hakt, ambtenaar bent, een winkel drijft of wat dan ook."
Zo wordt in elk verhaal de eenvoud, de echtheid en de kracht van Zen weergegeven.
Wat te denken van het verhaal over de eerste Japanner die in China Zen bestudeerde, een zekere Kakua.
Hij leefde in China op een ver gelegen plek in de bergen en was continu aan het mediteren. Als mensen hem vonden en vroegen om te prediken, sprak hij meestal een paar woorden en verdween dan naar een meer onvindbare plek in de bergen.
Toen Kakua naar Japan terug keerde en de keizer over hem vernam, werd hij naar het hof geroepen om preken te houden ter verheffing van hemzelf en de onderdanen. Kakua stond in stilte voor de keizer.
Toen haalde hij een fluit uit de plooien van zijn gewaad te voorschijn, blies een korte noot, maakte een beleefde buiging en verdween weer. Niemand weet wat er van hem geworden is.
Is dit geen schitterend Zen verhaal? Eenvoud, kracht en schoonheid stralen hier regelrecht vanaf.
Het ware Onderricht vindt niet plaats door Woorden
Osho's commentaar is, dat het ware onderricht niet in woorden uitgedrukt kan worden, maar dat er toch sprake is van onderricht.
Zij kan getoond worden, er kunnen aanwijzingen zijn, op talloze manieren kan er indirect naar verwezen worden,
maar niet door woorden.
Het gebruik van woorden verwijst naar de mind en het gaat hier niet om de mind. Het gaat om het hart en om stilte.
Iedere Meester gebruikt eerst woorden, omdat we nu eenmaal gewend zijn aan de taal van de mind. Daarna probeert hij ons het onbekende in te duwen.
STILTE bereiken lukt vaak niet meteen
Uit het verhaal over Kakua blijkt, dat STILTE bereiken vaak niet lukt. Als er dan geen stilte te realiseren is, dan is het eerste wat in aanmerking komt: muziek. En dat was wat Kakua beoogde: hij blies een korte noot.
Zen houdt er niet van om zich in woorden te manifesteren, maar wil dit door situaties doen.
In elk verhaal tref je weer een nieuwe situatie aan, waarin de waarheid getoond wordt.En ik raad je daarom aan: laat je door de verhalen van Returning to the Source verrassen en verfrissen. Je gaat lachen om de serieusheid van de wereld, maar ook om de serieusheid van spirituele zoekers en je gaat daarom lachen om jezelf.
Er staan namelijk ook nog een aantal onbekende verhalen in als: The Two Concubines, The Good Wife, The Practical Joke, Making a Nuisance.
Door dit boek aan te schaffen zul je jezelf of iemand anders een mooi, echt en warmbloedig cadeau geven. Het leven klopt in elk verhaal.
En natuurlijk worden we in dit boek ook weer getrakteerd op de nodige grappen.
Mulla Nasruddin bij de Psychiater
Mulla Nasruddin ging naar zijn psychiater. Hij klaagde over zijn ellende en problemen en tenslotte concludeerde hij: "Ik ben bang. Het lijkt wel of ik neurotisch word".
De psychiater glimlachte en zei: "Nasruddin, als dat zo is, moet je blij en gelukkig zijn dat je neurotisch bent."

Nasruddin was geschokt. Hij zei : "Wat? Blij dat ik neurotisch ben? Waarom?"
De psychiater zei, "Omdat dat dan het enige normale aan jou is"
Een Italiaanse gids leidde een groepje Amerikanen langs de kraters van een vuurspuwende berg. Hij vertelde wat er gebeurde als er een vulkaanuitbarsting plaats vond. Een Amerikaan tuurde met zijn verrekijker in de krater. Hij trok een gezicht en zei vol afgrijzen: "oef….het lijkt de hel wel!"
"Nou ja" verzuchtte de gids "Jullie Amerikanen zijn ook overal geweest !"
Een vriend van Mulla Nasruddin belde hem op met de vraag, "Wat is er aan de hand? Ben je soms dood?" Mulla zei: "Wie heeft je verteld dat ik dood ben?"
De vriend zei, "In het dorp is iedereen zulke goede dingen over je aan het vertellen, dat ik dacht: hij is vast dood!"
Telkens terug naar de Bron
Toen ik weer thuis kwam, na het verblijf in Drenthe, was er een pakje gearriveerd met maar liefst drie nieuwe Osho-boeken, een herdruk en twee vers uit het Hindi vertaald. Wat een thuiskomst: zo'n pakje te openen en van de nieuwe pracht te mogen genieten.
Is dat dan weer "Returning to the Source", terug naar de bron?!
Ja, want we moeten telkens terug naar de bron, is mijn ervaring. Er zijn zoveel lagen in ons die allemaal bereikt kunnen worden door het licht van Osho.
In een van de splinternieuwe boeken stuit ik al, heel toepasselijk, op het volgende beeld van Osho.
Hij zegt: denk je dat een druppel een steen kan stuk maken?
Nee, er zijn duizenden en duizenden druppels voor nodig, voordat er iets aan de steen verandert.
Zo is het ook met onze ingeslepen patronen.
Ze zijn zo diep.
Er zijn duizenden inzichten van de meester nodig om ons daarvan tot in alle lagen bewust te maken.
We blijven begenadigd worden door Osho's boeken.
Zullen we daar dan niet dankbaar gebruik van maken en ervan genieten?