Zen in Action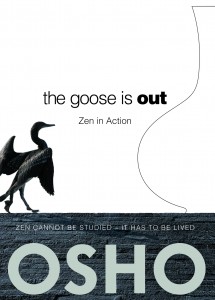 "Riko once asked Nansen to explain to him the old problem of the goose in the bottle. If a man puts a gosling into the bottle, he said, and feeds the gosling through the bottle's neck until it grows and grows and becomes a goose and then there is simply no more room inside the bottle, how can the man get it out without killing the goose or breaking the bottle?
RIKO! shouted Nansen, and gave a great clap with his hands.
Yes master! said Riko with a start.
See! said Nansen. The goose is out!" Osho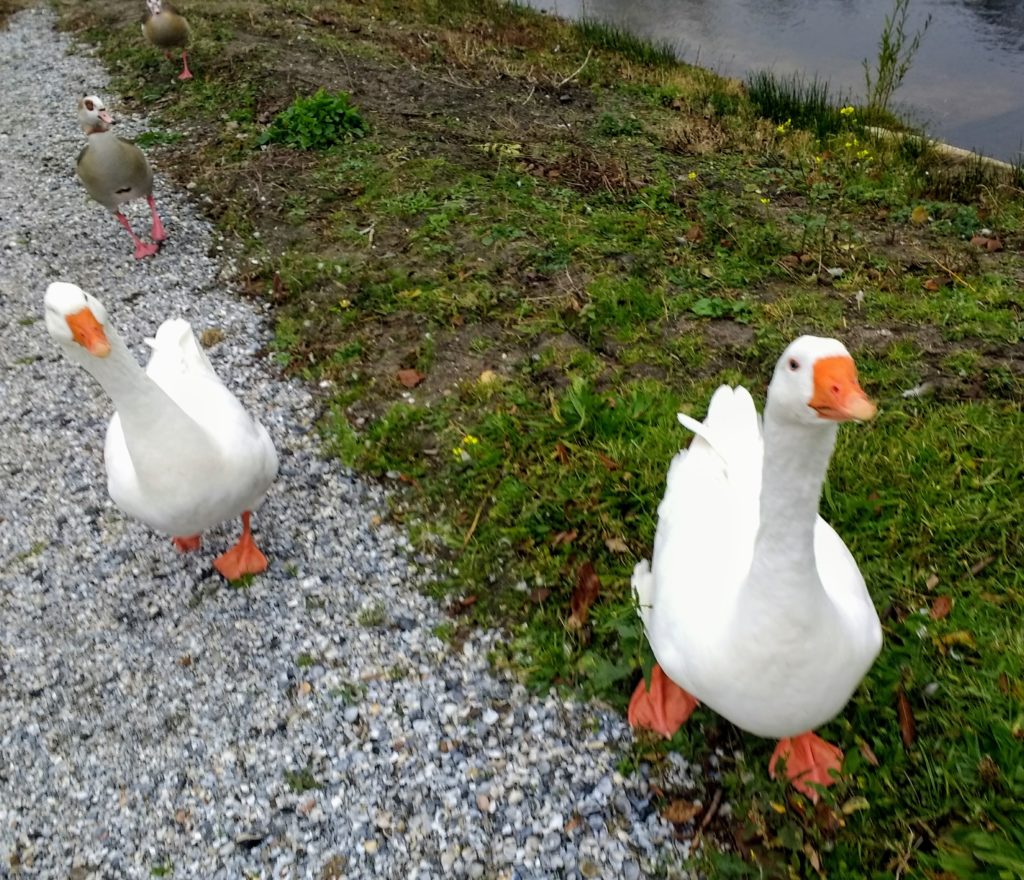 Zen in Action
Zen Cannot Be Studied – It Has to Be Lived
In het boek The Goose is Out wordt de geschiedenis van de gans in de fles verteld. Het beeld staat symbool voor de onbewuste staat waarin de mensheid leeft. Door de wereld en maatschappij w
ord je uit het bewuste bestaan getrokken, maar dat kan niet helemaal weg zijn.
In het boek The Goose is out beantwoordt Osho vragen van een internationaal gezelschap alvorens hij een periode in stilte ging. Dat wat nooit verloren geraakt is, kan niet gevonden worden en daarom is het zoeken ernaar absurd. Het gaat over een jonge gans die in een fles groot gebracht wordt en er dan niet meer uit kan. De Zen koan, onoplosbaar raadsel, is dat beide niet gespaard lijken te kunnen worden. Zen Meester Nansen heeft hier zijn eigen unieke antwoord op die zoekers kan helpen.
The Goose is Out is goed verkrijgbaar bij de Boekhandel.
Pieken en Dalen
Een van de kernachtige uitspraken van Osho in het boek is: 'Op een dag besloot ik: genoeg is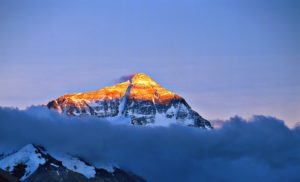 genoeg. Ik liet het idee van de pieken vallen en ik begon van het dal te genieten en toen zag ik een wonder: Het dal
verdween. In feite was er vanaf het allereerste begin geen dal, ik zat altijd al op de top – maar omdat ik naar een piek aan het zoeken ben, kon ik niet zien waar ik was.'
Fragment of The Goose is Out
"That which is never lost cannot be found, and to search for it is absurd. But the moment this absurdity is understood all seeking stops by itself and that which is never lost is found! That is why I say: Seek and you will not find, because the very seeking is the barrier. The search itself is the hindrance because it creates the seeker, the ego, the illusion that "I am." And I am not. Do not seek and you will find it: the I-am-not-ness. This nothingness is the gate. The Gateless gate. Riko once asked Nansen to explain to him the old problem of the goose in the bottle. If a man puts a gosling into the bottle, he said, and feeds the gosling through the bottle's neck until it grows and grows and becomes a goose – and then there is simply no more room inside the bottle, how can the man get it out without killing the goose or breaking the bottle? RIKO! shouted Nansen, and gave a great clap with his hands. Yes master! said Riko with a start. See! said Nansen. The goose is out!" Osho
"That has been the greatest calamity that has befallen humanity: all the do-gooders have created a schizophrenic man. When you divide reality into means and goals you divide man himself, because for man, man is the closest reality to man. His consciousness becomes split. He lives here but not really; he is always there, somewhere else. He is always searching, always inquiring; never living, never being, always doing; getting richer, getting powerful, getting spiritual, getting holier, saintly – always more and more. And this constant hankering for more creates his tense, anguished state, and meanwhile he is missing all that is made
available by existence. He is interested in the far away and God is close by. His eyes are focused on the stars and God is within him. Hence the most fundamental thing to understand about Zen is: the goose has never been in. Let me tell you the story how this koan started:
"A great philosophical official, Riko, once asked the strange Zen master, Nansen, to explain to him the old koan of the goose in the bottle. "
"If a man puts a gosling into a bottle,' said Riko, 'and feeds him until he is full-grown, how can the man get the goose out without killing it or breaking the bottle?"
"Nansen gave a great clap with his hands and shouted, 'Riko'!"
"Yes, Master," said the official with a start."See," said Nansen, "the goose is out!"
"It is only a question of seeing, it is only a question of becoming alert, awake, it is only a question of waking up. The goose is in the bottle if you are in a dream; the goose has never been in the bottle if you are awake. And in the dream there is no way to take the goose out of the bottle. Either the goose will die or the bottle will have to be broken, and both alternatives are not allowed: neither has the bottle to be broken nor has the goose to be killed. Now, a fully-grown goose in a small bottlehow can you take it out? This is called a koan. A koan is not an ordinary puzzle; it is not a puzzle because it cannot be solved."
Peaks and Valleys
"One day I decided, enough is enough. I dropped the idea of the peaks and started enjoying the valley, and I saw a miracle: The valley disappeared. In fact, from the very beginning There has been no valley, I was always on the peak -but because I was searching for a peak I could not see where I was."
Review van The Goose is Out
In de prachtige lezingenserie "The Goose is Out" kwam ik een geweldig helder inzicht van Osho tegen dat me op juiste moment de opsteker gaf die ik nodig had.
Heerlijk…rillend van vreugde laafde ik me hieraan.
De vragenstelster legt het volgende vraagstuk aan Osho voor: "Is het belangrijk om een bepaalde attitude ten opzicht van het leven te hebben?"
Immers: in allerlei trainingen en therapeutische programma's kom je deze stellingname tegen.
Als je bent vastgelopen op bepaalde punten in je leven, kom je tot de conclusie dat het leven herzien moet worden.
Is het leven maakbaar?
Maatschappelijke conditioneringen, waaronder de media hebben je lange tijd doen geloven, dat het leven maakbaar is.
"Als je maar wilt…" zo klinkt daarin door "kun je alles bereiken."
Een arbeiderszoon kan een schatrijke popstar worden, een meisje uit een klein Fries dorp kan zich tot een internationale schaatster ontpoppen.
Een krantenjongen kan een miljonair worden. En dat blijkt grosso modo niet zo te zijn.
Er is maar een president van de VS nodig. Dus iedereen die dat verder nog zou willen/ kunnen worden, is niet meer nodig.
En het gaat bij deze verwachtingen niet alleen om het beroep, maar om alles wat daaraan kleeft: de status, de aandacht, de rijkdom en alle andere mogelijke voordelen.
Omdat je gefrustreerd bent in je verwachtingen, die gevoed waren door je opvoeding, ontwikkeling en andere maatschappelijke invloeden, zit je nu met frustraties.
En wat wordt je vervolgens gezegd, tijdens therapie en training:"Je verwachtingen zijn te hoog, je moet ze bijstellen.
Je moet een andere attitude ten opzichte van het leven aannemen, zodat frustratie voortaan uitblijft.
Je hebt een attitude van verwachten en je moet er een van niet- verwachten ontwikkelen. Want op deze manier organiseer je je eigen teleurstelling." 'The Goose is Out'
En als truc, als tijdelijke oplossing, kan dit zeker helpen.
Je ziet in, dat als je geweldig veel van het leven verwacht, je dan ook geweldig gefrustreerd kunt raken.
Ben je wat realistischer, dan kun je niet zo diep vallen. Dan sta je snel weer op, nadat je gestruikeld bent.
Een Andere Attitude
Toch is het je eigen maken van een andere attitude geen voldoende verandering om verder te komen in dit opzicht.
Osho hamert daar in het antwoord op de gestelde vraag in "The Goose is Out" op.
" Met een bepaalde attitude ten opzichte van het leven staan" zegt Osho "is in feite de manier om het leven volledig mis te lopen".
En daarnaast wijst hij erop, dat het gewoon gevaarlijk is om deze truc toe te passen. Je een bepaalde houding aanmeten is een gebeuren van de mind. En deze nieuwe attitude gaat zich er stevig nestelen.
Dit is wat met zoveel methodes gebeurt die we aangereikt krijgen om ons leven weer op de rails te krijgen of om het soepeler te laten verlopen.
En dat kan eenvoudigweg nooit vanuit de mind gebeuren.
Dat is een wezenskwestie en ligt niet op het terrein van de mind.
Daarom kunnen we het volgende stellen.
Als we vast komen te zitten in ons leven, is het natuurlijk nodig om hier iets aan te doen.
Het staat vast, dat de oude manier van leven, waarbij we van alles van het leven verwachten, niet gelukkig maakt.
Het leven is er niet om onze wensen en verlangens aan op te leggen en af te dwingen.
Die worden niet vervuld, het leven is iets dat veel grootser is dan ons beperkte scala aan eisen en verlangens.
De mind hierbij gebruiken als instrument voor attitudeverandering is een bepaalde truc aanleren.
En het leven is ook te veelomvattend om het vanuit de mind te benaderen.
Ook een truc van de mind hanteren die je tijdelijk uit de situatie trekt zal uiteindelijk een kooi gaan betekenen.
Je wordt er niet gelukkig van en sterker nog: je zet je zelf in iets nieuws vast.
Het is als het verhaal dat de aanleiding was voor de titel van het boek (de lezingenserie) The Goose is Out.
Men had een ganzenei in een fles gedaan en met behulp van intense warmte "uitgebroed".
Na enige tijd brak het ganzenjong uit het ei.
Het werd door de opening van de fles gevoederd en groeide al snel voorspoedig.
Maar het werd op een gegeven moment te groot voor de fles en het kon er ook niet meer uit.
Dit beeld is door Meesters voorgelegd aan zoekers, die bezig waren met het rondwaren over verschillende levensvragen.
En een kardinale vraag daarbij was: hoe zich van de mind te bevrijden.
Dan kwam het verlossende antwoord van de Meester die dit zelf gerealiseerd had:
"The Goose is (already) Out." 'The Goose is Out'
De gans is al uit de fles. En die heeft er in feite nooit in gezeten.
Met andere woorden: Je bent al vrij van de mind.
Je hebt er nooit in gevangen gezeten. Het zijn je eigen denkconstructies die dat gedaan hebben.
Je Bewustzijn is Puur Freedom
Maar je bewustzijn is puur freedom. Daarom, wat het antwoord van Osho op deze vraag me geleerd heeft, is: Je kunt tegen het leven aankijken als misère en we moeten daar maar vanuit gaan en het zien te accepteren. Dat is wat Boeddha in zijn tijd heeft aangereikt. En dat zit nog altijd in de boeddhistische levensvisie.
Maar Osho heeft iets in de wereld gebracht dat spiksplinternieuw is.
Alle godsdiensten ontkennen het leven: ze geven er een hemel voor in de plaats om naar uit te zien of ze willen je tot acceptatie van de ellende brengen.
En Osho geeft één en al levensbevestiging.
Hij zegt het zo mooi in de Goose is Out: "Tot nu toe hebben jullie, op aanwijzing van godsdiensten geprobeerd om bovenmenselijk te zijn. Probeer nu eens om gewoon menselijk te zijn. Ik verheug me in het puur menselijke."
Wat nodig is om uit de "knopen van je leven" te komen, is: het leven door jou heen laten gaan.
Niet: afdwingen van het leven zoals jij het wilt hebben,niet een mind truc leren en het op die manier acceptabel maken.
Maar open worden voor het leven, terwijl alle maatschappelijke en godsdienstige filters verdwenen zijn.
Als je door meditatie grondig opruiming in deze filters houdt, kom je bij een helder kijken naar het leven.
Dan is er steeds meer verwondering en zuiver weten.
Dat krijg je door (actieve) meditatie.
Meditatie zorgt voor het zuiveren van je blik en ook om die zuiver te houden.
Daarom is meditatie niet snel genoeg en zeker nooit teveel.
Illustratieve Grap
Een man lag in het ziekenhuis. Hij had na een ongeval een bijna-dood ervaring gehad.
In het ziekenhuis werd er door verplegend personeel en doktoren met hem over gepraat.
Men had het erover hoe men hem dood gewaand had.
En de man vertelde, dat hij zelf de hele tijd wel door had, dat hij niet echt dood was.
"Hoe wist je dat dan zo zeker?" vroeg men hem.
"Nou" zei de man "dat werd me al snel duidelijk."
"Ik voelde namelijk, dat ik nog altijd honger had. En verder ondervond ik, dat mijn voeten koud waren."
Men keek hem vragend aan. "Wat bedoelde hij daar in vredesnaam mee?" zo werd er bij hem geïnformeerd.
"Okay" zei de man "omdat ik nog steeds honger had, wist ik dat ik dat ik niet in de hemel was. En uit het feit dat mijn voeten koud waren, concludeerde ik, dat ik me ook niet op die andere plek bevond."