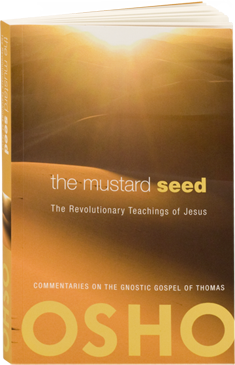 The Revolutionary Teachings of Jesus
About Jesus' missing years
This timely book 'The Mustard Seed' explores the wisdom of the Gnostic Jesus, who challenges our preconceptions about the world and ourselves. Based on the Gospel of Thomas, the book recounts the missing years in Jesus' life and his time in Egypt and India, learning from Egyptian secret societies, then Buddhist schools, then Hindu Vedanta.
Each of Jesus' original sayings is the "seed" for a chapter of the book; each examines one aspect of life – birth, death, love, fear, anger, and more – counterpointed by Osho's penetrating comments and responses to questions from his audience.
MUSTARD SEED – MOSTERDZAAD
Osho zegt in Mosterdzaad: "Jezus blijft maar steeds herhalen: "Zij die oren hebben kunnen me verstaan. Zij die ogen hebben: zie, ik ben hier!" Waarom herhaalt hij steeds weer: "Zij die ogen hebben, zie! Zij die oren hebben, hoor!" Waarom?
Hij heeft het over een andere dimensie van verstaan, die alleen een leerling begrijpen kan.
Heel weinigen begrepen Jezus. Wie waren die weinigen? Dat waren geen geleerden, nee; het waren geen hoogleraren, nee; het waren geen wijzen, geen filosofen, nee! Het waren gewone mensen: een visser, een boer, een schoenmaker, een prostituee. Waarom konden deze mensen begrijpen? Er moet iets heel speciaals zijn dat in een gewoon mens zit en dat verdwijnt in de zogenaamde 'buiten-gewonen'. Wat is dat?
Het is nederigheid, vertrouwen. Want hoe beter je intellect is getraind, des te minder vertrouwen kun je hebben. Als je intellect niet zo getraind is, kun je beter vertrouwen.
Mensen die met de natuur leven, hebben meer vertrouwen. In een land dat niet zo sterk geïndustrialiseerd is, minder gemechaniseerd, minder technologisch, waar je meer met de natuur leeft, is meer vertrouwen."
Het Mosterdzaad
De discipelen komen met vragen bij Jezus: "Vertel ons zo eenvoudig mogelijk waar het Koninkrijk der hemelen op lijkt?" Het lijkt een kinderlijke vraag, maar ze kunnen zich er geen voorstelling van maken, ze willen de essentie weten.
En Jezus draagt dan Mosterdzaad aan om een indruk te geven van dit Koninkrijk der hemelen waar hij het regelmatig over heeft.
Mosterdzaad is klein; het is vrijwel het kleinste wat er is. Met het Koninkrijk der hemelen wordt God bedoeld, het goddelijke. God is nog kleiner, hij is onzichtbaar. Hoe moet je Hem dan aanduiden? Daarvoor neem je datgene dat ook heel klein is, maar dat nog wel voor het oog zichtbaar is en dan kom je bij Mosterdzaad. Dat wat onzichtbaar is, kun je moeilijk begrijpen. Maar dat wat zich op de grens bevindt, Mosterdzaad, maakt het een beetje inzichtelijk.
De Paradox: het zaadje en de plant
Mosterdzaad is het kleinst zichtbare en het heeft daarnaast ook een mysterieuze eigenschap en die is als volgt. Er ligt een paradox in verscholen. Het Mosterdzaad zelf is vrijwel het kleinste wat er is, maar de plant die eruit groeit is de grootste van alle planten.
God is het onzichtbare en het universum het meest zichtbare; het universum is de boom, de plant en God is het zaad. God is wat niet gemanifesteerd is en het universum is het gemanifesteerde.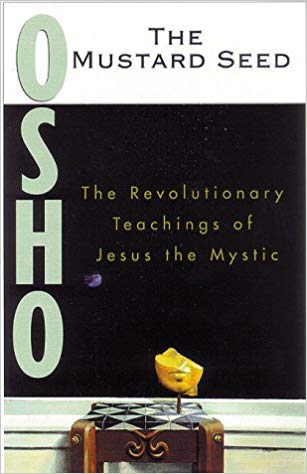 Excerpt of Mustard Seed #1
"It is a very delicate affair to understand Jesus; you have to pass through a great training. It is just like understanding classical music. If suddenly you are allowed to listen to classical music for the first time you will feel, 'What nonsense is going on?' It is so delicate, a long training is needed. You have to be an apprentice for many, many years; only then are your ears trained to catch the subtle – and then there is nothing like classical music. Then ordinary day-to-day music, like film music, is not music at all; it is just noise, and that too, foolish. Because your ears are not trained you live with that noise and you think it is music. But for classical music you need very aristocratic ears. A training is needed, and the more you are trained, the more the subtle becomes visible. But classical music is nothing before a Jesus, because that is the cosmic music. You have to be so silent that there is not a single flicker of thought, not a single movement in your being; only then can you hear Jesus, can you understand Jesus, can you know him.

Het boek 'The Mustard Seed' is verkrijgbaar in de Nederlandse Boekhandel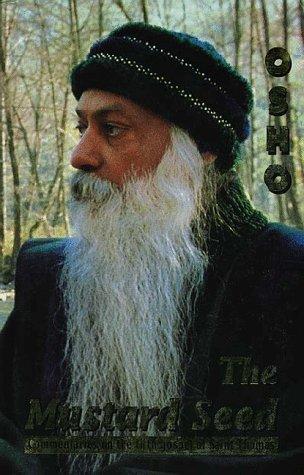 Jesus repeats again and again…

"Jesus goes on repeating again and again, 'Those who have ears should be able to understand me. Those who have eyes, see! I am here!' Why does he go on repeating, 'Those who have eyes, see! Those who have ears, hear!' – why? He is talking of some other dimension of understanding only a disciple can understand. Very few understood Jesus, but that is in the very nature of things and bound to be so. Very few – and who were those few? They were not learned scholars, no; they were not professors of the universities, no; they were not pundits or philosophers, no. They were ordinary people: a fisherman, a farmer, a shoemaker, a prostitute – they were very ordinary people, most ordinary, the most ordinary of ordinaries." Osho