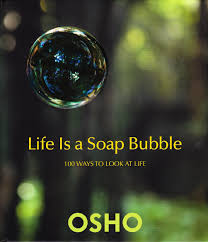 100 Ways to look at Life
The one hundred short passages in this book are full of diverse, pertinent gems. They will touch your heart and your being. They will inspire your life, showing you how to turn each and every moment into bliss.
If you have come to the point where you feel there must be something more to life and are ready to explore other dimensions of your being, this collection of thoughts will provide an essential road map.
I Teach Discontent
"I teach discontent. I teach you to be discontented with just being a person. Human life is just a temporary stopover on the whole journey of life, not the final destination. And those who take it to be the final destination waste a priceless opportunity to rise beyond man. We are a midpoint in a long process of evolution. Our past was part of the journey and so is our future. Evolution does not end with us, it will transcend us also." Osho
LIFE IS A SOAP BUBBLE
100 manieren om tegen het leven aan te kijken
'Life is a Soap Bubble' van Osho is een zeer bijzonder boek: het dateert uit 1965 en bevat brieven die Osho schreef aan zijn geliefde sannyasin Sohan. Zij was eens zeer verdrietig, aan het einde van een meditation-camp in Matheran. Ze had een intense huilbui. Osho beloofde haar toen omdat hij, zoals hij zei, niets anders tegenover haar tranen kon stellen, dat hij haar elke dag een brief zou sturen. Omdat Sohan deze brieven
bewaarde, zijn ze gespaard gebleven en konden ze gebundeld worden tot het huidige boek "Life is a Soap Bubble".
LEEF GEWOON EN PROBEER TE WETEN TE KOMEN WAT HET LEVEN IS
In eerste instantie ben je geneigd te denken, dat de titel op de vergankelijkheid van het leven slaat. En uiteraard is dit ook wel de ondertoon van het boek. Het menselijk leven is broos, je prikt het zo stuk als je niet alert bent.
Osho drukt dat zo beeldend uit in het voorwoord van het boek, dat een fragment van "From Unconsciousness to Consciousness" bevat. Hij zegt daarin: "Leef gewoon en probeer te weten te komen wat het leven is. Bekommer je niet om de dood, hemel en hel of om die ellendeling van een god. Wees eenvoudig verbonden met het leven dat in jouw danst, dat in je ademt, dat springlevend in jou aanwezig is."
OSHO's BRIEVEN aan zijn GELIEFDE SANNYASIN SOHAN
De subtitel van dit boek is: 100 manieren om tegen het leven aan te kijken. En zo komen we dus 100 brieven tegen waarin we tot leven gewekt worden en die een aanmoediging vormen om het leven ten volle te leven.
Osho wijst met nadruk op de huidige staat van slavernij waarin mensen verkeren. We worden geboren in een wereld die gevangen zit in de ketens van begeerte en we worden daar op subtiele wijze in vastgehouden. Het gaat om de innerlijke vrijheid, om de vrije hemel van bewustzijn die we kunnen verwerven.
DE SLAVERNIJ VAN BEGEERTE
 "Er is totaal geen verschil tussen iemand die gevangen zit in begeerte en een vogel die vastzit in een kooi." Het is de kunst om meester over jezelf te worden.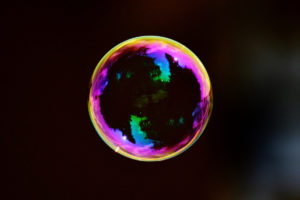 Dit eerste fragment geeft al veel hints om je bewustzijn mee aan te kunnen scherpen. Als je naar waarheid verlangt, dient je zoektocht onvermoeibaar te zijn. Een halfslachtige manier van doen werkt hierbij niet. En je zult heus wel obstakels op je pad tegenkomen. Maar zij die beseffen, dat er meer te behalen is, dat de essentie bereikt kan worden, zijn in staat om obstakels te transformeren tot opstapjes. 
De Mind is een Illusie
Een voorbeeld uit Life is a Soap Bubble: 
'Mind is Illusory – 
that which is not but appears to be, and appears so much that you think 
that you are the mind. Mind is maya, mind is just a dream, mind is just a projection…a soap bubble – nothing in it.'
'De Mind is een illusie –
het is dat wat niet bestaat, maar er lijkt te zijn en de gelijkenis is dusdanig dat je denkt dat je de mind bent. De mind is maya, de mind is maar een droom, de mind is gewoon een projectie … een zeepbel – er zit niets in.'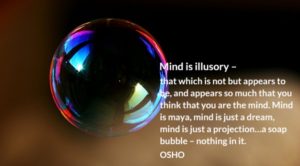 Het boek 'Life is a Soap Bubble' is verkrijgbaar in de Boekhandel.
TRUTH IS ONE
"Truth is one, but the doors to find it can be many. And if you become attached to the door itself, you will stop at the door. Then the door of truth will never open for you."
TRUTH IS EVERYWHERE
"Truth is everywhere. Everything that is, is truth. It has infinite forms. It is just like beauty. Beauty manifests itself in many forms, but that does not mean that beauty itself is many different things. What glows in the stars at night, and what gives off fragrance in the flowers, and what shows in the eyes as love – are they different from each another? The forms may be different, but the very same essence is present in them all. But he who gets stuck at the form never comes to know the soul. And he who stops at the beautiful is never able to experience beauty itself. Likewise, those who get stuck with words will remain without the truth."