In The Art of Living and Dying worden vragen beantwoord door Osho waarmee vrijwel iedereen worstelt.
Om het leven volledig te kunnen omarmen, is het nodig om de realiteit van de dood te accepteren. Osho beantwoordt vragen als:"Is er leven na de dood?", "Vaak word ik verteerd door immens verdriet dat ik dit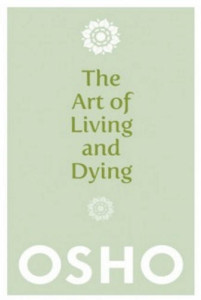 leven moet opgeven. Hoe kan ik hiermee omgaan?", "Een recent bezoek aan mijn arts heeft aan het licht gebracht dat ik niet al te lang meer te leven heb. Op welke manier kan ik hier 'vierend' mee omgaan, zoals u suggereert? En nog veel meer van dergelijke vragen komen er aan bod.
Duidelijk wordt hoe mensen veelal dit onderwerp 'dood' uit angst vermijden. Men begrijpt de essentie en de aard ervan dus niet. Osho geeft aan dat 'bewust dit leven verlaten' een geweldige gelegenheid biedt om te groeien. Verder legt hij uit dat de dood een van de grootste mysteries is. Hierin doordringen geeft een prachtige glans aan je huidige leven.
Het boek en het ebook zijn relatief gemakkelijk verkrijgbaar in de Boekhandel.
Niet-begrijpen van de Dood
Osho geeft in dit boek aan dat onze angst voor de dood gebaseerd is op het niet-begrijpen van de dood. Sterven is, volgens hem, juist een kans om innerlijk te groeien. Wanneer er sprake is van bewust en totaal leven, is de dood geen ramp maar een vreugdevolle climax.
'Vrijheid van gehecht zijn, stelt je in staat om het universele licht binnen te gaan en er één mee te worden. En dat is de grootste genade, de ultieme extase waarna er verder niets meer bestaat. Je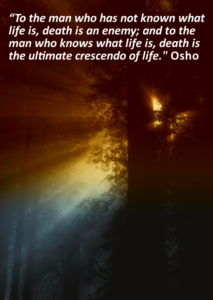 bent thuis gekomen.'
'Het leven strekt zich uit over een lange periode – zeventig jaar, honderd jaar. De dood is intens omdat die niet uitgestrekt is – ze is er in één enkel ogenblik. Het leven moet honderd jaar of zeventig jaar duren, het kan niet zo intens zijn. De dood vindt in één enkel moment plaats; die komt in z'n geheel, niet fragmentarisch. Die zal zo intens zijn dat je niets weet dat intenser is.'
Beantwoorden van vragen
Naast deze inzichten die in het boek verder uitgewerkt worden, beantwoordt Osho vragen van zoekers, zoals:
– Wat is acceptatie als je geconfronteerd wordt met kanker?
– Hoe kan ik bepalen wiens advies ik op moet volgen?
– Hoe kunnen we relaxen als de zekerheid van de dood zich voordoet?
– Moeten we iemand vertellen dat hij/zij stervende is of niet?
– Is de theorie van reïncarnatie waar?
Osho beantwoordt deze vragen en daarnaast veel andere van hen die zich onverklaarbaar aangetrokken voelen tot het onderwerp, evenals van hen die geconfronteerd worden met een naderende dood en van hun verzorgers.
Fragment uit The Art of Living and Dying
"Life is spread out over a long time – seventy years, one hundred years. Death is intense because it is not spread out – it is in a single moment. Life has to pass one hundred years or seventy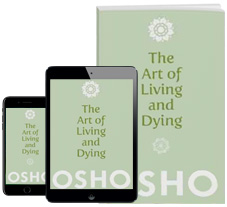 years, it cannot be so intense. Death comes in a single moment; it comes whole, not fragmentary. It will be so intense you cannot know anything more intense. But if you are afraid, if before death comes you have escaped, if you have become unconscious because of the fear, you have missed one of the golden opportunities, the golden gate. If your whole life you have been accepting things, when death comes, patiently, passively you will accept and enter into it without any effort to escape. If you can enter death passively, silently, without any effort, death disappears."
Attachment
"It is the attachment. You can go on living but as the idea of death strikes you, you will start trembling. But if you are not attached to anything, death can come this very moment and you will be in a very welcoming mood. You will be absolutely ready to go. In front of such a man, death is defeated. Death is defeated only by those who are ready to die any moment, without any reluctance. They become the immortals, they become the buddhas."
"This freedom is the goal of all religious search. Freedom from attachment is freedom from death. Freedom from attachment is freedom from the wheel of birth and death. Freedom from attachment makes you capable of entering into the universal light and becoming one with it. And that is the greatest blessing, the ultimate ecstasy beyond which nothing else exists. You have come home." Osho