The Book of Ego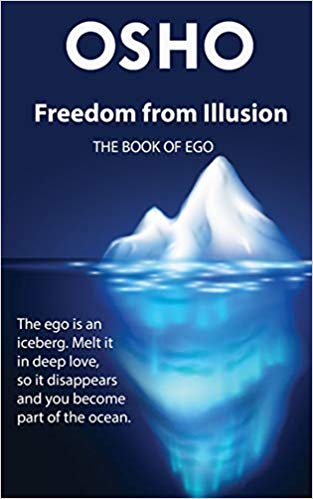 The Dimensions of the Ego
We live in times of "Fake News" and wonder from where all these issues of distortion of reality come from. Osho identifies our "Fake Personalities" as the root cause, also called "The Ego". The ego means your ambition to be superior to others, to be higher than others, to be bigger than you really are; in every field to be more important, to be somebody who has power over people either through politics or through money. All these are different dimensions of your ego.
You cannot fulfil the desires of the Ego
And if you go on fulfilling these desires you can never come to a state of contentment, fulfillment, because the ego is just like the horizon. It looks so close – as if you just have to walk a little more and you will reach it. But by the time you have reached there, the horizon has also moved away. The ego is your psychological horizon. You can go on, but you will never come to a point when you can say, "My ego is satisfied." And because you are trying to fulfill the ego, you forget your real task. Who is going to discover your real self, which is not the ego?
The Child is Born Without Ego
The child is not born with an ego The child is not born with an ego. Ego is being taught by the society, religion, culture. You must have watched little babies: they don't say, "I am hungry." If the baby's name is Bob, he says, "Bob is hungry. Bob wants to go to the toilet." He has no sense of "I." He indicates himself also in the third person. Bob is something that people call him, so he also calls himself Bob. But a day will come… As he grows, you will start teaching him that this is not right: "Bob is the name for others to call you; you have to stop calling yourself Bob. You are a separate personality, you have to learn to call yourself 'I.'" The day Bob becomes "I," he loses the reality of being and falls into the dark abysmal pit of a hallucination.
One the Child calls himself 'I'…a total different energy functions
Once he calls himself "I" there is a totally different energy functioning. Now the "I" wants to grow, it wants to become big; it wants this, it wants that. It wants to rise higher and higher in the world of hierarchies. It wants a bigger territorial imperative. If somebody has a bigger "I" than you, it creates an inferiority complex in you. You make every effort to be superior-than-thou, holier-than-thou, bigger-than-thou. Now your whole life is dedicated to one stupid thing – which does not exist in the first place. You are on a dream path. You will go on moving, making your "I" bigger and bigger. And it creates almost all your problems.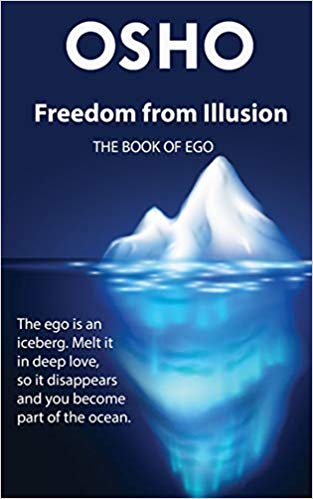 Freedom from Illusion: Nederlands
"Het ego is een ijsberg. Laat het in diepe liefde smelten, zodat het verdwijnt en jij deel van de oceaan wordt." Osho
We leven in tijden van "Fake News" en vragen ons af waar al deze kwesties van vervorming van de werkelijkheid vandaan komen. Osho identificeert onze 'nep-persoonlijkheden' als de hoofdoorzaak, ook wel 'het ego' genoemd. Het ego betekent je ambitie om superieur te zijn aan anderen, hoger te zijn dan anderen, groter te zijn dan je werkelijk bent; op elk gebied belangrijker te zijn, iemand te zijn die macht heeft over mensen, hetzij door politiek, hetzij door geld. Dit zijn allemaal verschillende dimensies van je ego.
Ego is als de Horizon
En als je deze verlangens blijft vervullen, kun je nooit tot een staat van tevredenheid, tot een staat van vervulling komen, omdat het ego net als de horizon is. Hij lijkt zo dichtbij – alsof je gewoon wat meer moet lopen en dan zul je hem bereiken. Maar tegen de tijd dat je daar bent aangekomen, is de horizon ook verdwenen. Het ego is je psychologische horizon. Je kunt doorgaan, maar je zult nooit op een punt komen waarop je kunt zeggen: 'Mijn ego is tevreden.' En omdat je probeert het ego te vervullen, vergeet je je echte taak. Wie gaat je echte zelf ontdekken, dat niet het ego is? Osho geeft als illustratie het verhaal over Alexander de Grote die ook ten prooi viel aan de ambities van het Ego. Het enige waar hij oog voor had was om een wereldveroveraar te worden.
Wat is het Ego?
Het ego is precies het tegenovergestelde van je echte zelf. Het ego ben jij niet. Het geeft je nooit een glimp van je echte authentieke zelf, maar je leven speelt zich wel daar af, in je authenticiteit. Daarom veroorzaakt dit ego alleen ellende, lijden, vechten, frustratie, waanzin en zelfmoord. Osho stelt een rebelse benadering voor en de grootste rebellie is om een ​​een authentieke waarnemer van ons ego te worden. Het tegenovergestelde van het ego is geen nederigheid. Osho waarschuwt ons om niet in dergelijke misverstanden te trappen. De egoloze persoon is niet nederig, omdat het ego zich in nederigheid kan verbergen en een nieuwe rol kan spelen. Het kan je het gevoel geven dat je de meest bescheiden persoon bent die er is, maar dan is het ego via de achterdeur binnengekomen. Een egoloos persoon is noch egoïstisch noch bescheiden, hij is eenvoudig authentiek, hij is eenvoudig waarachtig. Het maakt niet uit of je geniet van zijn waarheid of dat je gekwetst bent door zijn waarheid.
Dit boek is een bloemlezing van de complexe kwesties van het ego, ambitie, macht en de neiging tot destructie vanuit het perspectief van een hedendaagse mysticus. Osho wijst de weg naar bevrijding van de illusies van de persoonlijkheid door een innerlijke revolutie, namelijk de 'Psychologie van de Boeddha's'.
Het boek 'Freedom from Illusion' is te bestellen bij de Nederlandse Boekhandel
Impression of Freedom from Illusions
The Ego is the Greatest Lie
The ego is the greatest lie – which you have accepted as a truth. But all the vested interests are very much in favor of it because if everybody becomes aware of egolessness, this whole Olympics going on around the world will simply come to a standstill. Nobody will want to climb Everest, they will enjoy wherever they are. They will be rejoicing. The ego keeps you waiting: tomorrow when you succeed, you will rejoice. Today, of course, you have to suffer, you have to sacrifice. If you want to succeed tomorrow, today you have to sacrifice. You have to deserve success, and for that you are doing every kind of gymnastics. And it is only a question of suffering for a little time and then there is rejoicing. But that tomorrow never comes. It has never come.
Tomorrow simply means that which never comes.
Tomorrow simply means that which never comes. It is postponing living. It is a beautiful strategy to keep you suffering. The ego cannot rejoice in the present. It cannot exist in the present; it exists only in the future, in the past – that which is not. The past is no more, the future is not yet; both are nonexistential. The ego can exist only with the nonexistential because it itself is nonexistent. In the present pure moment, you will find no ego in you – simply a silent joy, a silent and pure nothingness.