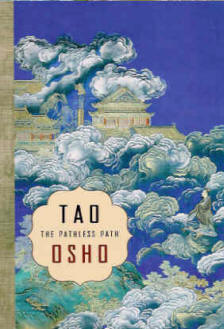 Tao The Pathless Path serie 2, over Madness en Dynamic meditation, from: Ch. 8, Harmony in Conflict
Vraag: Osho, hoe een Taoïstisch psychotherapeut te zijn binnen een zeer Confucius-gerichte psychiatrische inrichting? In other words: how to be a nut healer instead of a nut cracker?
"Psychiatrische instellingen moeten geen 'gekkenhuizen' genoemd worden. Het zouden huizen moeten zijn om verschillende soorten mensen, met respect, te helpen.Zie jezelf niet als dokter; zie jezelf als vriend. Zie jezelf niet als hoger dan de patiënt. Je bent niet iemand om iets voor te schrijven; je moet alleen de persoon begrijpen en hem helpen tot meer bewustzijn te komen.
Veel dingen kunnen behulpzaam zijn. Muziek zal beter helpen dan medicijnen. Meditatie zal ongelofelijk veel meer helpen dan wat ook en in het bijzonder zal de dynamische meditatie tot hulp zijn. Help hem gewoon bij zijn catharsis. Hij heeft veel rotzooi in zijn hart verzameld die hij er nergens uit heeft mogen gooien. Help hem om die eruit te gooien. Onderdruk hem niet langer meer.Zijn familie heeft hem onderdrukt, zijn maatschappij onderdrukte hem, nu kan jij tenminste helpen.
Wat ik de 'dynamische methodes van meditatie' noem, kan van geweldige waarde voor de toekomstige psychiatrie zijn. Help hem zijn gekte naar buiten te brengen, wat hij ook voelt. Als hij wil schreeuwen,laat het hem doen. Laat hem zich niet schuldig voelen dat hij iets verkeerds doet. Dat is perfect in orde. Er is niets verkeerds in schreeuwen, hij heeft het misschien sinds zijn kindertijd nodig gehad. Hij wilschreeuwen, schreeuwen en nog eens schreeuwen. Nu is de schreeuw een te grote last voor hem geworden. Hij moet eruit. Laat hem schreeuwen, laat hem huilen en wenen. Laat hem over de grond rollen.Geleidelijk aan zul je alle heftigheid zien verdwijnen. Langzamerhand zal hij afkoelen, zal hij rustig worden. Geef hem dan stille meditatie-methodes za-zen, vipassana en andere methodes. Geef hem eerst cathartische methodes, dan stille methodes. Deze twee dingen.
Wees respectful. Wees hem van dienst; behandel hem niet – en dan zul je hem juist kunnen behandelen." Osho
Osho Criticises Confucius
In his commentaries on five parables from "The Lieh Tzu" Osho brings a fresh and contemporary interpretation to the ancient wisdom of Tao. Lieh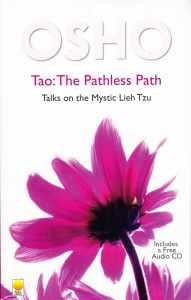 Tzu was well known a Taoist master of the 4th century B.C., and his sly critiques of Confucius provide abundant opportunities for the reader to explore the contrasts between the rational and irrational, the male and the female, the structured and the spontaneous.
The chapters in this beautiful little paperback are selections from a longer series of talks given under the same name, with an additional chapter of responses to questions. If you feel drawn to the "watercourse way" of Tao, with its approach of let-go and harmony with nature, this is a book you will especially enjoy.
Nederlands
Osho noemt Tao the Pathless Path, dus 'het pad dat eigenlijk geen pad is', zo, vanwege het volgende.
Hij zegt: Tao is een pad, maar het is niet zoals andere paden.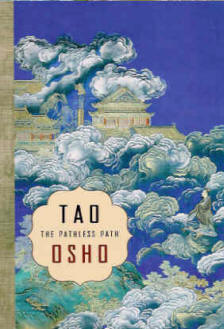 Het heeft een andere kwaliteit – de kwaliteit van vrijheid, de kwaliteit van anarchie, de kwaliteit van chaos. Tao zegt, dat als je jezelf een bepaalde discipline oplegt dat je dan een slaaf wordt.
Die discipline moet van zelf ontstaan, uit je bewustzijn en dan zul je een Meester zijn. Als je jezelf een of andere orde op legt, zal dit gewoon fake zijn. Want diep binnen in je blijft de wanorde bestaan; er zal aan de oppervlakte orde zijn, maar je centrum zal in wanorde verkeren. Dit helpt je niet. De echte orde komt niet van buitenaf maar ze ontstaat in de kern van je wezen.
Het boek Tao the Pathless Path is verkrijgbaar bij de Boekhandel of via internet.
Review van Tao the Pathless Path
Er staat een liefelijk plaatje op deze uitvoering van Osho's TAO The Patless Path.
Het is de afbeelding van een Tibetaanse tempel in groenige kleuren.
Daarnaast is er veel met blauw gewerkt en het geheel heeft een glanzende oosterse sfeer. Het boekje is door St. Martin's Griffin uitgebracht die zo langzamerhand al heel wat boeken van Osho heeft gepubliceerd.
Dit Tao, The Pathless Path is een mini-uitgave. Het bevat de helft van het aantal hoofdstukken van het oorspronkelijke boek.
Want in dit nieuw uitgebrachte boekje staat alleen Osho's visie op TAO weergegeven, de hoofdstukken met vragen en antwoorden die in de vorige uitgave waren opgenomen, zijn weggelaten.
Het kleine formaat maakt het tot een zeer handzaam boekje dat je gauw even bij je steekt om het te voorschijn te halen als je er maar even tijd voor hebt:
in de wachtkamer bij de tandarts, in de bus, op het station.
Overal zie je gelukkig nog steeds mensen lezen ondanks de opmars van de mobiele telefoon. Veel tijd wordt gedood in het voeren van onzinnige en saaie gesprekjes met elkaar via de gsm. Maar er zitten toch ook regelmatig mensen met een boek ergens te wachten, helemaal opgaand in hun lectuur. Ik geniet er altijd van om er naar te kijken hoe iemand zelfs op de drukste plekken het gedruis weet buiten te sluiten en gewoon lekker gaat zitten lezen. Osho noemt Tao the Pathless Path, dus 'het pad dat eigenlijk geen pad is' , zo, vanwege het volgende.
Hij zegt: Tao is een pad, maar het is niet zoals andere paden.
Het heeft een andere kwaliteit – de kwaliteit van vrijheid, de kwaliteit van anarchie, de kwaliteit van chaos. Tao zegt, dat als je jezelf een bepaalde discipline oplegt dat je dan een slaaf wordt.
Die discipline moet van zelf ontstaan, uit je bewustzijn en dan zul je een Meester zijn. Als je jezelf een of andere orde op legt, zal dit gewoon fake zijn. Want diep binnen in je blijft de wanorde bestaan; er zal aan de oppervlakte orde zijn, maar je centrum zal in wanorde verkeren. Dit helpt je niet. De echte orde komt niet van buitenaf maar ze ontstaat in de kern van je wezen.
Osho moedigt aan om de wanorde aan te gaan. Laat haar er zijn en leef haar.
Door de chaos er te laten zijn en die te leven, kom je uiteindelijk dichter bij je kern.
Maar in onze conditionering zit het zeer sterk om chaos, om wanorde te vermijden en meteen ongedaan te maken.
En toch is het de sleutel tot een dieper doordringen in ons wezen.
Tao The Pathless Path
Ik doe regelmatig een dans die de 5 ritmes heet.
Die dans is opgebouwd uit 5 achtereenvolgende fasen. En daarbij bestaat de derde fase uit chaos: de chaos die je op dat moment voelt ga je volledig dansen.
En nu is het zo bij deze chaos-fase dat deze op verschillende manieren kan worden uitgevoerd. Je kunt hem helemaal in je eentje dansen en doorleven. Maar je kunt ook omringd door een cirkel van dansers je chaos dansen en tot het uiterste gaan. De kring van dansers ondersteunt je en moedigt je aan om totaal chaos te dansen, totaal chaos te zijn.
Deze laatste manier van chaos dansen waarbij je dus door mededansers wordt aangevuurd, kan je zo totaal laten zijn, dat dat alleen door het zelf te ervaren, te begrijpen is. Door woorden kan de intensiteit ervan niet overgebracht worden. Het is gewoon een revolutionair gebeuren. Je komt er absoluut anders uit dan je erin ging.
En denk eens aan de dynamische meditatie die Osho heeft ontwikkeld. Hij zegt dat er onder onze laag van normaal zijn gewoon pure gekte zit. Je hoeft maar even te krabben en het laagje aangepastheid verdwijnt: de gekte zit daar vlak onder.Maar we zijn zo gewend aan onze oppervlakkige manier van leven, dat we daar mee doorgaan. Het zijn vaste patronen en die blijven bestaan. Dus daarom heeft Osho de dynamische meditatie ontwikkeld. Door chaotisch adem te halen tijdens de eerste fase van de dynamic kun je langzaam aan je vaste patronen doorbreken. En dan bereik je de laag van gekte en die kun je in de tweede fase uitleven (uitfreaken).
Chaos in je ademhaling wordt dus gebruikt om je eigen chaos te bereiken en al doende dieper in jezelf te komen.
Een en al Tao dus, wat we in deze twee voorbeelden tegenkomen.
Waarom leven we dan niet op de manier die Tao aangeeft?
Daarover zegt Osho het volgende: we kunnen Tao pas tot ons nemen als we innerlijk zover zijn.
Daarvoor kan er de grootste wijsheid tot ons komen, we zullen haar niet oppikken. En daarom worden Meesters ook zo vaak niet begrepen. Dat komt niet doordat het zo'n moeilijke boodschap is die zij brengen, maar omdat de mensen deze door hun innerlijke staat van zijn niet kunnen opnemen.
Kortom, de wijsheid komt op alle mogelijke manieren tot ons, maar we zijn innerlijk niet zover om haar te absorberen.
We leven het leven niet direct, maar we leven in regels, wetten en patronen.
En als we niet gelukkig zijn, dan hebben we er meteen een verklaring voor. Vervolgens leven we dan verder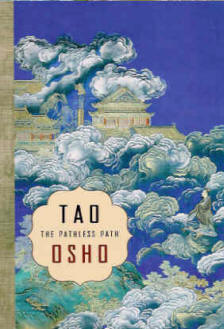 vanuit deze logisch klinkende verklaring, vanuit die prachtige rationalisatie. Lees de volgende mop maar eens: De ene man vroeg aan een andere man: "Bent u psychiater?" En de andere man zei: "Waarom vraag je dat?" En toen zei de eerste man weer: "Dus je bent echt psychiater!" Tao the Pathless Path
Altijd: de vraag, waarom. Nooit eens gewoon spontaan antwoorden. Nee, waarom, waarom, waarom?
De drie Taomeesters Lieh Tzu, Chuang Tzu en Lao Tzu praten alleen over het Pad en niet over het Doel. Ga je weg en dan zal het doel er vanzelf zijn. Je hoeft je niet druk te maken over waar het pad naar toe leidt, want voor het doel wordt gezorgd.
We vertrouwen het leven niet. We durven niet echt op onszelf te staan en klampen ons vast aan een geloof of aan systemen. Zo ook deze vrouw.
Een vrouw, het was een getrouwde vrouw, werd verliefd op een jonge man en deze jongen wilde met haar vrijen. Maar zij zei: "Dat kan niet…dat is tegen de wet. En we schenden een van de Tien Geboden."
Maar de jonge man zei: "Wat geeft dat? Er zijn daarna nog negen geboden over!"
Als ik over Tao lees, komt altijd het verhaal over de Meester Lao Tzu bij me op. Hij maakte elke ochtend een wandeling in de pure stilte die het begin van de dag heeft. En hij wilde nooit gezelschap hebben, want hij wist dat mensen niet stil kunnen zijn en dat zou zijn wandeling en de beleving van de stilte bederven.
Maar de buurman van Lao Tzu waagde het toch een keer om een verzoek aan hem te doen voor een vriend van hem.
Hij zei: "Laat hem eens meegaan met u tijdens uw ochtendwandeling.
Het lijkt hem zo'n heerlijke belevenis.
En hij heeft beloofd om zich absoluut stil te houden.
Lao Tzu stemde voor deze ene keer toe.
Dus de vriend ging mee op weg. Ze wandelden naast elkaar voort zonder ook maar een woord te spreken. En ze drongen dieper in de bossen door.
Toen kwamen ze bij een meer dat daar lag omring door hoge bomen en de bomen werden weerspiegeld door het water.
Door de bomen scheen het zonlicht en dat viel in patronen op het water. Het was een schitterend gezicht.
De mond van de vriend viel open en hij riep ontroerd: "Oh, wat mooi!" Toen sloeg hij zijn hand voor zijn mond omdat hem te binnen schoot wat hij beloofd had. Hij zou immers geen woord uitbrengen!
Lao Tzu reageerde niet en ze keerden zwijgend terug naar huis.
Thuisgekomen zei Lao Tzu tegen zijn buurman: "Dit was eens maar nooit weer! Vraag me niet nog eens om je vriend mee te nemen tijdens mijn wandeling. Hij praat teveel!"Tao the Pathless Path
Ook zo'n enkele uitroep vindt een Tao meester nog teveel! De stilte wordt verbroken.En het is een geijkte uitroep: Wat mooi! Het gebeurt uit gewoonte.
Als je de schoonheid diep in jezelf ervaart, dan is er alleen maar stilte en dan reageer je niet met woorden.
Dit boek The Pathless Path brengt je dichter bij DE STILTE. Tao the Pathless Path, Osho
A Taoist Parable from the Pathless Path
"A Taoist parable:
"There is a statue of Lao Tzu, the founder of Tao. And a young man has been thinking for years to go to the mountains and see the statue of Lao Tzu. He loves the words, the way Lao Tzu has spoken, the style of life that he has lived, but he has never seen any of his statues. There are no Taoist temples, so there are very rare statues and they are all in the mountains – standing in the open, carved out of the mountain – no roof, no temple, no priest, no worship.
"And years pass, and there are so many things always coming in between. But finally one night he decides that he has to go – and it is not that far,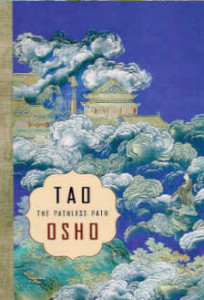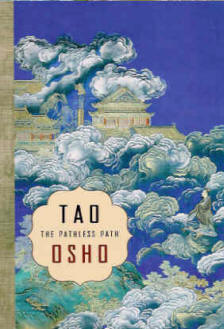 only a hundred miles – but he is a poor man, and he has to walk. In the middle of the night – he chooses the time in the middle of the night so that the wife and the children and the family are asleep and no trouble arises – he takes a lamp in his hand, because the night is dark, and goes out of the town.
"As he comes out of the town to the first milestone, a thought arises in him, 'My God, one hundred miles! And I only have two feet – it is going to kill me. I am asking the impossible. I have never walked one hundred miles, and there is no road….'It is a small hill path, a footpath – dangerous too. So he thinks, &lsquot;It is better to wait till the morning. At least there will be light, and I can see better; otherwise I will fall somewhere off this small footpath. And without seeing the statue of Lao Tzu, simply be finished. Why commit suicide?'
"So he was sitting just outside the town, and as the sun was rising an old man came by. He saw this young man sitting; he asked, 'What are you doing here?'The young man explained:
"The old man laughed. He said, 'Have you not heard the ancient saying? Nobody has the power to take two steps together, you can take only one step at a time. The powerful, the weak, the young, the old – it doesn't matter. And the saying goes, Just one step by one step, a man can go ten thousand miles – and this is only a hundred miles! You seem to be stupid. And who is saying to you that you should go continuously? You can take time; after ten miles you can rest a day or two days, enjoy. This is one of the most beautiful valleys and the most beautiful mountains and the trees are so full of fruits, fruits that you may not have even tasted. Anyway, I am going; you can come along with me. I have been on this path thousands of times, and I am at least four times your age. Stand up!'
"The man was so authoritative: when he said 'Stand up!' the young man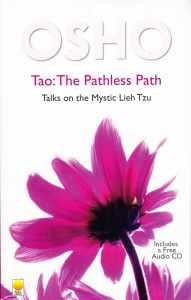 simply stood. And he said, 'Give your things to me. You are young, inexperienced; I will carry your things. You just follow me, and we will take as many rests as you want.'
"And what the old man had said was true – as they entered deeper into the forest and the mountains, it became more and more beautiful. And wild, juicy fruits…and they were resting; whenever he wanted, the old man was ready. He was surprised that the old man himself never said it was time to rest. But whenever the young man said it was time to rest, he was always willing to rest with him – a day or two, and then they would start the journey again.
"Those one hundred miles just came and went by, and they reached one of the most beautiful statues of one of the greatest men who has ever walked on the earth. Even his statue had something – it was not just a piece of art, it was created by Taoist artists to represent the spirit of Tao.
"Tao believes in the philosophy of let-go. It believes you are not to swim, but just to flow with the river, allow the river to take you wherever it is going – because every river ultimately reaches to the ocean. So don't be worried, you will reach the ocean. There is no need to be tense.
"In that lonely spot the statue was standing, and there was a waterfall just by the side – because Tao is called the watercourse way. Just as the water goes on and on flowing with no guidebooks, with no maps, with no rules, no discipline… but strangely enough in a very humble way, because it is always seeking the lower position everywhere. It never goes uphill. It always goes downhill, but it reaches to the ocean, to its very source.
"The whole atmosphere there was representative of the Taoist idea of let-go. The old man said, 'Now begins the journey.'
"The young man said, 'What? I was thinking, one hundred miles and the journey is finished.'
"The old man said, 'That is just the way the masters have been talking to people. But the reality is now – from this point, from this atmosphere, a journey of one thousand and one miles begins. And I will not deceive you, because after one thousand and one miles you will meet another old man – perhaps me – who will say, 'This is just a stopover, go on.'Go on is the message.'
"The journey itself is the goal. "It is infinite. It is eternal." Osho