Truth Consciousness Bliss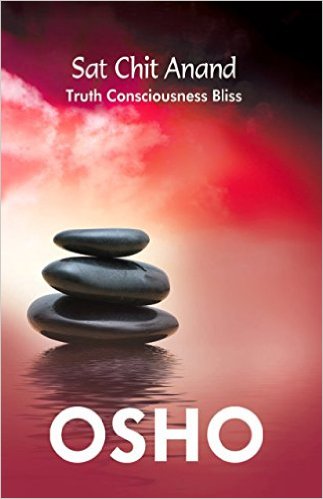 "If you can grasp only this much – that it is beyond the grasp of the mind – you have done more than is ordinarily possible for a human being. Mind is a very small thing and existence is tremendously big. Existence is so oceanic, so infinite, so eternal … And our minds are so small that it is not a wonder that whenever you come close to the truth, you feel that your heart has fallen into a certain harmony." Osho
Osho, why is communication so difficult, particularly between lovers?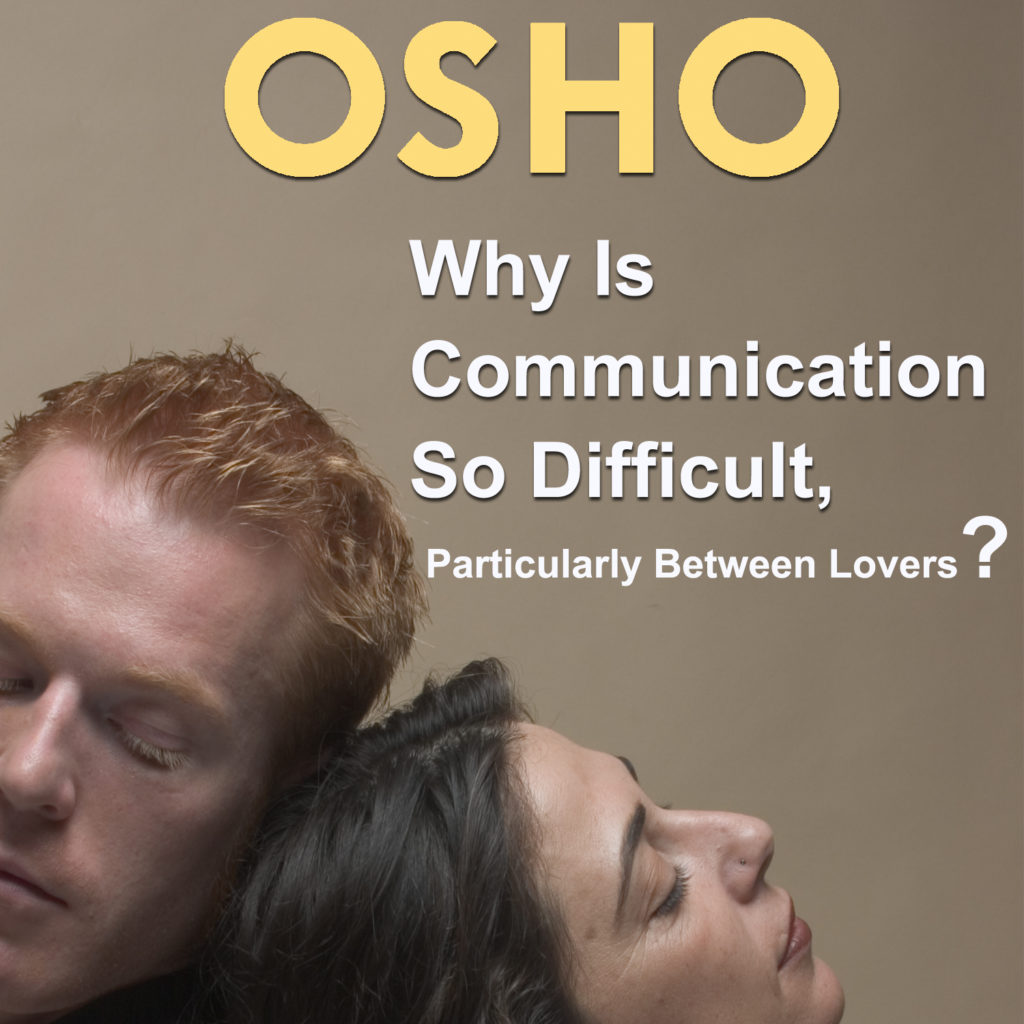 Osho answers:
"Communication as such is difficult. Of course it is more difficult between lovers. But first you have to understand the general difficulty of communication. Each mind has been conditioned by different parents, different teachers, different priests, and different politicians…
…and when two minds try to communicate, as far as the ordinary mundane things are concerned, there is no difficulty. But the moment they start moving beyond things into the world of concepts, communication starts becoming more and more difficult."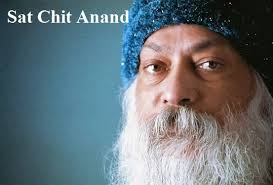 "As far as lovers are concerned, they have still more difficulty in communicating, because the feminine mind functions differently, and the masculine mind functions differently. And man has been conditioned by society in a different way to how the woman is conditioned. And both have to live together, twenty-four hours. It becomes heavy. It becomes heavy because whatever the man says, the woman hears something else. The woman is not much in the head, she is much more in the heart: the man is much more in the head. That creates a great disparity."
"The world will be at peace only when man and woman have come to a deep understanding. And with that deep understanding there will be great love, great compassion, great friendliness. It is an absolute to be achieved. Without it man can never become civilized." Osho
Truth Consciousness Bliss – Waarheid Bewustzijn Geluk
Het boek heeft de titel 'Sat Chit Anand', dit betekent: Truth Consciousness Bliss oftewel: Waarheid Bewustzijn Geluk. Deze mantra staat bij Boeddha, Socrates en Lao Tzu voor het allerhoogst bereikbare, het ultieme, voor hen die eerder beschouwend dan
poëtisch van aard zijn. Osho verklaart dat meditatie de 'master key' is die de deur opent voor onze innerlijke rijkdom. Op die manier wordt de reuzensprong mogelijk van mind naar no-mind, van mind naar being, die urgent is in de wereld.
Het boek Sat Chit Anand is schaars geworden. Mogelijk is het wel tweedehands te verkrijgen bij de Boekhandel.
Impressie van 'Sat Chit Anand'
"Your being has moved from its sleeping state into a certain awakening, but your mind remains in a very stunned and shocked state. The truth is beyond the mind, but not beyond the heart – the heart can grasp it. But this is the trouble: the heart cannot say anything about it. Yes, it can dance, it can sing, but it cannot use any language. Language is confined to the mind.
"And as far as your being is concerned, which is deeper than the heart, it can have the full comprehension of the truth. But the very comprehension of the truth by your being makes it utterly silent. The very understanding makes your being filled with the feeling of the mysterious, the unknowable. The being cannot even do what the heart can do. It remains just as if it is no more. All has become silent, although the silence is very much alive. It is not the dead silence of a graveyard, it is the silence of the starry night – immensely alive."
"But the deeper you go, the further you are from language. Even dance is a language, even gestures are a language, even your eyes – without saying anything – can say much. But as you go deeper and deeper, there is the world of satchidanand, there is the truth and consciousness and bliss. Everything becomes utterly silent. Mind is left far, far away. The mind cannot hear even faraway echoes of what is happening in the being."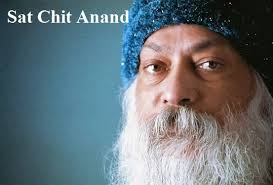 "Yes, mind can hear something of what is happening in the heart. The heart is very close to the mind, although deeper. Mind can feel that a certain harmony is arising, a certain peace, a certain joy. It can understand the heart dancing with abandon. But mind cannot express it in language. So it has a certain feeling from the heart, just a cool breeze passing through the mind. It can have a little taste – something sweet is happening somewhere deep, but how to say it?" Osho, Sat Chit Anand
Review van Sat Chit Anand
Communicatie is de smeerolie van onze relaties.
In vrijwel alle soorten contacten, tussen geliefden, maar ook tussen vrienden, werkgever en werknemer en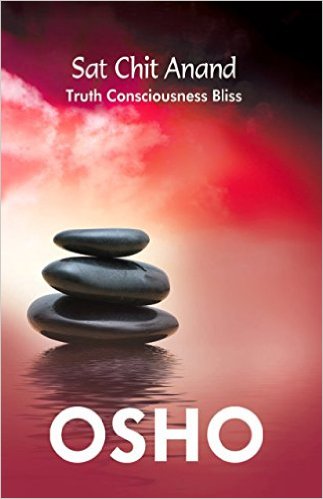 collega's onderling treden er regelmatig problemen op.
En die zijn in de meeste gevallen allemaal terug te voeren op het niet goed verlopen van de communicatie.
Misschien is 'met liefdesrelaties bezig zijn' niet zo je ding op het moment, dan biedt deze toespraak uit 'Sat Chit Anand' je toch onverwacht veel.
Zo verging het mij in ieder geval.
Ik werd meteen geboeid door de uitleg van Osho over communicatie.
"Mensen zijn verschillend geconditioneerd.
Telkens andere ouderparen, leraren, dominees en politici hebben bij iedere afzonderlijke persoon hun invloed gehad. Op zich leeft ieder hierdoor in een volstrekt eigen wereld.
En als het over oppervlakkige zaken gaat, dan is er niet zoveel aan de hand. Maar hoe meer mensen bij elkaar betrokken raken, des te meer gaan die zo afzonderlijke werelden spreken."
So far so good. Dit is helder en zet de puntjes op de i.
De uitleg gaat verder.
Als er spiritualiteit speelt in de communicatie, zijn er ook zeer fundamentele verschillen.
En er volgt op dat gebied in deze toespraak uit 'Sat Chit Anand' een heel interessante verhandeling over de plaats van God in diverse religies.
In de godsdiensten waarin meditatie een vast onderdeel vormt, is het begrip God vrijwel altijd afwezig.
Men zegt eenvoudig: het bewustzijn ontwikkelt zich van beest tot mens en daarna: van mens tot God. Ieder levend wezen wordt dus eens op een dag God.
Ons Godsbeeld is een belangrijk topic, want onze hele manier van waarnemen wordt er door gekleurd.
De conditionering zit erg diep.
En die heeft zijn weerslag op onze communicatie in relaties.
Godsdiensten waarin God een onwrikbare plaats heeft halen goocheltrucs uit met God en Osho ontmaskert ze één voor één.
En daar komt de nodige humor aan te pas; dus dat is genieten.
Het maakt vrij en geeft inzicht in onze communicatiepatronen. Mensen gebruiken dezelfde woorden in de communicatie, maar vanuit conditionering kennen ze er ieder een geheel andere betekenis aan toe.
En in liefdesrelaties verloopt de communicatie nog moeizamer, omdat de mannelijke mind heel anders functioneer dan de vrouwelijke.
Hiervan geeft Osho een verhelderende uitleg met herkenbare juicy voorbeelden.
Fijn om daar in dit boek 'Sat Chit Anand' zelf van te smullen: schijnbare problemen worden er zoveel lichter door.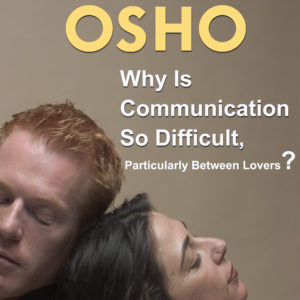 De beschrijving van het volgende gebeuren is in dit opzicht illustratief.
Er stonden allemaal mensen langs de kant van de rivier, want er was een vrouw in het water gevallen en het gerucht ging, dat ze niet kon zwemmen.
Het bleek de vrouw van Moella Nasruddin te zijn. Deze stond echter op een heel andere plek dan waar zijn vrouw te water was gegaan.
Daarom begonnen de mensen te roepen en met hun armen te gebaren. "Moella, hier moet je zijn. Je vrouw is op deze plaats in het water geraakt."
Maar Moella bleef gewoon staan waar hij stond en riep terug: "Jullie kennen mijn vrouw niet.
En ik ken haar maar al te goed. Ik weet zeker, dat ze hier ergens in het water moet zijn, want ze gaat altijd tegen de stroom in."
Er is tussen mannen en vrouwen een fundamenteel verschil van de dingen waarnemen en dat leidt vrijwel altijd tot miscommunicatie.
Er is in de communicatie tussen hen altijd sprake van conflict: er is nooit communion, hetgeen betekent: een vruchtbare en creatieve onderlinge uitwisseling.
En de enige mogelijkheid om tot communion te komen is, dat beide zich ontwikkelen. Als ieder zijn /haar bewustzijn ontwikkelt en tot het punt komt waar dit verder gaat dan de mind, is er een kans.
Op dat punt laat men alle conditionering achter zich. En zelfs de biologische verschillen spelen dan niet meer.
Het bewustzijn dat verder gaat dan de mind is niet vrouwelijk en ook niet mannelijk meer.
Als je zover bent, praat je niet alleen maar met elkaar, er is ook een vruchtbare uitwisseling oftewel communion.
Het is belangrijk om het volgende op diep niveau te begrijpen.
Er is alleen een mogelijkheid om tot communion te komen, als er sprake is van meditatie.
Duizenden jaren is er alleen maar sprake geweest van 'geen communicatie' en daaraan zijn we gewend geraakt.
En Osho is de eerste die het uitzicht geeft op een mogelijke nieuwe situatie.
Jezus, Lao Tzu of zelfs Boeddha zijn niet verder gekomen met dit thema, aldus Osho. 
Een gevoel van diepe dankbaarheid doorstroomt me dit van Osho te ontvangen.
Als kind heb je de miscommunicatie tussen je ouders meegemaakt en je hebt die later ook in je eigen relaties zelf ondervonden.
En tenslotte ga je er vanuit dat het gewoon niet anders kan, dat je maar moet accepteren, dat het zo is.
Wat een verrukking is het om hier Osho's positieve perspectief mee te krijgen! 
Heel erg de moeite waard is deze lecture uit 'Sat Chit Anand' ervaar ik, voor mensen die lovers zijn en voor ieder ander.
Kortom: WAAROM GAAT COMMUNICATIE ZO MOEIZAAM, SPECIAAL TUSSEN GELIEFDEN? is een lecture uit 'Sat Chit Anand' van grote innerlijke en uiterlijke rijkdom. '