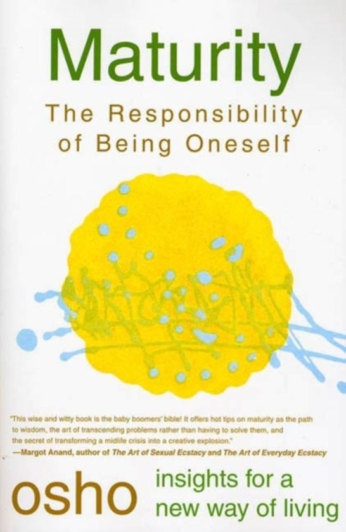 The Responsibility of Being Oneself
In a culture infatuated with youth and determined to avoid old age at all costs, this book dares to raise a question that has been all but forgotten in the age of Viagra and cosmetic surgery. What benefits might lie in accepting the aging process as natural, rather than trying to hold on to youth and its pleasures all the way to the grave?
Osho takes us back to the roots of what it means to grow up rather than just to grow old. Both in our relationships with others, and in the fulfillment of our own individual destinies, he reminds us of the pleasures that only true maturity can bring. He outlines the ten major growth cycles in human life, from the self-centered universe of the preschooler to the flowering of wisdom and compassion in old age.
Osho's sly sense of humor runs like a red thread through the book, along with a profound compassion and understanding of how easy it is to be distracted from the deeper meaning and purpose of our lives-which is, ultimately, to flower into our own individual uniqueness and maturity with an attitude of celebration and joy.
Only a few claim the right…
Growing up means moving every moment deeper into the principle of life; it means going farther away from death—not toward death. The deeper you go into life, the more you understand the immortality within you. You are going away from death; a moment comes when you can see that death is nothing but changing clothes, or changing houses, changing forms—nothing dies, nothing can die.Death is the greatest illusion there is." OSHO
Aging plus Alertness
"There are two ways to live: one, to live in a deep sleep – then you age, every moment you become old, every moment you go on dying, that's all. Your whole life consists of a long, slow death. But if you bring awareness to your experiences – whatsoever you do, whatsoever happens to you, you are alert, watchful, mindful, you are savoring the experience from all the corners, you are trying to understand the meaning of it, you are trying to penetrate the very depth of it, what has happened to you, you are trying to live it intensely and totally – then it is not just a surface phenomenon. Deep down within you something is changing with it. You are becoming more alert. If this is a mistake, this experience, you will never commit it again.

"A mature person never commits the same mistake again. But a person who is just old goes on commiting the same mistakes again and again. He lives in a circle; he never learns anything." Osho
De Verantwoordelijkheid om Jezelf te zijn
Het boek Maturity maakt deel uit van de serie 'Insights for a new way of Living'. Vooral in deze tijd is Osho's visie op oud zijn en ouder worden van groot belang. Je bent in onze wegwerpmaatschappij wel heel snel oud.

Voor je het goed en wel in de gaten hebt, word je ook als mens weggeworpen. Osho werpt een heel ander licht op ouder worden en zegt: "Als je ouder wordt, krijg je diepere wortels in jezelf.
Kijk maar eens naar een boom: hoe hoger hij wordt des te dieper zitten zijn wortels in de aarde. Er is bij een ontwikkelde boom veel meer sprake van evenwicht dan bij een jonge onvolgroeid exemplaar."
Het boek Maturity is verkrijgbaar in de Boekhandel. 
Dit boek wil aandacht vragen voor deze geheel andere benadering van ouder worden die In een cultuur die dol is op jeugd en vastbesloten is koste wat kost ouderdom te vermijden, vrijwel vergeten is.  In het tijdperk van Viagra en cosmetische chirurgie lijkt daar geen plaats voor te zijn. 
Een essentiële vraag bij de nieuwe benadering is: Welke voordelen kunnen liggen in het accepteren van het verouderingsproces als natuurlijk, in plaats van proberen vast te houden aan de jeugd en zijn geneugten helemaal tot aan het graf? Osho neemt ons mee terug naar de wortels van wat het betekent om te groeien in plaats van gewoon oud te worden . Zowel in onze relaties met anderen, als in het vervullen van onze eigen individuele doeleinden, herinnert hij ons aan genoegens die alleen echte volwassenheid kan brengen.
Hij schetst de tien belangrijkste groeicycli in het menselijk leven, van het egocentrische universum van de kleuter tot de bloei van wijsheid en medeleven op oudere leeftijd. 
Osho's scherpzinnige gevoel voor humor loopt als een rode draad door het boek die gepaard gaat met een diep medeleven en begrip. Want hoe gemakkelijk is het om afgeleid te worden van de diepere betekenis en het doel van ons leven dat uiteindelijk het bloeien in onze eigen individuele uniekheid en volwassenheid is vanuit een houding van viering en vreugde.
Opgroeien is verder van de dood vandaan…
Osho geeft aan dat we het recht om ons ouder worden op een geheel andere manier te leven, dienen te claimen.
'Slechts enkelen claimen het recht. Opgroeien betekent elk moment dieper ingaan op het principe van het leven; het betekent verder weg gaan van de dood – niet naar de dood toe. Hoe dieper je in het leven gaat, des te meer je de onsterfelijkheid in jezelf begrijpt. Je gaat weg van de dood; er komt een moment waarop je kunt zien dat de dood niets anders is dan van kleding veranderen, of van huis veranderen, van vorm veranderen – niets sterft, niets kan sterven. Dood is de grootste illusie die er is.' OSHO
Opgroeien moet niet alleen maar 'toename in leeftijd' te zijn, want daar hoef je geen enkele moeite voor te doen. Osho zegt erover dat het dan automatisch gebeuren is, oppervlakkig, het is 'slow death'. Maar als opgroeien met een voortdurend getuige zijn plaatsvindt, gebeurt er diep van binnen ook iets. Dan is het zo dat een rijpe persoon geen fout kan maken, in tegenstelling tot de niet echt opgroeiende mens die in cirkels ronddraait en telkens dezelfde fouten maakt.
Review van het boek Maturity
Wat me het eerst in dit boek Maturity trof, was het beeld dat Osho van ouder worden geeft.
Hij zegt: als je ouder wordt, krijg je diepere wortels in jezelf. Kijk maar eens naar een boom: hoe hoger hij wordt des te dieper zitten zijn wortels in de aarde. Er is bij een ontwikkelde boom veel meer sprake van evenwicht dan bij een jonge onvolgroeid exemplaar. 
Een boom kan gewoon niet echt uitgroeien als zijn wortels niet ook tegelijkertijd meer houvast in de grond krijgen.
Als je er zo tegen aankijkt, is oud worden veel acceptabeler, vind ik. Zoals altijd werpt Osho hier weer een heel speciaal licht op de dingen.
Een vriendin van mij uit Amsterdam die zelf geen sannyasin is opende mij daar kort geleden opnieuw de ogen voor. Ze zei: zoals Osho tegen eenzaamheid aankijkt, namelijk als de afwezigheid van iets, net zoals duisternis de afwezigheid is van licht…..dan wordt het veel gemakkelijker, het is niet meer zo zwaar.
Ik realiseerde me hoe verwend ik ben met al zoveel jaren omringd te worden door Osho's liefde die in vele vormen naar me toekomt. Af en toe neem ik ook gemakkelijk iets
voor lief en dan word ik daar dus door anderen op geattendeerd, vaak ook door niet-sannyasins.
Nu weer verder over ouder worden, zoals Osho daarover spreekt in Jaren Van Wijsheid: iedereen moet jong, snel en cool zijn in deze maatschappij. En er is niets tegen jeugdig en onschuldig zijn, maar het is ook fijn om de periode van ongelimiteerd dwaasheden uithalen en het steeds dezelfde fout maken achter je te laten.
Ook dan kan er nog wel steeds sprake zijn van een zekere onschuld. Want als je ouder bent, hoort gedrag als ben je een onschuldig kind evengoed bij je, maar met een verschil. Nu is er onschuld die veroverd is, onschuld die terug gevonden is.
Dit soort kernachtige uitspraken staan in het boekje omkaderd en in een grijs veldje. Dat maakt het boek Maturity extra aantrekkelijk. Kom je er niet toe om het boek bladzijde na bladzijde te lezen, dan pak je af en toe een omkaderde uitspraak en laat die diep tot je doordringen en je mediteert daarover.
Iemand bij wie zijn hele leven en dus ook bij het ouder worden onschuld te vinden was, is Franciscus geweest.
Osho geeft dan ook de schitterende conversatie van Franciscus weer toen hij stervende was. Zijn discipelen stonden om Franciscus heen te wachten op een klinkende afscheidsrede die tot hen gericht zou zijn. En tot
ieders verbijstering begon Franciscus tegen zijn ezel te praten. Ik weet zeker dat je moet lachen bij de laatste woorden die Franciscus sprak en die voor zijn ezel bestemd waren en voor niemand anders.
In dit boek Maturity geeft Osho verder antwoord op de vraag wanneer iemand rijp is te noemen. En dat rijp zijn heeft dan niet zoveel met leeftijd te maken, zoals blijkt. Osho zegt dat hier zo mooi. Hij geeft aan: een mens wordt rijp op het moment dat hij in plaats van liefde te willen hebben, liefde begint uit te stralen; hij stroomt als het ware over van liefde.
Belangrijk bij het rijpen is natuurlijk meditatie. Je wordt pas rijp als je met mediteren bent begonnen, zegt Osho. Want anders blijf je een kind, compleet met speelgoed. Als kind had je speelgoed en als volwassene heb je je eigen speelgoed. Door meditatie word je je daarvan bewust.
Osho geeft een paar uitspraken over oud zijn die je door de humor ervan tot diepe ontspanning brengen. Dan kom je tot de conclusie: ouder worden…..so what? Je kunt er toch niets aan veranderen. Dus, vier ook dat maar!
Hier komen ze: "Het prachtige van stokoud zijn is dat je nu te oud bent om het slechte voorbeeld te geven en dus kunt beginnen goed advies te geven."
"In elk oud mens zit een jonger mens dat zich afvraagt wat er gebeurd is"
"Een stokoud mens is iemand die in bed zijn bril ophoudt, zodat hij de meisjes waar hij van droomt beter kan bekijken."
Een mooie tijd gewenst, veel geefplezier en geniet van Osho's licht dat recht door zijn woorden heen schijnt.