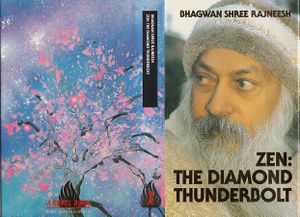 In Zen: The Diamond Thunderbolt Osho comments on our religious and social conditioning through the vibrant stories of ancient Zen. Like the colorful Zen masters that he celebrates, Osho shocks us into recognizing "this moment, here now." Zen literally means meditation, and at the end of each of talk Osho guides us through a scientifically designed meditative technique so we too can experience the emptiness that lies at the heart of each Zen story.
ZEN: The Diamond Thunderbolt Nederlands
Klassieke Uitgave
Als een van de weinige Zen boeken van Osho heeft Zen: The Diamond Thunderbolt nog geen herdruk beleefd. Dat zal weliicht in de komende jaren gebeuren. Hier wordt danook de klassieke cover van het boek getoond, met op de achterzijde een prachtige schildering van de begaafde onvergetelijke schilderes Meera.
In Zen: The Diamond Thunderbolt geeft Osho commentaar op onze religieuze en sociale conditionering door middel van de schitterende verhalen uit het klassieke Zen. Zoals de kleurrijke Zen meesters die hij hoog in het vaandel heeft, brengt Osho ons met een schok tot de herkenning van 'dit moment, hier en nu'. Zen betekent letterlijk meditatie en aan het eind van iedere toespraak leidt Osho ons door een wetenschappelijk ontwikkelde meditatieve techniek. Hierdoor kunnen we de leegte die het hart vormt van elk Zen verhaal, zelf ervaren.
Zen Anekdotes
Osho legt uit over de anekdotes in dit boek betreffende de Zen meesters:'Deze korte anekdotes behoren tot een wereld die verdwenen is: de wereld van de zoeker, de wereld om zichzelf te kennen, die we al lang geleden kwijtgeraakt zijn.Het is niet meer dezelfde wereld als waar deze anekdotes plaatsvonden. Nu gaat niemand meer als een wolk op pelgrimstocht. Nu is niemand meer in staat om zo licht en vrij te zijn als een wolk. Iedereen is beladen met vooroordelen, allerlei soorten nonsens, niemand lijkt tenminste in één ding geïnteresseerd te zijn en – dat is in zichzelf.'
Objectiviteit versus Subjectiviteit
'De mind van de mens is objectief geworden en deze is een taal vergeten die van subjectiviteit getuigde. Die kijkt naar buiten en heeft diepgaand in de uiterlijke wereld gekeken in de vorm van deverschillende wetenschappen. Hij is precies in het innerlijkste wezen van het stoffelijk doorgedrongen. Hij heeft de verste ster bereikt, maar hij is een basaal ding vergeten: 'Wie zit er binnenin mij?' Welnu, al deze kennis van de objectieve wereld is van geen enkele waarde vergeleken bij het hebben van een bescheiden glimp van de innerlijke hemel en de schoonheid ervan – de zonsopgangen en de zonsondergangen ervan, de dagen en de nachten, de luchten en de sterren die zich daar bevinden. Dan lijkt de buitenkant alleen maar een vale reflectie van het innerlijk te zijn en wordt de uiterlijke wereld gewoon een schaduw.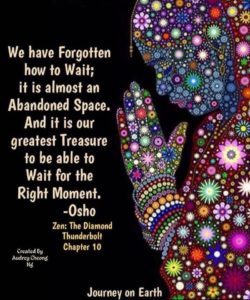 Excerpt from The Diamond Thunderbolt # 2
"These small anecdotes belong to a world that has disappeared: the world of the seeker, the world to know oneself, which we have lost long ago. It is no more the same world in which these anecdotes happened. Now nobody goes on a pilgrimage like a cloud. Now nobody is capable to be so light and free like a cloud. Everybody is burdened with prejudice, all kinds of nonsense, nobody seems to be interested at least in one thing – that is himself.
Who is In?
"Man's mind has become objective and it has forgotten a language that was of subjectivity. He looks out, and he has looked deeply into the outer world in the form of the different sciences. It has penetrated matter to its very innermost being. It has reached to the farthest star, but it has forgotten one basic thing: 'Who is within me?' Now all this knowledge of the objective world is of no value in comparison to having a little glimpse of the inner sky and its beauty – it's sunrises and sunsets, it's days and nights, it's sky and it's stars. Then the outer looks only a paler reflection of the inner; the inner becomes more real and the outer becomes just a shadow.
The Search for Consciousness
"Although the past was in many ways difficult, on one single point – the search for consciousness – we are now much lower on the scale. You have to understand these dialogues – they don't belong to the world in which you live, they don't belong to the mind that you have right now. But intelligence has the capacity to enter into different realms of consciousness, and it is a tremendous experience that people have lived differently, loved differently, heard differently a music, a dance, a beatitude. Even if you can get little glimpses of the world that is lost you will be able to find the track of your own buddhahood.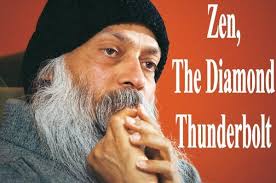 "That was the dedication of all the intelligent people of the past – to find one's own kingdom, which cannot be taken away; nothing can destroy it, fire cannot burn it. Death does not happen in that dimension, only roses of bliss, lotuses of ecstasy and a freedom that has no limits. A joy comes to every fiber of your being; every cell of your being starts to dance without any reason. Just for the sake of being, one feels at the very highest peak of existence. One cannot ask for more, it has already been given, just we have lost the way to our own home.
Extraordinary Anecdotes
"These anecdotes relate to those seekers. They have become very foreign to us; that is why, even though we can understand the language, we cannot understand what is happening inside, behind the curtain. The anecdotes look very ordinary, but they are not ordinary; there cannot be anything more extraordinary than these Zen seekers – their ways of inquiry." Osho