Becoming a Buddha by Meditation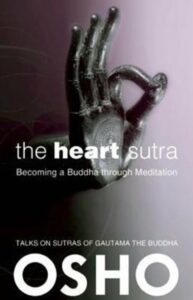 Osho on Buddha's most important Sutra
Osho gives ten talks on Gautama the Buddha's famous Heart Sutra, a small yet highly revered book of verses in Buddhist literature.
Bringing alive the powerful message of these ancient words, Osho speaks on awareness and enlightenment, trust and the heart and encourages us all to reclaim the buddha within ourselves.
"Buddha's message is the greatest that has ever been delivered to man. And this sutra is one of the greatest expressions of Buddha. He has talked for forty-two years, and he has said many things, but nothing compared to this. This is unique."
Talks on Prajnaparamita Hridayam Sutra of Gautama the Buddha
The Heart Sutra, originally a very short set of verses, was given in privacy. It was a message to one of Buddha's close disciples, Sariputra, and was specifically addressed to him. Over time, the Heart Sutra became one of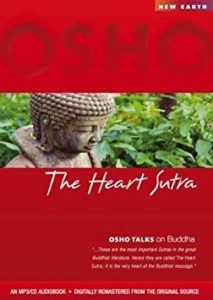 Buddhism's core teachings. In these ten talks Osho presents the powerful message of these ancient words and brings them to a modern audience — one with different minds and needs than the original audiences of Buddha more than 2,500 years ago. Osho's message is not about Buddha the historical figure: instead, he addresses his readers and listeners and encourages them to discover their own inner reality, their own buddhahood. Like Buddha's, Osho's message is about meditation and meditation alone — "rely only on your meditation and nothing else." Osho also speaks on the seven chakras, the energy centers of the human body, and their corresponding relationships to the physical, psychosomatic, psychological, psychospiritual, spiritual, spiritual-transcendental, and transcendental aspects of human growth and consciousness.
Inhoud van the Heart Sutra
In het boek The Heart Sutra heeft Osho het over stagneren van de mensheid.
Osho heeft er al vaak op gewezen hoe belangrijk het is om op te groeien. De mensheid existeert al zo lang op een kinderlijk niveau, compleet met verstarde godsdienstbeleving en bijgeloof; sannyasins moeten toch tenminste zorgen, dat ze volwassen worden. " You should grow up and not grow old" zoals Osho dat uitdrukt.  
De meest recente cover van The Heart Sutra heeft een prachtige exotische uitstraling gekregen. Ten slotte is India ook de plek waar Boeddha zijn visie heeft uitgedragen.
Op de vorige cover van The Heart Sutra is een tamelijk serieus gezicht van Osho te bespeuren.
Maar dat geeft in dit kader wel een speciale beleving van diepte.
We kunnen dat Osho zelf horen beschrijven: 'The Buddha is an empty heart.' Wij vullen van alles in, maar de Boeddha is er niet, is niets.
Het boek en de MP3 'The Heart Sutra' zijn verkrijgbaar in de Boekhandel.
Review van het boek 'The Heart Sutra'
Door middel van Meditatie een Boeddha worden
Deze nieuwe uitgave is de derde druk die ik van Osho's commentaar op The Heartsutra van Boeddha onder
ogen krijg. En ik vind iedere uitgave indrukwekkender, krachtiger.
Want ik ben lange tijd als het ware verslaafd geweest aan Osho's glimlach. Die lach identificeerde ik helemaal met zijn liefde.
Na jaren van omringd te zijn geweest met oppervlakkige vreugde en gemaakte glimlachjes, ook bij mezelf uiteraard, genoot ik sinds sannyas van de echtheid, de totaliteit, het uitbundige….de niets achterhoudende vreugde die ik op de gezichten van de mensen zag. En dan culmineerde dat natuurlijk in de glimlach van de Meester. Ik had in de dagen dat ik vlakbij Osho leefde genoeg aan die glimlach als hij voorbij kwam rijden, om me de hele dag blij en zelfs af en toe extatisch te voelen. En de dagen dat hij niet naar buiten kwam, ervaarde ik als dat ik niet werd opgeladen. Het was dan moeilijker om opgewekt overeind te blijven in het af en toe woelige communeleven.
Maar meestal kwam Osho dan wel de dag daarna weer voorbij: breed glimlachend en met zijn armen zwaaiend op de muziek van de groepjes langs de weg. En dan kon ik weer licht en luchtig de dag door dansen, pijnplekken werden zachter en mijn directe omgeving ervaarde ik als veel vriendelijker en liefdevoller.
Een keer was ik getuige van een autorit van Osho waarbij zijn gezicht strak leek, serieus. Of dat nu projectie was of echt het geval…..in ieder geval werd ik er enorm door geraakt. Ik had het gevoel dat ik het niet aan kon. En ik lag te huilen op de massagetafel tijdens de sessie die ik daarna kreeg. Ik haalde uit dit gebeuren een boodschap als: Osho zal er niet altijd zijn met zijn glimlach en je zult het zelf moeten doen.
En natuurlijk hoort dat bij het groeiproces. Je mag een tijdje opnieuw kind zijn bij de Meester, maar het houdt ook een keer op. En Osho heeft er vaak op gewezen hoe belangrijk het is om op te groeien. De mensheid existeert al zo lang op een kinderlijk niveau, compleet met verstarde godsdienstbeleving en bijgeloof….sannyasins moeten toch tenminste zorgen, dat ze volwassen worden, "You should grow up and not grow old" zoals Osho dat uitdrukt.
Als ik dan nu de cover van The Heart Sutra zie, die van de derde uitgave, dan bespeur ik ook een vrij serieus gezicht van Osho. Maar nu raak ik daarvan niet meer van mijn stuk. Integendeel, ik ervaar als het ware nog meer de diepte dan bij zijn glimlach. Het beeld komt op me over als, zoals Osho dat zelf zegt: "The Buddha is an empty heart." Wij vullen van alles in, maar de Boeddha is er niet, is niets.
Ik word hier meer totaal en dieper door geraakt. En dat kan ook niet anders, want het is vele jaren later, jaren waarin ik me geen dag zonder de Meester voelde en toch ook heel sterk mijn eigen gang ging.
Osho begint de Heartsutra met: "Ik groet de Boeddha in jou" We zijn allemaal Boeddha's of we ons dat nu bewust zijn of niet. In feite kun je zelfs niets anders zijn, je Boeddha zijn is de kern van je wezen. Maar we zijn allemaal vast in slaap, dus we herkennen niet dat we Boeddha's zijn. We moeten weer uit onze eigen bron gaan putten, bij ons zelf naar binnen kijken. En als je jezelf gaat zien, kan het niet anders dan dat je (weer) ontdekt dat je een Boeddha bent. The Heart Sutra
En hoewel je dat nu nog niet echt zo ziet, kun je toch beginnen met een zaadje in je eigen hart te zaaien. Laat het diep in je hart zinken dat je een Boeddha bent. Ook al vind je het maar een vage veronderstelling, ook al vertrouw je het niet helemaal.
Laat het idee, dat je een ontluikende Boeddha bent, er toch als een minuscuul begin zijn. Je hebt de potentie in je en met zo'n vruchtbaar uitgangspunt, zal het zeker ooit gerealiseerd worden.
Je zult dan geen bedelaar meer zijn, maar een vorst en er ligt een wereld  aan je voeten.
Maar die moet je dan wel claimen. Als je er van uit blijft gaan dat je een bedelaar bent, een zondaar waarover gedurende de eeuwen zo vaak is gepredikt, dan kun je je Boeddha-zijn niet claimen.
Een zondaar te zijn, is geen goed uitgangspunt en toch zit dat diep in ons. We zijn er door gehypnotiseerd en die hypnose moet doorbroken worden.
Dus begin met het juiste idee, het juiste klimaat om je heen, de juiste visie. En accepteer jezelf, laat schuldgevoelens varen. Ook schuld is bij ons aangekweekt. Eerst moeten we ons schuldig voelen en dan is God er om ons te vergeven. Het is een omslachtige constructie. In naam van God wordt ons schuld aangepraat en vervolgens worden we in naam van God vergeven.
In dit boek The Heart sutra tref ik ook weer wijsheid aan waar ik heel direct iets mee kan doen in het dagelijks leven. Op mijn school heb ik heel veel groepen. Ieder lesuur verschijnt er weer een andere groep.
En telkens merk ik: als ik de groep als geheel aanspreek, kom ik niet zover. Als ik in de loop van de tijd met leerlingen uit de diverse groepen afzonderlijk contact krijg, ja, dan wordt het met de hele groep ook gemakkelijker. De individuen zijn dan de sleutelfiguren en het contact dat ik met hen heb, bepaalt grotendeels het klimaat van de klas.
Bij Osho in The  Heart Sutra lees ik aansluitend hierbij het volgende.
"Voor mij bestaat de maatschappij niet, er zijn alleen maar individuen. De maatschappij is gewoon een functionele structuur. Die structuur is nuttig, die is bruikbaar. Een maatschappij kom je echt niet tegen. Heb jij ooit de maatschappij ontmoet? Ben je ooit de overtuiging van de hindoes tegengekomen of van de islam? Nee, je komt ook dan het afzonderlijke individu tegen.
Maar mensen hebben geprobeerd om de maatschappij te verbeteren; ze wilden een ideale maatschappij vormen. En de pogingen van die mensen zijn rampzalig gebleken. Ze hebben iedereen misleid. Want, omdat ze het alsmaar over de ideale maatschappij hadden, zijn mensen zich schuldig gaan voelen, ze hebben elk zelfrespect verloren. Iedereen voelt zich schuldig, niemand die echt gelukkig is, precies zoals hij nu is. Want je kunt schuldgevoelens in iemand op gang brengen om letterlijk niets. Heb je dat eenmaal gedaan, dan krijg je de touwtjes in handen: breng schuldgevoelens teweeg en je krijgt macht.
En die macht bestaat eruit, dat degene die je schuld aanpraat ook precies degene is die je van die schuld kan bevrijden.
Dus: de pastoor schept eerst schuld in je en dan moet jij naar de kerk gaan om te biechten. Dan kan de pastoor je in de naam van God vergeven. Eerst zorgt hij in naam van God dat jij je schuldig voelt en dan schenkt hij je vergiffenis in de naam van God.
De volgende grap maakt deze truc nog eens glashelder.
Calvin werd door zijn moeder op iets betrapt wat volgens haar een doodzonde is. En ze stuurde hem daarom onmiddellijk naar de kerk om te gaan biechten. "Vader" zei Calvin "Ik was met mezelf aan het spelen." "Waarom deed je dat?" riep de pastoor boos uit. "Ik had niets beters te doen" zei Calvin.
"Als straf hiervoor moet je vijf Onze Vaders en vijf Heilige Maria's opzeggen" zei de pastoor.
Een week later betrapte Calvins moeder hem nogmaals en hij werd weer weg gestuurd om te gaan biechten. En Calvin gaf de pastoor hetzelfde antwoord, namelijk dat hij met zichzelf zat te spelen omdat hij niets beters te doen had. Dus moest hij op dezelfde manier boete doen.
De week daarna werd Calvin opnieuw schuldig bevonden. "Je gaat maar weer naar de pastoor" zei zijn moeder "En neem deze chocolade cake mee voor de goede Vader"
Terwijl hij in de lange rij voor de biechtstoel zat te wachten, begon Calvin de cake op te eten. In de biechtstoel zei hij: "Vader, Mam heeft een chocolade cake voor u mee gegeven, maar ik heb hem zelf opgegeten toen ik op mijn beurt zat te wachten."
"Waarom heb je dat gedaan?" vroeg de pastoor. "Ik had niets beters te doen."
"Waarom ging je dan niet met jezelf zitten spelen? " was de barse wedervraag van de pastoor.
Zo gaat dat dus in zijn werk. De pastoor heeft geen interesse in jou, maar in chocolade cake. Hij heeft duidelijke belangen.
"Maar" zegt Osho "We hebben helemaal geen pastoor nodig om ons te redden. Hij redt ons alleen nadat hij ons eerst schuld heeft aangepraat. Want, let op de boodschap van Boeddha: Je bestaat al. Je hoeft niet gered te worden. De redder hoeft niet op te komen draven, want je bent helemaal niet schuldig. Er bestaat geen lijden. Lijden heeft geen begin; en dus er is ook geen uitweg uit het lijden. Er bestaat alleen Niet Lijden; Niet Lijden is je eigenlijke natuur."
En daarom: ik blijf mijn groepen als een verzameling individuen zien, ook al hebben collega's het vaak over: deze groep is leuker dan die groep, met deze groep kun je goed werken en met die niet. In elke groep zitten mensen met wie je het leuk kunt hebben en uiteindelijk hopelijk met allemaal. Ik blijf daar in ieder geval mijn best voor doen.
Zie hoe goed het is om The Heart Sutra weer onder ogen te krijgen. Veel leesgenot! 
Osho,
What is the difference between the emptiness of the child before the formation of the ego and the awakened childlikeness of a Buddha?

"There is a similarity and there is a difference. Essentially the child is a Buddha, but his buddhahood, his innocence, is natural, not earned. His innocence is a kind of ignorance, not a realization. His innocence is unconscious – he is not aware of it, he is not mindful of it, he has not taken any note of it. It is there but he is oblivious. He is going to lose it. He has to lose it. Paradise will be lost sooner or later; he is on the way towards it. Every child has to go through all kinds of corruption, impurity – the world.
The Child's Innocence
"The child's innocence is the innocence of Adam before he was expelled from the garden of Eden, before he had tasted the fruit of knowledge, before he became conscious. It is animal-like. Look into the eyes of any animal – a cow, a dog – and there is purity, the same purity that exists in the eyes of a Buddha, but with one difference.

"And the difference is vast too: a Buddha has come back home; the animal has not yet left home. The child is still in the garden of Eden, is still in paradise. He will have to lose it – because to gain one has to lose. Buddha has come back home… the whole circle. He went away, he was lost, he went astray, he went deep into darkness and sin and misery and hell. Those experiences are part of maturity and growth. Without them you don't have any backbone, you are spineless. Without them your innocence is very fragile; it cannot stand against the winds, it cannot bear storms. It is very weak, it cannot survive. It has to go through the fire of life – a thousand and one mistakes committed, a thousand and one times you fall, and you get back on your feet again. All those experiences slowly, slowly ripen you, make you mature; you become a grown-up.
The  Buddha's Innocence 
"Buddha's innocence is that of a mature person, utterly mature. Childhood is nature unconscious; buddhahood is nature conscious. The childhood is a circumference with no idea of the center. The Buddha is also a circumference, but rooted in the center, centered. Childhood is unconscious anonymity; buddhahood is conscious anonymity. Both are nameless, both are formless… but the child has not known the form yet and the misery of it.  
"It is like you have never been in a prison, so you don't know what freedom is. Then you have been in the prison for many years, or many lives, and then one day you are released… you come out of the prison doors dancing, ecstatic! And you will be surprised that people who are already outside, walking on the street, going to their work, to the office, to the factory, are not enjoying their freedom at all – they are oblivious, they don't know that they are free. How can they know? Because they have never been in prison they don't know the contrast; the background is missing.

"It is as if you write with a white chalk on a white wall – nobody will ever be able to read it. What to say about anybody else – even you will not be able to read what you have written." Osho