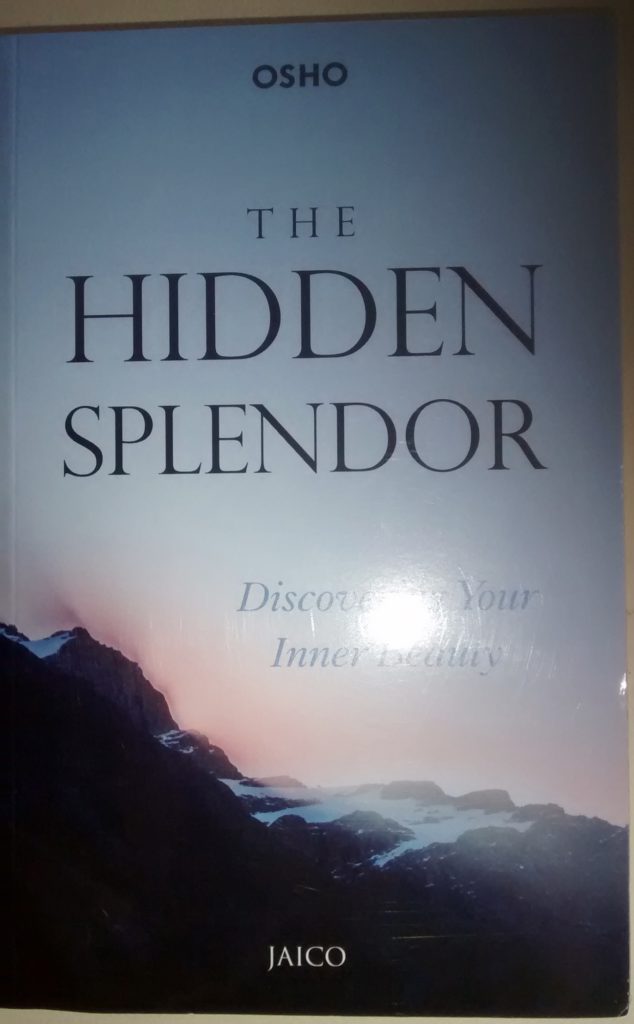 Discovering Your Inner Beauty
You go on Missing Something
This book is a pilgrimage in search of that indefinable something that all
of us, at some time or other in our lives, feel is missing – what Osho describes as our "hidden splendour."
"You go on missing something – something that you had known but you have forgotten – a faded memory, a lost remembrance. And the gap is not only a gap, it is a wound. It hurts, because you had brought something with your birth into the world and you have lost it somewhere. And it seems impossible to find it in this crowded universe. But unless it happens, your life has been in vain, a misery, a suffering, a futile longing, a meaningless desire, a thirst that you know cannot be quenched." OSHO
Discovering Your Inner Beauty
– Je Innerlijke Schoonheid ontdekken
Het boek 'The Hidden Splendor' is een pelgrimstocht naar dat ene wat tamelijk ondefinieerbaar is, The Hidden Splendor, de verborgen pracht. Zolang je die niet gevonden hebt, blijf je het gevoel houden dat je iets
wezenlijks mist. De kans is er om haar deze keer wel te bereiken, je innerlijke schoonheid en haar niet opnieuw mis te lopen.
Een van de hindernissen is de overheersing van de Mind in ons leven.
De mind is een dualiteit; zij is altijd gespleten. Er is niets waar de mind het in z'n totaal over eens is. De helft van de mind zal vóór iets zijn en de andere helft is er tegen. Dus wat je ook kiest, je zult er maar half achter staan. En de andere helft zal op een dag wraak nemen. Die voelt zich gepasseerd. Maar het gaat er niet om wat je kiest, het kiezen op zich is niet juist.
Het boek 'The Hidden Splendor' is tweedehands verkrijgbaar bij de Boekhandel en via internet. Er is bij de Indiase uitgever Jaico ook een nieuwe uitgave van 'The Hidden Splendor' uitgekomen. Deze zal te
zijner tijd via internet beschikbaar komen.
ACTUEEL
De eerste editie van the Hidden Splendor is al van tamelijk vroege datum. De inhoud is echter verrassend actueel. Osho wijst op de gevaren die de planeet aarde bedreigen. Voor onszelf is de tijd om in bewustzijn te groeien beperkt. Echter: ook met betrekking tot de aarde lijkt er, steeds weer, niet veel tijd over te zijn om mensen nog te kunnen herbergen. Het is niet de bedoeling om daar pessimistisch of moedeloos van te voren. Het gaat erom dat de urgentie van expansie in bewustzijn tot ons door blijft dringen.
"Mijn hele onderricht kan gereduceerd worden tot twee woorden: Let go. Ga gewoon met de stroom mee en en dan doe je het perfect." geeft Osho aan
DE TIJD VOOR GROEI IS BEPERKT
In deze serie van vragen-en-antwoorden, benadrukt Osho dat er niet veel tijd meer over is, zowel voor onszelf als voor de planeet aarde en onze resterende tijd moet worden gewijd aan dat wat 't belangrijkste is: ons bewustzijn opbouwen om een werkelijke manier van leven te creëren, vol moed om het onbekende onder ogen te zien. Er is urgentie maar paradoxaal genoeg: er is geen haast.
Osho geeft aan dat alles wat waardevol is, ontstaan zal uit de toestand van  compassie en hij geeft aanwijzingen over hoe we tot die oorspronkelijke staat kunnen terugkeren. Er zijn veel paden, maar er is slechts een essentie: van moment tot moment leven, fris, open en beschikbaar.
Impressie van The Hidden Splendor
"Mind is confusion; it is not that you are in confusion. And there is no way for the mind to be not in confusion. Mind's whole structure is based on confusion. "Mind is a duality; it is always split. There is no single point on which the mind agrees in totality. Half of the mind will agree and half of the mind will disagree, and whatever you choose, you are choosing only the half. The remaining half is going to take revenge. The unchosen part, the left over, will wait for its chance to show you that whatever you have chosen is wrong. But it does not matter which part you choose. Choice itself is wrong.
"So the first thing to be understood is that there is no mind which has ever been without.
"One very learned American rabbi, Joshua Liebman, has written a book, Peace Of Mind. It is one of the best-sellers: Liebman is a good writer, and the book is well presented.
Mind is Muddy
"I wrote him a letter, asking, 'Have you ever considered that peace of mind has never existed? Peace of mind is intrinsically impossible. Peace happens only when mind is not. It is not peace of mind; it is peace beyond mind."
"It is almost like a lotus flower: it grows in mud and water; it is a miracle of nature that out of dirty mud and water it brings out one of the most beautiful flowers in existence. But mud and water are not the lotus flower. The lotus flower blossoms only when the lotus plant has gone beyond the mud, beyond the water, has transcended both – then it opens up to the sun, to the sky, and releases its fragrance to the wind.
Although it comes from the mud, it is not mud anymore. It is transcendence.
"The same is true about peace. Mind is muddy; all kinds of relevant and irrelevant thoughts are jumbled there. It is a crowd, with so many fragments fighting with each other that you can call it a battleground. Mind cannot be at peace. But you can go beyond mind because you are not the mind. You can transcend and become a lotus flower. And then there is peace, there is beauty, there is bliss, and all that you have always dreamt about but have had no experience of.
"I will read your question: 'There is a confusion in me that keeps coming again and again.' Unless you resolve it, it does not have to come, it is always there. It is only that whenever you are unoccupied, it surfaces. It does not go and come, it is embedded in your mind.
"'The message I have got from you more and more is to relax with myself, to watch and wait.' The message remains the same, because that is the only way to transcend the mind. The watcher is always above the mind. The watcher is never part of the mind.
"The mind is just like a TV screen on which thoughts, dreams, imaginations, projections, desires, and a thousand and one things go on passing."