Talks on Fragments from Tao Te Ching by Lao Tzu
This is Volume 2 of the series title Tao: The Three Treasures
Osho's love and respect for Lao Tzu is very apparent as he illuminates the way of Tao – the eternal law. In essence, it is about relaxing and enjoying life without struggle; being passive, yet alive and alert. You do not need to do anything; everything has already been done for you. As Osho says: "Understanding is to live moment to moment, with a sensitive response to life and not having a fixed dogma of how to act."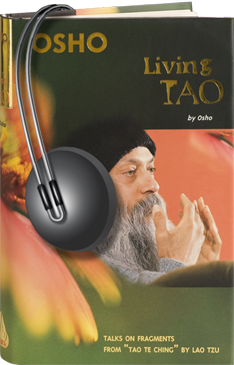 "Lao Tzu is not logical, he is a very, very simple man and not a scholar at all. He is not a brahmin, not a pundit. He does not know anything about arguments. He has simply been watching life. He is a great watcher of life, a witness, a spectator. He has been moving; living with the trees and the rivers and the clouds, and watching life; just trying to understand what life is without any of his own pattern to enforce on it. He has no system to enforce, he has nothing to enforce on life, he simply allows. He opens his eyes, pure virgin eyes which are without any contamination from logic and simply looks at what is the case – and finds that life is a paradox.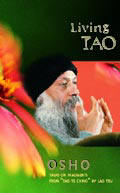 "If you don't understand the paradox, you will go on missing life. What he has found is that if you are too ambitious you will fail. This is his observation: ambition always fails and fails totally. The more ambitious the man, the greater will be his failure. If you want to succeed, you will finally be frustrated, nothing else. It seems to be illogical, because if a man wants to succeed, he should succeed. It is logical. If a man wants success but fails, we understand that if he was not doing things in the right way, that may have caused his failure, but Lao Tzu says: 'The idea of success itself is the cause of failure.'
If ten people are making an effort to succeed in life, we can understand logically that a few will fail, because they will not be able to cope, to fight. Their intelligence may not be enough for their desire, their energy may not be enough. There is also competition from others who have more intelligence and more energy and more gusto – they will succeed. So we say that a few will succeed who fulfill all the conditions and others will fail, because they couldn't fulfill the conditions. It is logical. But Lao Tzu says that all will fail, all will certainly fail, because the very idea of succeeding is the seed of failure. "This is illogical. You will say: 'Where is the logic in that ' It is paradoxical. He says: 'If you have too much, you will be poor; if you resist, you will be broken; if you don't yield, you will not survive.'
"It would have been good if Darwin had met Lao Tzu. Darwin said: 'Survival of the fittest.' It is logical, simple, clean logic, mathematics – everybody can understand it and you can make even a primary school boy understand. It is simple – life is a struggle and the fittest survive. If Charles Darwin had met Lao Tzu somewhere, he would have missed because Lao Tzu would have laughed loudly. He says: 'The humblest survive, not the fittest.' In fact, the unfit survive, not the fittest – they are doomed to fail." Osho
Talks on Fragments of the Tao te Ching by Lao Tzu -Nederlands
Dit boek Living Tao is oorspronkelijk uitgebracht als Tao the Three Treasures deel 1, commentaar op fragmenten van de Tao te Ching door Lao Tzu. Juist daarom ben ik blij, dat ik me door Osho's woorden verder in deze stroming kan verdiepen. Het Chinese woord Tao betekent letterlijk: pad, levenspad. 

En het gaat bij Tao om totaliteit. Niet om iets dat volmaakt is, dat af is. Nee, het gaat over het leven zelf. En totaal leven betekent niet dat je je
op een aspect richt, want dat kun je wel vervolmaken. Maar er is juist leven doordat er een spanning is tussen meer dingen, tussen tegendelen.
Zo beweegt het leven zich; zo stroomt het leven. Het boek Living Tao is zeldzaam, maar mogelijk is het tweedehands verkrijgbaar bij de Boekhandel. Ook is het verschenen als audiobook.
Review van Living Tao
Deze reprint van het vroegere tweede deel van Tao the Three Treasures, Living Tao, ontdekte ik op een van mijn eerste dagen in het Osho Meditation Resort in Poona. Het boek werd daar gepresenteerd onder een schattig Chinees parapluutje met dezelfde afbeeldingen als je in het boek kunt vinden. Osho houdt van Lao Tzu en ik doe dat ook.
Lao Tzu is een uiterst eenvoudig man en helemaal geen geleerde. Hij is ook geen geestelijke. Hij weet niet eens hoe hij moet argumenteren. Hij neemt het leven gewoon waar; hij bekijkt het leven heel grondig, hij is voortdurend getuige van het leven.
Lao Tzu is geen rechtlijnig, geen logisch denker. Nee, zijn hele visie wordt gekenmerkt door de paradox. En het kost enige moeite om die te begrijpen. Want het lijkt, oppervlakkig gezien, alsof twee tegengestelden geforceerd met elkaar in verband worden gebracht. En dat komt omdat onze westerse mind logisch denkt en niet op de paradox is ingesteld.
Dus, als je leert omgaan met de paradox, zal dat een aanval op je mind betekenen. En uiteindelijk zal je mind ten onder gaan.
Dat is wat Lao Tzu voorstaat, dat ziet hij als meditatie: het begrijpen van de paradox.
Een paradox kan zich op heel eenvoudig niveau voordoen, zoals in de volgende situatie. 
"Heeft je kleine broertje al leren praten?" vraagt men aan de iets oudere John. "Ja" zegt John "en papa en mama zijn hem nu aan het leren om zijn mond te houden."
Op wat abstracter niveau is er de paradox van leven en dood. "In feite zijn ze een" zegt Osho, "Alleen de logica heeft ze kunstmatig gescheiden. Want het is in feite zo, dat de dood onze bestemming is. De dood is ook het begin, de oorsprong. Dus, je ontstaat uit de dood en je keert tot de dood terug. Het leven is een tijdsspanne tussen situaties waarin er sprake is van 'niets', de vlucht van een vogel tussen twee toestanden
van niet-zijn."
Osho geeft aan, dat het helaas zo is, dat de mens de dood als vijand is gaan zien. Men vecht tegen de dood en probeert uit alle macht om deze te overleven. En dan vecht je dus tegen je eigen oorsprong en je eigen bestemming. En het hele gevecht is absurd, want de dood kun je niet vermijden. Iets wat wezenlijk in jou zit, zoals de dood, kun je niet bestrijden.
En door zo tegen de dood te vechten, kan ook je leven nooit licht, vreedzaam en ontspannen zijn. Dat kan pas, als je de dood als vriend gaat zien. Als de dood je vriend wordt, kan je leven dat ook worden. Dat klinkt paradoxaal, maar dat is alleen aan de oppervlakte het geval. Want het leven leidt tot de dood. Dus, als de dood je vijand is, dan moet het leven dat op diep niveau ook zijn.
Ook qua uiterlijk is dit Living Tao een heerlijk boek. Het groen-oranje design sprankelt van leven en er zit een schitterende open en diffuse bloem in verwerkt.
Wat een overdaad heeft het Osho Meditation Resort te bieden, ik zal er nog vaak op terug komen. De kans om op allerlei manieren je meditatie te verdiepen, is daar zo rijk voor handen.
En een van de meest verkwikkende ervaringen vond ik de intimiteit die ik met mijn Meester voelde, met Osho dus. En natuurlijk weet ik, dat afstand niet uitmaakt als het bewustzijn van de Meester eenmaal in dat van de discipel is doorgedrongen. Maar toch geeft de fysieke nabijheid mij iets heel speciaals.
"Not knowing is the most intimate" hoor ik Osho zeggen. "Niets weten is het aller intiemste". Bij weten zit de mind er altijd tussen en met 'not knowing' wordt geen onkunde bedoeld, maar onschuld. Bij 'niet weten' gaat het om de verwondering en het accepteren van je leven zoals je dat opgediend krijgt.
Dat is wat ik in de nabijheid van de Meester zo sterk merk: alles wordt zo licht, feestelijk en gemakkelijk. Niets is belangrijk dan maar het moment op en top te leven. Ik voel me dan zo natuurlijk en vervuld van een heel simpel geluk.Die intimiteit met Osho heb ik heel sterk ervaren als ik in zijn Samadhi zat, de diepe pijlloze stilte waar je ingetrokken wordt. Zo magnifiek als de bomen in het koele marmer weerkaatsen, dat het ook aangenaam is om er met open ogen te zitten. Je krijgt gewoon een eeuwigheidgevoel. En bij het verlaten van de Samadhi stonden ons dan vaak Osho's sneeuwwitte zwanen op te wachten: volkomen tevreden met hun plek en wat het leven hen biedt.
Ik heb de hints die Osho in Living Tao geeft, met extra diepte ervaren, omdat ik in Poona was, waar je je door het meditatieve klimaat toch veel eerder en sterker van de dingen bewust bent.
Wees niet altijd zo Doenerig
"Wees niet altijd zo doenerig" zegt Osho in dit boek "Laat de dingen ook eens gewoon gebeuren. In feite is het zo, dat alle grootse dingen niet tot stand gebracht worden, maar gewoon plaats vinden.
Kijk maar naar liefde; zij doet zich zomaar voor, niemand kan liefde 'maken'. Als iemand anders jou opdraagt om lief te hebben, zelfs als een dictator dat doet, dan kun je alleen maar liefde pretenderen, je kunt alleen maar doen alsof.
Liefde kun je niet forceren, zij is er of ze is er niet, net zoals ontspanning en net zoals meditatie." Living Tao
Als je passief kunt zijn, komt er een diepe stilte over je, je wordt kalm, vredig en evenwichtig.
En als je die ervaring eenmaal hebt gehad, kun je je daaraan vasthouden.
Regelmatig verkeer je in turbulentie, je bent een cycloon. Maar diep binnen in je is een zacht stemmetje, het is het minutieuze centrum van de cycloon.
Als je passief blijft, val je langzamerhand steeds meer terug op je centrum. En op een dag zul je je plotseling realiseren, dat de cycloon van de wereld door gaat, maar dat deze jouw centrum niet stoort. Het lawaai is ver weg, het raakt je centrum niet eens.
Hier op aansluitend wordt het prachtige verhaal over een Zen meester verteld die zich zelfs door een aardbeving niet in de war liet brengen. Bij mezelf denk ik: wat lijkt me dat mooi, als je zo'n rotsvast innerlijk hebt. En dat kunnen we elke dag een stukje meer realiseren door onze meditatie.
Ieder ontdekt op zijn of haar eigen manier, hoe de innerlijke stilte groeit. Osho zegt dat zo mooi: "Let yourself be an adventure". Richt je niet teveel op anderen en hun leven, maar laat het ontdekken van jezelf je avontuur zijn.
Als je teveel met anderen bezig bent, kan er het volgende gebeuren.
Een oud mannetje zat in de bus te zingen: "Dee dee dum dum, dee dee dum." De buschauffeur draaide zich om en ontdekte, dat een reistas het gangpad blokkeerde. Hij wendde zich tot de oude man en zei: "Wilt u alstublieft die tas wegzetten?" .En als antwoord begon de oude man begon weer te zingen: "Dee dee dum dum, dee dee dum."
Totaal uit zijn humeur sprong de buschauffeur op, pakte de tas, gooide hem uit het busraam, keek de oude man woedend aan en riep uit: "En wat zeg je hiervan?"
De oude man keek hem aan, glimlachte en zei: "Dee dee dum, dee dee dum – die tas is niet van mij."
Veel plezier met de paradoxale visie van Lao Tzu, weergegeven in Living Tao.