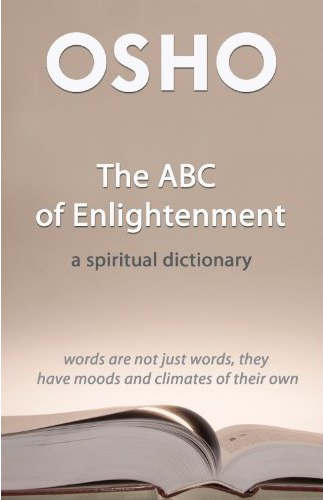 "Words are not just words. They have moods, climates of their own. When a word settles inside you, it brings a different climate to your mind, a different approach, a different vision. Call the same thing a different name and see: something is immediately different.
Live an Experience and Don't Fix it by any Word

"So one of the most important things to remember is, if it is possible, live an experience and don't fix it by any word, because that will make it narrow. You are sitting… it is a silent evening. The sun has gone and the stars have started appearing. Just be. Don't even say, 'This is beautiful,' because the moment you say that it is beautiful, it is no longer the same. By saying 'beautiful' you are bringing in the past, and all the experiences that you have said were beautiful have colored the word. Your word beautiful contains many experiences of beauty – but this is totally new! It has never been so, and it will never be so again. Why bring in the past?
WHY BRING IN THE PAST

"The present is so vast, and the past is so narrow. Why look through a hole in the wall when you can come out and look at the whole sky? So try not to use words – but if you have to, then be very choosy about them because each word has a nuance of its own. Be very poetic about it. Use it with taste, love, feeling.
"There are feeling words and there are intellectual words. Drop intellectual words more and more. Use more and more feeling words. There are political words and there are religious words. Drop political words. There are words which immediately create conflict. The moment you utter them, argument arises. So never use logical, argumentative language. Use the language of affection, of caring, of love, so that no argument arises.
"If one starts feeling this way, one sees a tremendous change arising. If one is a little alert in life, many miseries can be avoided. A single word uttered in unconsciousness can create a long chain of misery. A slight difference, just a very small turning and it makes a lot of change. One should become very, very careful and use words when absolutely necessary. Avoid contaminated words.
USE FRESH WORDS
Use fresh words, noncontroversial, which are not arguments but which are just expressions of your feelings.
"If one can become a connoisseur of words, one's whole life will be totally different. Your relationships will be totally different. Your relationships will be totally different because ninety-nine percent of a relationship is through words, gestures – and those are also words. The same word has created so many troubles for you and again you blurt it out. If a word brings misery, anger, conflict, argument, drop it. What is the point of carrying it? Replace it by something better. The best is silence. Next best is singing, poetry, love." Osho
A Spiritual Dictionary for the Here and Now
The A B C of Enlightenment is een spiritueel Woordenboek voor het Hier en Nu. Dit is letterlijk 'from A B C beginnen'en daarom zeer goed als nieuw begin in het leven. Osho licht het woord 'bullshit' toe. We hebben het over rationalisaties, omdat we netjes willen blijven en omdat we onze wonden niet openlijk willen tonen. Het is echter veel eerlijker om van 'bullshit' te spreken als we bezig zijn om onszelf en anderen met mooie woorden te bedonderen.

Onder 'Rechtvaardigheid' wordt het verhaal over Moella Nasroeddin verteld. Deze was op een bepaald moment een eerbiedwaardig rechter.
Osho shockeert regelmatig je vaste denkpatronen. Je krijgt een andere kijk op de dingen.
The ABC of Enlightenment is waarschijnlijk tweedehands verkrijgbaar bij de Boekhandel en ook als nieuwe uitgave en ebook.
Review van The A B C of Enlightenment
De uitgeverij Element heeft iets heel aardigs uitgebracht.
Oshoboek liefhebbers en in het algemeen mensen die van Osho's woorden, gedrukt of gesproken, genieten, kunnen hier veel aan hebben.
In Osho's lezingen komen bepaalde woorden en begrippen telkens weer aan de orde.
Neem bijvoorbeeld het woord 'mind'.
Als je dat leest en je vult in gedachten hiervoor het woord 'geest' in, dan zit je ernaast en dan heb je het niet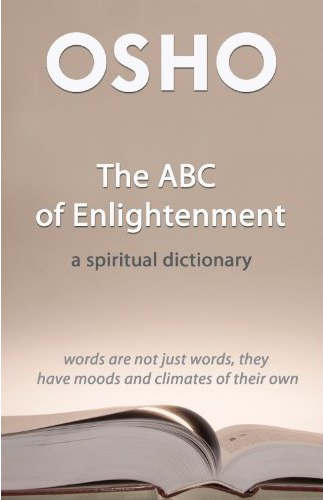 begrepen. En dan begrijp je dus een groot deel van Osho's hele betoog niet.
Sla je het boekje "The A B C of Enlightenment" open, dan wordt je helder uitgelegd, dat de mind alles omvat wat je ooit beleefd hebt en dat het in feite een reeds dood deel van je wezen is. De mind vertegenwoordigt het verleden en zij houdt je er vanaf om in het nu te leven. Je blik is niet helder, omdat zij gehinderd wordt door een wolk. Laat de wolk verdwijnen en wees open. Ontdoe jezelf van allerlei filosofie, conclusies en religie. Reageer vanuit no mind, dan ben je intelligent.
Dus, afgezien van dat het begrip uitgelegd wordt, krijg je ook een handreiking om het anders te doen en daardoor meer in het hier en nu te komen.
Het is daarom ook alleszins de moeite waard om gewoon met dit boekje te gaan zitten en af en toe een stukje te lezen. Dat levert je hele leuke momenten op.
Wat zegt Osho bijvoorbeeld over de veel geuite uitroep "fantastic"?
Twee vrouwen ontmoetten elkaar na heel veel jaren in een tearoom. Boven torenhoge ijssorbets begint de ene vrouw op te scheppen over haar geweldige huwelijk.
"Mijn man" zegt de ene vrouw "koopt een hele set nieuwe diamanten voor mij, als de oude vuil zijn." "Fantastisch" roept de tweede uit. "En we nemen elke twee maanden een nieuwe auto en de oude doen we cadeau aan ons personeel" gaat de eerste vrouw verder. "Fantastisch" roept de tweede vrouw weer. "En ons huis, is eenvoudig….." houdt de eerste vrouw vol "Fantastisch" maakt de tweede vrouw af. "Ja, en vertel me nu eens wat jij tegenwoordig doet." zegt de eerste vrouw. "Ik ga naar de verbloem school?" zegt de tweede vrouw "Zo, grappig, en wat leer je daar dan?"
"Daar leer ik" zegt de andere vrouw "om 'fantastisch' te zeggen in plaats van 'bullshit'."
Zo komt verder onder het woord 'smoking" aan de orde hoe je te werk moet gaan, als je wilt stoppen met roken. En er staat ook wat je niet moet doen.
In 'ABC of Enlightenment' wordt verder duidelijk het verschil tussen "Consciousness"en "Conscience", dus tussen "Bewustzijn" en "Geweten" uitgelegd. Het zijn begrippen die wezenlijk zijn in Osho's visie.
Geweten is iets wat de maatschappij je oplegt en het staat je in de weg om tot je eigen bewustzijn te komen en vandaar uit je leven te leiden.
Maar er staat nog veel meer, waardoor je beide concepten tot op het bot gaat doorzien. Dat moet je gewoon zelf lezen en ervan genieten, dat je het nu helemaal door hebt en er bewuster door kunt gaan leven.
Onder "Rechtvaardigheid" wordt het verhaal over Moella Nasroeddin verteld. Deze was op een bepaald moment een eerbiedwaardig rechter.
Er komt een zaak voor en Nasroeddin hoort de ene partij aan. Dan verklaart hij tegen het hof, dat hij over vijf minuten terug zal komen en het oordeel zal uitspreken.
De griffier kan zijn oren niet geloven: hoe kan hij tot een oordeel komen als hij de andere partij niet heeft gehoord. En hij fluistert Moella in het oor: "Waar ben je mee bezig? Je hebt nog maar een kant van de zaak gehoord, een partij. De andere partij wacht op zijn beurt. Zonder die te verhoren kun je geen goed oordeel geven."
Moella Nasroeddin antwoordt: "Maak me niet in de war. Ik heb het op dit moment allemaal helder voor de geest. Als ik de andere partij ook nog hoor, dan gaat er geheid verwarring optreden."
Dit commentaar van Osho is dus geen pasklaar antwoord; het is een eye-opener. Het shockeert je vaste denkpatronen. Je krijgt een andere kijk op de dingen.
Onder "Thee" staat het mooie verhaal over Bodhidharma. Zijn afgerukte oogleden zouden de basis voor thee hebben gelegd. En omdat Bodhidharma dit deed om tot grotere concentratie te komen, wordt thee gezien als het middel om wakker en waakzaam te blijven.
Onder "Spring" – "Lente" staat:
Je kunt de lente op elk moment in je leven brengen. Roep de lente gewoon op en laat de zon, de wind en de regen door je heen gaan…..
Dit boek "The A B C of Enlightenment" kun je dus gebruiken als een soort van woordenboek. Achterin staat een alfabetische lijst, je zoekt daarin het begrip op en dan vind je de betekenis die Osho eraan geeft. En je kunt er ook rustig mee gaan zitten, spontaan een gegeven kiezen en daarover gaan lezen.
Vooral in situaties waarin je niet achter elkaar door kunt lezen, zoals in wachtkamers van gemeentelijke instellingen, ziekenhuizen of het politiebureau, is het een prettig boek. Als je moet wachten en ieder moment opgeroepen kunt worden, is het fijn om dit boekje bij je te hebben. En soms wordt er nog een nieuwsgierige vraag door een medewachtende over gesteld ook, is mijn ervaring. Zo kun je in verschillende opzichten je voordeel met dit boek The A B C of Enlightenment doen.