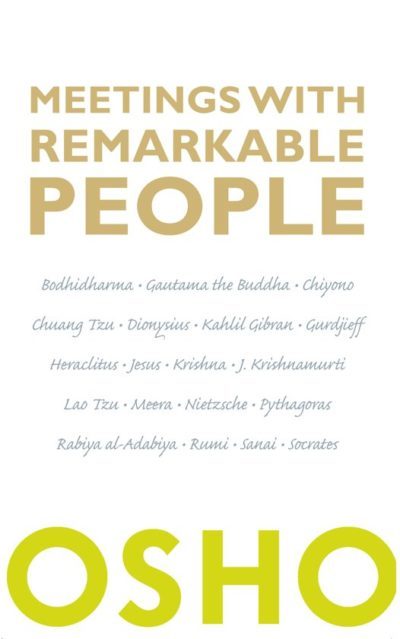 Osho uses the lives and teachings of religious leaders and enlightened thinkers to involve the reader in a profound journey of spiritual discovery and wisdom. "When you hear about a Buddha or Mahavira or a Zarathustra they look like mythological figures, not historic. It appears they only existed in the dreams of man." Osho describes how their reality is in human consciousness and their effect is profound. When you read Osho's words, you feel as if he is speaking to you. His conversational style is fluid and engaging, and while his acute perception often comes as a delight and a surprise, his shrewd insights will stay with you always. Whether he is discussing a complex philosophy, or the teachings of a great mystic, Osho always brings a unique perspective and imbues the subject with his own distinctive irreverent, thought-provoking and inspirational insight.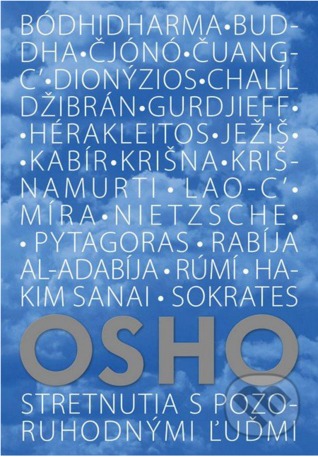 Meetings with Remarkable People is een boek voor de speciale liefhebbers. Osho heeft over zoveel stromingen gesproken!
Wie zijn de gezichten achter deze stromingen?

Dit boek bevat een kijkje in het leven van de mensen die zoveel invloed hebben op groei in bewustzijn.
En Osho geeft dit op zijn bekende smakelijke manier weer alsof hij met deze mensen op school gezeten heeft.
Het zijn bijzondere mensen doordat ze iets wezenlijks in een wereld gebracht hebben die een totaal andere kant opging.
Aan de orde komen:Boeddha, Bodhidharma, Jezus, J. Krishnamurti en Gurdjeff en ook vrouwen als Meera, Rabiya al-Adabiya en Chiyono Meetings with remarkable People
Het boek Meetings with Remarkable People is zeldzaam, maar mogelijk wel tweedehands verkrijgbaar en als ebook bij de Boekhandel.
Review van Meetings with Remarkable People
Osho heeft het omvangrijke werk van Boeddha voor ons ontvouwd. Daarnaast is er natuurlijk zijn uitleg van de richtingen als Tao en Tantra.Bij het aansnijden van een nieuwe serie lezingen geeft Osho meestal een kort overzicht van de gezichten er achter.
Zo weten we iets over het bestaan van bijvoorbeeld Boeddha, Jezus, Bodidharma en Lao Tzu.
Maar dat was nooit veel, het was hier en daar een hap en een snap. Het gaat immers om wat deze mensen voor visie hebben en niet zozeer om henzelf.
Osho zegt in dit opzicht over zichzelf: "My name is not important, my message is important."
Maar, zeg nu zelf: Het is toch ook heel intrigerend hoe deze mensen zelf leefden die zoveel nieuws ingang gezet hebben.
Mij interesseert het in ieder geval in hoge mate.Ik smul ook altijd als Osho onder meer over zijn eigen leven, zijn jeugd, zijn studietijd en zijn reizen door India om discipelen te vinden, vertelt.
Welnu, het boek waar ik het hier over heb, bevat een kijkje in het leven van de mensen die zoveel invloed hebben op groei in bewustzijn.En Osho geeft dit op zijn bekende smakelijke manier weer alsof hij met deze mensen op school gezeten heeft.
Dat maakt het steeds weer zo lekker en gemakkelijk leesbaar. Het zijn bijzondere mensen doordat ze iets wezenlijks in een wereld gebracht hebben die een totaal andere kant opging.
Maar ze zijn in feite ook weer heel gewoon, door hun eenvoud en hun puurheid van leven.
Meetings with Remarkable People
De hele authentieke verschijning van een man als Bodhidharma komt bijvoorbeeld aan de orde.
Van een vrouw, wat in dit opzicht ook al heel bijzonder is, Pragyatara, kreeg hij de opdracht om de boodschap van Boeddha nieuw leven in te blazen.
Over deze vrouw Pragyatara weten we verder niets, maar over Bodhidharma kunnen we een aantal
interessante dingen in dit boek lezen.
Osho steekt zijn waardering voor deze excentrieke meester niet onder stoelen of banken. In zeker opzicht nam hij, aldus Osho, een hogere vlucht dan zijn grote voorganger Gautama Boeddha.
Ook mensen als Lao Tzu, Chuang Tzu en Lieh Tzu, die geen grootse meesters zijn zoals hij, laat Bodhidharma ver achter zich. Het is interessant en vermakelijk om te lezen hoe Bodhidharma in het door Confucius gekleurde China te werk gaat.
De bevolking was er rijp voor om de boodschap van Boeddha opnieuw in ontvangst te nemen, maar dit sluimerde onder de oppervlakte.
Osho zegt heel treffend over Confucius: "No man has confused the world so much like Confucius did."
Ja dat is om te lachen, maar ga er maar aanstaan als je mensen met zo'n verwarde laag in zich de pure boodschap van Boeddha wilt brengen. Dan heb je er niet genoeg aan om een goed praatje te houden.
Nee, dan moet je als een Meester te werk kunnen gaan, omdat mensen eerder wakker geschud moeten worden dan dat je ze informatie geeft. Bodhidharma heeft daarvoor zijn heel eigen originele methode gebruikt.
En die staat hier in dit boek op kostelijke wijze door Osho verwoord.Ook de manier waarop Bodhidharma zijn discipelen probeerde te vinden is volkomen uniek.De voorbeelden van zijn kieskeurigheid hierbij kom je in dit zelfde boek tegen.
Over Jezus staan ook een aantal interessante feiten in Meetings With Remarkable People.
In de bijbel zijn uitspraken van verschillende aard te vinden.
Regelmatig zegt Jezus daar: "I am the Son of God." en even vaak ongeveer geeft hij te kennen "I am the Son of Man". En niemand heeft begrepen, dat het in feite beide mogelijk is.
Het is niet mogelijk als je het vanuit de mind bekijkt, dan is er sprake van tegenstrijdigheid.
Maar in het wezen van Jezus wordt in dit opzicht de brug geslagen.
Daar is de vloeiende overgang te vinden tussen tijd en eeuwigheid, lichaam en ziel en tussen deze wereld en de overzijde. De Joden vielen over hem heen, omdat hij zich de zoon van God noemde.
Deze veroordeling stamde uit hun eigen mind en had daarom niets met het wezen van Jezus te maken.
En het is een reminder voor ons om alert te zijn op onze visies en oordelen.
Hoe kun je bijvoorbeeld over Verlichting oordelen als je niet weet wat Verlichting betekent en de ervaring niet hebt?
Op dat moment bekijk je verlichting vanuit je mind en met de mind is een groots gebeuren als Verlichting niet te vangen.
Ja, we zijn praterig en denkerig, we leven in een wereld waarin deze aspecten steeds meer accent lijken te krijgen.
De televisie staat bol van de praatprogramma's en dit verschijnsel neemt alleen maar toe. Van het onbegrip van de Joden ten opzicht van Jezus kunnen we dit leren: het wezen is niet te bereiken als je doorgaat met overal vanuit je mind op te reageren.
Daar is maar een manier voor, namelijk meditatie en door meditatie tot steeds diepere stilte komen.
Ook van de kruisiging en wederopstanding van Jezus staat in dit boek een geheel nieuwe boeiende belichting.
Die maakt Jezus meer de zoon van mensen terwijl aan de essentie van zijn boodschap volkomen recht wordt gedaan.
Meetings met vrouwen komen in dit boek uiteraard ook aan bod. Over de Soefi mystica Rabiya al-Adabiya staat de indringende manier beschreven waarop zij een andere Soefi mysticus Hasan van repliek dient, als hij haar bekritiseert.
Haar veelzeggende woorden zijn: "Sinds mijn bewustzijn ontwaakt is, kom ik geen haat meer in mezelf tegen. Zelfs als de duivel voor me zou staan, zou er nog alleen maar liefde naar hem uit kunnen gaan."
Verder komt de meeting met de dansende Meera voor het voetlicht.
        No Water no Moon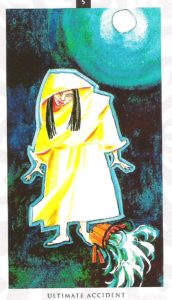 En uiteraard kunnen we ook een ontmoeting met Chiyono hebben via dit boek Meetings With Remarkable People. Osho heeft een hele lezingenserie aan haar gewijd die te vinden is in het boek "No Water, No moon", waar een zeer diepgaande boodschap in besloten ligt.
Verder kunnen we genieten van de Osho's contact met meer recent levende wijzen als J. Krishnamurti en Gurdjieff. Het zijn allemaal getuigenissen waarin inzichten doorklinken waar wij heden ten dage, hier en nu, ons voordeel mee kunnen doen en van kunnen groeien in bewustzijn.
Ik heb nog niet eens alle meetings in dit boek genoemd die er beschreven worden, zo'n rijkdom aan grootse mensen wordt hier aangereikt.Het zijn allemaal unieke verschijningen geweest die hun bijdragen hebben geleverd aan de transformatie van de mens. Ik kan je het lezen van dit boek van harte aanbevelen.