Talks in Uruguay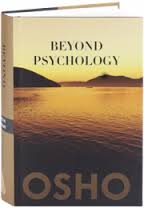 An unperturbed Osho, speaking after the cancellation of his visa in Greece, talks about his treatment by governments who fear his outspokenness. Commenting on accusations that his presence would destroy morals, Osho asks what value are traditions that can be destroyed by a visitor in just four weeks. He talks about his rebellious childhood, urging us all to go beyond the psychology and behavior imposed by society and religions from an early age. Taking responsibility means going beyond the narrow confines of the mind – moving beyond one's psychology and into consciousness. 
"My effort is to bring man back to his natural self. I will be condemned, I will be criticized. Every tradition, every religion, every morality, every ethical code is going to condemn me. That does not surprise me! I expect it, because what I am saying and doing is changing the very course of human consciousness." 
 On gratitude and more
Osho heeft het in dit boek Beyond Psychology, naast vele vele andere onderwerpen, over het uiten van dankbaarheid. Discipelen weten meestal niet hoe ze hun dank ten opzichte van de Meester moeten
uitdrukken.
Hoe kun je iemand bedanken, die je hoofd heeft vrijgemaakt en die je bij je eigen wortels heeft gebracht? We denken, dat het natuurlijk is, maar het zit er van jongs af aan in geheid, die uitdrukking "dank je". We gebruiken hem te pas, omdat het zo hoort en we ook dankbaarheid ervaren, maar ook te onpas, omdat we in het geheel niet dankbaar zijn, maar omdat het "goed staat" en we weten, dat het van ons verwacht word
Het boek Beyond Psychology is verkrijgbaar via de Boekhandel en via internet.
Review van Beyond Psychology 
BEYOND PSYCHOLOGY……VERDER DAN DE PSYCHOLOGIE, DANK U!
De Psychologie heeft in onze wereld nog altijd een tamelijk magische betekenis. Als iets psychologisch aangetoond is, staan we er even bij stil. We gaan niet klakkeloos over tot de orde van de dag en wellicht vertellen we dat, wat door de wetenschap van de psychologie is aangetoond, ook nog aan anderen.
Hier wordt ons een inzicht aangereikt dat over onszelf gaat, maar waar we niet zelf op kwamen. Misschien brengen we het wat lacherig ten opzichte van anderen en misschien doen we niet zoveel met wat er over de achtergrond van ons gedrag wordt aangereikt, maar toch is het interessant. Het gaat over ons en, of je het nu toegeeft of niet, onszelf vinden we altijd het meest interessant.
Wat eerst de pastoor, de dominee en de dokter waren, de vraagbaak over onszelf en ons welzijn, zijn later de psycholoog, de psychiater en de therapeut geworden.
In het Westen gaat de psychologie niet zoveel verder dan het verklaren van gedrag en het bieden van mogelijkheden om het gedrag te veranderen. Natuurlijk komt zij dan ook bij het gebied van de emoties, maar die bevinden zich nog altijd op het niveau van de mind.
Het hart raken, dat kan af en toe voorkomen, maar vanwege de pure training op de mind, zal dat niet snel bij mensen gebeuren. Misschien is het wel eens zo, dat er een heel oud patroon uit de kinderjaren wordt doorbroken, waarbij zulke diepe en intense emoties los komen, dat er een uiting vanuit ons (kinder)hart plaats vindt. Maar dat is dan meestal een eenmalig gebeuren en geen regelrechte doorbraak naar het hart toe. Om het hart echt te bereiken, er vanuit te gaan leven, is er ook bewustzijn nodig. En bewustzijn is ver te zoeken, als we overspoeld worden door emoties, zeker door hele diepe emoties.
Echt vanuit je hart leven kan niet zonder bewustzijn en dus niet zonder meditatie.
In het Westen komt dit tot nu toe ook nog niet zoveel voor, dat mensen echt bewust vanuit hun hart leven. Natuurlijk doen mensen dingen vanuit hun gevoel en dat gaat natuurlijk verder dan wanneer je alles vanuit je gedachtewereld doet. Maar totaal vanuit het hart leven, daarvoor is een doorbraak in je bewustzijn nodig.
En het is prachtig, dat dit zo is, want dan is er groei mogelijk, dan is er beweging en kunnen we onszelf verder realiseren. Aan die groei komt nooit een eind, want na het hart is er ons wezen, de echte kern van ons bestaan. Daar ligt onze bron, zoals in het Oosten al zo lang bekend is.
Leven is groeien, loslaten van wat oud is en niet meer past en het nieuwe dat diep in ons verborgen ligt, een oceaan van bewustzijn, vrij maken. En daaraan komt inderdaad nooit een einde. "De innerlijke wereld is nog veel groter dan de buitenwereld", leert Osho ons. En wie slaagt erin om, gedurende zijn leven de uiterlijke wereld in zijn geheel te exploreren? Dus, voor die innerlijke wereld kunnen we gerust ook ons hele leven uittrekken en nog wel meer.
OVER PSYCHOLOGIE
De psychologie was gedurende enige tijd ook mijn heilige koe. Het was een mengeling van wat ik hier en daar op de universiteit als 'de moeite waard' had opgepikt, levenservaring en het therapeutisch doorwerken van de klappen die je als mens te verwerken krijgt. Die combinatie hadden bij mij inzicht opgang gebracht, waarmee ik enige jaren in mijn persoonlijk leven en ook als docent uit de voeten kon.
Het waren prettige jaren die mij ook voeding gaven, voor zover ik op dat moment kon ervaren en innemen. Ondertussen ging ik door met zoeken, ik groeide uit de gevonden leefmethode en kwam, na veel heen en weer gaan, bij Osho terecht.
En, zoals zo velen dat ervaren hebben: bij Osho begon alles te wankelen en ik viel terug op hele oude dingen
en kreeg ook te maken met het onbekende. Als docent psychologie had ik mijn draai weten te vinden, maar na een tijd begon ik gevoelsmatig de beperkingen ervan te zien.
BEYOND PSYCHOLOGY
Osho bracht mij Beyond Psychology, maar daarvoor moesten eerst de grondvesten van mijn bestaan afgebroken worden. Osho zegt dat zo mooi: "If you want to build something new, you have to break something off first" en "You cannot build your house on a bridge."
Na vele jaren met Osho is er van mijn leven toentertijd dan ook nog weinig tot niets over. Wel heb ik nog een aantal contacten uit die tijd, maar die zijn heel anders van karakter geworden.
In mijn dagelijks werk om in mijn levensonderhoud te voorzien ben ik, met de ogen van de maatschappij gezien, een aantal stapjes gedaald. Ook de luxe, waarover ik beschikte, zoals een huis en een auto, zijn er niet meer of heel anders geworden.
Maar wat ik wel heb en dat is tegen geen enkele prijs te koop, is een leeg hoofd, een vrije mind. Van de jaren waarin mijn denken veelal mijn leven bestuurde, ken ik nog enigszins het gevoel en de wanhoop die daarbij hoorden.
Nu zit ik af en toe ook nog wel eens 'vol', maar ik heb het krachtige instrument actieve meditatie, dat zo diep in me zit, dat ik in korte tijd de overtollige rommel kan wegwerken en mijn eigen centrum weer kan ervaren. Ook ken ik nu soms wel wanhoopsgevoelens, over hoe de dingen gaan zoals ze gaan en hoe ik in die turbulentie moet verder koersen.
Dan zet ik een Osho video op, die qua thema bij mijn onrustgevoelens aansluit, en laat me door de woorden van zijn doordringende, mij zo geliefde stem, raken.
Osho zijn woorden zien spreken, is een oneindig diepe meditatie voor mij.
De lezingenserie Beyond Psychology van Osho is opnieuw als boek verschenen in de prachtigste blauwe weergave die je je maar kunt voorstellen, compleet met een regen aan gouden blaadjes.
En gelukkig zijn er ook een paar lezingen als themavideo's verkrijgbaar uit de serie Beyond Psychology, zodat de voeding van het gesproken woord van Osho hierbij ook genoten kan worden.
Osho heeft het in dit boek, naast vele vele andere onderwerpen, over het uiten van dankbaarheid. Discipelen weten meestal niet hoe ze hun dank ten opzichte van de meester moeten uitdrukken.
Osho over "DANK ZEGGEN"
Hoe kun je iemand bedanken, die je hoofd heeft vrijgemaakt en die je bij je eigen wortels heeft gebracht?
"Dank je zeggen is deel van onze Westerse conditionering", legt Osho uit. Het is een van de eerste uitdrukkingen die een jong kind krijgt ingeprent. "Zeg eens 'dank je' tegen die mevrouw."
Of bij het krijgen van snoepje: "Wat zeg je nu, wat heb ik je geleerd?"
We denken, dat het natuurlijk is, maar het zit er van jongs af aan in geheid, die uitdrukking "dank je". We gebruiken hem te pas, omdat het zo hoort en we ook dankbaarheid ervaren, maar ook te onpas, omdat we in het geheel niet dankbaar zijn , maar omdat het 'goed staat' en we weten, dat het van ons verwacht wordt.
In het Oosten is het niet gebruikelijk, vertelt Osho, dat mensen hun dank in woorden uitdrukken. Ouders en kinderen zul je dat elkaar in die cultuur niet ten opzichte van elkaar horen doen. En de reden hiervoor is simpel: je kunt je dank die je hart vervult niet in zoiets beperkts als woorden uitdrukken. Zij is een te groots gevoel voor een paar luttele woorden. En daarom gebeurt het niet.
De Westerling wordt met deze overweldigende gevoelens van dank waarschijnlijk voor het eerst geconfronteerd in het contact met een verlicht Meester. Ook dan hoeven we die niet te uiten. Het wordt ervaren als onmogelijk en dat is het ook.
Wat we wel kunnen doen, is: die dankbaarheid heel diep ervaren, zodat we ervan overstromen. Dat is heilzaam voor onszelf en we kunnen er ook anderen in positieve zin mee besmetten.
Osho zegt op weer een ander moment, dat we iets kunnen doen met de verworven voeding en verfrissing die we van hem en nu van het Osho Meditatie Resort hebben ontvangen. Daarna keren we vernieuwd terug en de wereld ligt daar open voor ons om aan te werken, om die te veranderen. We kunnen zorgen, dat in ieder geval in alle hoeken van de wereld Osho's boodschap gehoord, gelezen of gezien is. Evangeliseren is niet de bedoeling, maar we kunnen laten merken, hoezeer we zelf geraakt zijn en hoe ons leven erdoor veranderd is. Zo kunnen we onze dank aan Osho uiten. Want als we onze dank in woorden proberen uit te drukken, stuiten we op de onmogelijkheid dat de ervaring te groots is om in woorden te vangen of vallen we terug op onze oude conditioneren en zijn we slechts formeel bezig.
Waarachtig zijn, getrouw aan je waarheid leven, waarheen die ook mag leiden is een inzicht dat centraal staat in Osho's visie. En luchtigheid, 'gemakkelijk' leven en humor zijn Osho tevens zeer eigen. Dit alles komt ook nog eens duidelijk in de volgende grap naar voren.
OSHO'S JOKE
Kleine Ernie is op een avond bezig met zijn huiswerk en komt met een probleem op de proppen. "Pap", zegt hij "wat is het verschil tussen 'boosheid' en 'ergernis'?" 
"Ja Jongen," zegt Ernie's vader "dat kan ik je het beste uitleggen door een demonstratie te geven." En vervolgens gaat zijn vader naar de telefoon en toetst een willekeurig nummer in. 
"Hallo"zegt een stem aan de andere kant van de lijn. "Hallo", zegt Ernies vader "kan ik Melvin spreken?" "Er is hier niemand die Melvin heet!" luidt het antwoord. "Wanneer leer je nu eens eerst nummers op te zoeken, voordat je ze intoetst?" 
"Zie je wel, Ernie?"zegt zijn vader "Die man was helemaal niet blij met ons telefoontje. Maar let nu eens hierop!"
Hij toetst het nummer weer in en vraagt: "Hallo, is Melvin daar?"
"Nou moet je eens goed naar me luisteren!" luidt het boze antwoord. "Ik heb je duidelijk verteld, dat hier geen Melvin is! Je hebt wel lef, zeg, om nog eens te bellen!" En hij smijt de hoorn erop. "Heb je dat gehoord, Ernie" vraagt zijn vader. "Dat was nu boosheid. En nu zal ik je aantonen wat ergernis is!"
Hij pakt de telefoon op en toetst hetzelfde nummer nog een keer in en als een woedende stem "HALLO" roept, zegt Ernies vader, "Hallo! U spreekt met Melvin.
Zijn er ook telefoontjes voor mij?"
Lachend gaan we "Verder dan de Psychologie". 
Impression of Beyond Psychology
"Society has managed it so that you will never think about your own potential. The whole misery is that you are not being yourself. Just be yourself, and then there is no misery and no competition and no botheration that others have more, that you don't have more.
"If you would like the grass to be greener there is no need to look at the other side of the fence; you can make the grass greener on your side of the fence. It is such a simple thing to make the grass greener. But you are just looking everywhere else, and all the lawns are looking so beautiful – except yours.
" Man has to be rooted in his own potential, whatever it is, and nobody should give him directions, guidance. They should help him, wherever he is going, whatever he is becoming. The world will be so contented that you cannot believe it.
"I have never felt any discontent, even from my childhood, for the simple reason that I never allowed anybody to distract me from what I was doing or what I was trying to be. That helped me immensely. It was difficult, and the difficulties went on growing, and now the whole world is against me. But it does not disturb me. I am perfectly happy, perfectly content. I can't think that I could have been otherwise. In any other position I would have been miserable.
"I don't have a home, I don't have a place to live, I don't have any money. Still, I have something that gives me absolute contentment. I have lived according to my potential, and even if death comes it will not upset me. I have lived my way. The whole world may be against me – it does not upset me. People get upset even if one person is against them. They get so upset; I cannot even understand it….
The World is Against Individuality
"The world is against individuality. It is against your being just your natural self. It wants you just to be a robot, and because you have agreed to be a robot you are in trouble. You are not a robot. That was not the intention of nature, to make a robot of you. So because you are not what you were meant to be, what you were destined to be, you are constantly looking: "What is missing? Perhaps better furniture, better curtains, a better house, a better husband, a better wife, a better job…" Your whole life you are trying and rushing from one place to another. But the society has distracted you from the very beginning.
"My effort is to bring you back to yourself, and you will suddenly find all that discontent has disappeared. There is no need to be more – you are enough. Everybody is enough."