The Soundless Sound Peace Peace Peace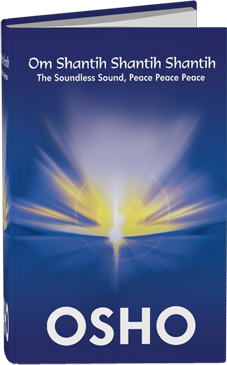 THE SOUNDLESS SOUND
The mantra that begins and ends all Eastern scriptures, om, represents the universal heartbeat, and shantih, the peace or silence that envelopes those who approach that heartbeat.

In this volume Osho opens new windows on timeless topics: the origins of compassion, freedom as the ultimate value, surrendering to love and not to the object of one's love, and transcending transcendence itself.
The Soundless Sound Peace Peace Peace
In het boek 'Om Shantih Shantih Shantih' lezen we: Als je overweldigd wordt door emotie, verlies je elke redelijkheid en ook ben je niet meer sensitief, want je verliest je hart in de emotie.

Het lijkt er bijna op dat je verzwolgen bent door een donkere wolk. En dan is alles wat je doet, gewoon verkeerd.
Liefde behoort niet tot het gebied van de emoties. Dat denken mensen meestal wel en ze ervaren het ook zo, maar alles wat overweldigend is, is heel erg onstabiel.
Het komt als een stormvlaag die weer voorbij gaat en dan blijf jij leeg en gebroken achter, vol verdriet en pijn.
Liefde moet los gemaakt worden uit de greep van emoties.
Het boek 'Om Shantih Shantih Shantih' is zeldzaam geworden. Mogelijk kan het tweedehands bij de Boekhandel verkregen worden.
LIFE SHOULD NOT BE A SERIOUS THING
"Life should be not a serious thing. It should be a deep playfulness, a fun. And every individual should be allowed absolute freedom to be himself. The only restriction will be that you cannot interfere in another individual's life sphere – it may be your wife, it may be your husband, it may be your child, it does not matter. A tremendous respect for the individual is to me the essential core of being truly religious. Be yourself and let others be themselves and this life, this planet, can become the lotus paradise herenow.
PREPARING A GLOBAL SUICIDE
But something has to be done and done very soon, because all those idiots are preparing for a global suicide. Unless you revolt against the past, and the whole heritage of the past, you cannot save humanity, these beautiful trees, these birds singing, this small planet which has just developed to the stage of being conscious. Scientists guess that there may be millions of other planets in the universe, but there is not even a single piece of evidence yet…
The only evidence of life growing to this stage of consciousness – of love, of silence, of experiencing the cosmos – has happened on this small earth. At any cost, this earth and the people of this earth have to be saved from the calamity that is coming from your whole past.
AN ABSOLUTE DISCONTINUITY IS NEEDED
An absolute discontinuity is needed; all history books should be burnt. The whole educational system should be centered on playfulness, on love, on freedom, on consciousness, and a tremendous respect for everything that is alive. This is my vision. The time is very short. Those idiots have been working for thousands of years and they have come to a point where they are capable of destroying this earth seven times. So much destructive force is accumulating that unless a few individuals gather courage and revolt against all that is past…I am not telling you to choose, to choose that which is good and leave that which is bad. They are altogether; you cannot do that. The past has to be simply erased, as if we are for the first time on the earth and there has been no history. That is the only possibility to create a beautiful world full of love, full of fragrance, with deep respect for everybody. The past has lived centered on hate. The future can live only if it is centered on love. The past has been unconscious. The future can only be conscious. To many this may seem almost an impossible dream. But remember, whatever you are is not because of the politicians, is not because of the priests. Whatever you are, if some flame is still alive in you it is because of the poets, the dreamers, the mystics. We can either die with the past or we can be reborn with a new future." Osho
Review van 'Om Shantih Shantih Shantih'
Over drie niveaus van liefde
Weet je wat ik er zo mooi aan vind om Osho's inzichten op allerlei manieren tot me te krijgen? Ik ontdek steeds weer iets anders.
We kunnen in stilte voor een videolezing gaan zitten en dan spreekt hij in zijn totaliteit tot ons.
Als we een boek lezen, bereiken vooral Osho's geschreven woorden ons, die door anderen genoteerd zijn.
En als we naar een audioboek of CD luisteren, hebben we naast de woorden ook de intonatie en het hele speciale timbre van zijn stem.
Welnu, altijd als ik een Oshoboek las en zeker, toen ik dat in mijn bibliotheekjaren deed, gebeurde dat tamelijk zorgvuldig. Ik maakte voorin met potlood aantekeningen en ik maakte ook altijd een uittreksel van het boek, dat ik later nog eens uittypte.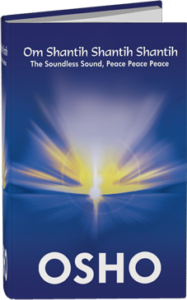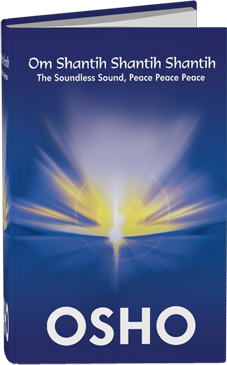 Dus, meestal kan ik een boek vrij snel 'plaatsen', namelijk: ik weet uit welke periode de lezingen zijn, ik kijk naar de titels van de hoofdstukken en hup: dan rolt daar een advies uit voor een klant van de bookshop van Wajid.
Maar natuurlijk doorgrond je lang niet alles en dan is het vaak ook nog zo, dat je die fragmenten speciaal in je opneemt en op je in laat werken, die op dat moment
voor jou relevant zijn.
Af en toe vind ik bijvoorbeeld mijn baan als lerares een bijna onmogelijke opgave; er zitten wel leuke sprankelende kanten aan, maar hij bevat gewoon ook heel vervelende klussen en dan heb ik het er nog niet eens over, dat ik regelmatig als een politieagente voor de klas moet staan.
In zo'n stemming haal ik uit een lezing maar al te graag Osho's uiteenzetting naar voren, over hoe het arbeidsethos ons te pakken heeft en dat het er niet om gaat wat we doen en de hoeveelheid werk die we verzetten, maar om hoe we het doen.
En dan gaat het in de werkdag die volgt allemaal weer een stukje lichter.
Ik maak me niet meer zo druk om wat ik had moeten doen, maar waar ik niet helemaal aan toe gekomen ben.

Verder laat ik een vervelende leerling even voor wat hij of zij is en kennelijk niet anders wil of kan zijn; in ieder geval word ik er niet meer zo gauw boos om.
Verder probeer ik om veel te lachen op school, want ik vind dat alles al snel veel te belangrijk gevonden wordt en dat er vaak erg serieus wordt gedaan.
En gelukkig heb ik daar een geweldige medestander in, een oudere collega die al jaren leraar op deze school is en die me af en toe letterlijk influistert: "Hoe meer er mis gaat, des te leuker ik het vind."
Zo kan hij op maandagochtend voor de deur van zijn lokaal gaan staan met een soort van oude professorenmuts op, terwijl hij duidelijk geen zin heeft om aan de werkweek te beginnen en dan zegt hij: "Donna, vraag jij nou nooit eens af, wanneer het hier eindelijk eens afbrandt?"
Dus, over niet-serieuze medestanders heb ik absoluut niet te klagen.
Toch geeft zo'n push van de Meester natuurlijk het meeste.
Want Osho raakt met zijn uitspraken mijn wezen, omdat er zozeer zijn eigen wezen uit spreekt. Wat hij zegt, heeft hij door en door en op en top zelf geleefd.
Omdat ik het regelmatig fijn vind om, als ik lig te relaxen op mijn bank, Osho's woorden door me heen te laten gaan, had ik onlangs een in Poona uitgebrachte CD met de titel 'Emoties' opgezet, gewoon spontaan.
De vraag in deze lezing gaat erover, dat een sannyasin zich regelmatig overweldigd voelt door zijn emoties en speciaal door de liefde voor de Meester.
Vrijwel meteen werd mijn aandacht gevangen door wat er speciaal over liefde gezegd werd en niet door de uiteenzetting over de werking van emoties.
Namelijk: je bent geneigd om te denken, als je zoiets hoort, "Nou, dat is toch fantastisch, als de liefde voor de Meester zo groot is, dat je helemaal door die liefde in beslag genomen wordt; dat is gewoon de enige echte liefde."
Maar wat zegt Osho dan: "We hebben hier te maken met een typisch emotionele persoonlijkheid.
Zo iemand wordt dronken van emotie, hij of zij raakt erdoor verblind. En elke handeling die daar uit voort komt, is verkeerd. Want als je overweldigd wordt door emotie, verlies je elke redelijkheid en ook ben je niet meer sensitief, want je verliest je hart in de emotie.
Het lijkt er bijna op dat je verzwolgen bent door een donkere wolk. En dan is alles wat je doet, gewoon verkeerd."
Liefde behoort niet tot het gebied van de emoties. Dat denken mensen meestal wel en ze ervaren het ook zo, maar alles wat overweldigend is, is heel erg onstabiel.
Het komt als een stormvlaag die weer voorbij gaat en dan blijf jij leeg en gebroken achter, vol verdriet en pijn.
Maar volgens hen die het hele wezen van de mens kennen – zijn mind, zijn hart en zijn kern – moet liefde een uitdrukking van je wezen zijn en geen emotie.
Want emotie is erg breekbaar en erg aan verandering onderhevig.
Op het ene moment betekent de emotie alles voor je en op het andere ben je gewoon leeg.Om Shantih Shantih Shantih
Dus is het eerste wat gedaan moet worden: liefde uit deze sfeer van overweldigende emoties halen.
Liefde is niet overweldigend. Nee, precies het tegenovergestelde is het geval. Liefde getuigt van een geweldig inzicht, helderheid, sensitiviteit en bewustzijn.
Maar die soort liefde bestaat bijna niet, omdat er maar heel weinig mensen zijn die tot hun kern doordringen.
Tot nu toe vind ik dit al prachtig gezegd, zo'n openbaring, die me vrede geeft en dan de vrede zoals in de titel van deze lezingenserie staat: Om Shanti , Shanti, Shanti oftewel: Het Geluid van de Stilte, Vrede, Vrede, Vrede.
Osho gaat als volgt verder met zijn uitleg. Er zijn mensen die van hun auto's houden, zegt hij. Soms houdt iemand van zijn computer. Dat is de liefde van de mind.
En dan houd je van je vrouw, van je man en van je kinderen. – dat is de liefde van het hart -. Maar omdat deze liefde verandering behoeft om levendig te blijven en je deze verandering niet toelaat, wordt zij vals. Elke dag dezelfde echtgenoot wordt zo saai en vervelend. Elk echt contact wordt de kop in gedrukt en elke vreugde wordt gedoofd. Je vergeet gewoon helemaal, hoe het is om samen te lachen.
Het leven is alleen nog maar werk waar je geen plezier in hebt. En werken moet je, want je hebt vrouw en kinderen.Om Shantih Shantih Shantih
Mensen leven vaak jaren met elkaar, terwijl ze niets om elkaar geven; het is niets dan onechtheid.
Maar ondertussen zijn er wel problemen, zoals een slechte bui, ruzies, wederzijdse afhankelijkheid en echtscheidingsprocedures.
Dan kun je maar beter van een machine houden, zoals een computer. En dat doen mensen dan ook. Of ze houden van hun huisdieren. En dat gebeurt gewoon, omdat mensen in feite niet in staat zijn om van andere mensen te houden.Om Shantih Shantih Shantih
Liefde moet los gemaakt worden uit de greep van emoties.
Sinds je geboorte zit je in die situatie, maar je moet de weg naar je kern vinden. Tenzij je liefde deel van je wezen wordt, is zij niet veel anders dan pijn lijden en bedroefd zijn.
Emoties zullen je niet helpen om een evenwichtig individu te worden. Ze zullen je geen rotsvaste ziel geven. Je zult als een stuk drijfhout heen en weer gaan met de stroom en niet weten waarom.
Emoties verdoven mensen op dezelfde manier als alcohol dat doet. Je kunt er een mooie naam als liefde aan geven, maar het is geen liefde, want die kun je pas in je kern ervaren.
Als je een beetje meer bewust wordt, zullen alle dingen die je overweldigen, verdwijnen. Iemand is werkelijk zuiver en helder, als hij zich door niets totaal in beslag laat nemen, wanneer hij steeds bewust, alert en zichzelf is en zich niet verliest in wat voor emotie dan ook of je die nu liefde noemt of iets anders.
Bewustzijn brengt bevrijding zoals ook uit het volgende verhaaltje blijkt.
De gastvrouw op een kinderpartijtje loopt naar kleine Ernie en vraagt hem: "Hoe komt het, dat je broertje zo verlegen doet? Hij zit de hele middag maar in dat hoekje."
"Hij is helemaal niet verlegen" zegt Ernie met klem "Hij heeft alleen nog nooit eerder een stropdas om gehad en nu denkt hij, dat hij ergens aan vast zit." Om Shantih Shantih Shantih
De uitleg die Osho in deze lezing geeft over de drie niveaus van liefde maakt me heel gelukkig. In mezelf zeg ik: Thank you, Osho!
Want we zijn toch allemaal wel op het punt van liefde aan het modderen, of we dat nu toegeven of niet.
"Waarom lukt een bepaalde relatie niet?" "Waarom slagen anderen er wel in om in een liefdesrelatie te leven, naar het schijnt, en waarom kun jij dat niet?" "Waarom gaan bepaalde liefdescontacten gewoon niet door?" "Waarom lijkt het of je altijd de verkeerde mensen tegen komt?"
Deze en legio andere vragen spelen door ons hoofd en houden ons er vanaf de enige weg te gaan die ons wel naar liefde kan leiden en dat is de weg naar ons wezen, onze kern.
Het boek Om Shanti Shanti Shanti van Osho heb ik jaren geleden gelezen. Nu kom ik een lezing daaruit op CD tegen en haal ik er iets heel anders uit.
De titel van de CD is 'Emoties' en ik ontdek het fascinerende inzicht van Osho over de drie niveaus van liefde. Inderdaad, ik ontdek altijd weer iets nieuws. Om Shantih Shantih Shantih