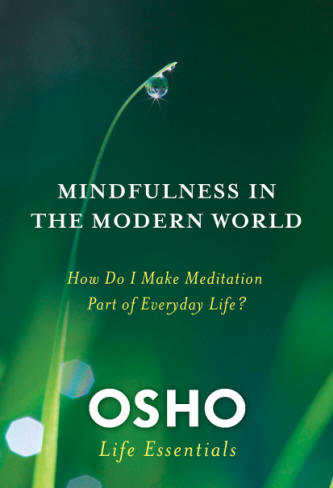 How Do I Make Meditation Part of Everyday Life?
Osho helps us explore both the inner and the outer obstacles that prevent us from bringing more awareness to all our daily activities. He emphasizes that while techniques can be useful in pointing the way, in themselves they are not meditation. Rather, meditation—or mindfulness—is ultimately a state of being in which we are capable of both action and stillness, work and play, and able to be fully present to each moment of life as it comes. Osho's insights into the nature of the modern mind, with its tendency to judge and compare, provides a helpful entry point for longtime meditators as well as beginners. Mindfulness in the Modern World covers a wide range of topics, including five experiential techniques that will help you bring awareness to your everyday life.
Osho challenges readers to examine and break free of the conditioned belief systems and prejudices that limit their capacity to enjoy life in all its richness.
Many Diseases, Only One Medicine
What is meditation?
It is just putting the mind aside. Being without the mind for a few moments is meditation. And once you know for a few moments, you have the key. Then whenever you need, you can move withinward. It is just like ingoing breath, outgoing breath: you go out in the world, it is outgoing breath; you come in, it is ingoing breath. Meditation is ingoing breath.
So forget about your problems, just move into meditation. And the deeper you will move, the more the false things will disappear.
What is meditation?
It is the most important question as far as I am concerned. Meditation is the very center of my whole effort. It is the very womb out of which a new religiousness is going to be born. But it is very difficult to verbalize it: to say something about meditation is a contradiction in terms.
It is something that you can have, that you can be, but by its very nature you cannot say what it is. Still, efforts have been made to convey it in some way. Even if only a fragmentary, partial understanding arises out of it, that is more than one can expect. Even that partial understanding of meditation can become a seed. Much depends on how you listen. If you only hear, then not even a fragment can be conveyed to you. But if you listen … Try to understand the difference between the two.
Hearing is mechanical. You have ears, you can hear. If you are going deaf then a mechanical aid can help you to hear. Your ears are nothing but a certain mechanism to receive sounds. Hearing is very simple: animals hear, anybody who has ears is capable of hearing—but listening is a far higher stage.
Listening means that when you are hearing, you are only hearing and not doing anything else—there are no other thoughts in your mind, no clouds passing in your inner sky, so whatever is being said reaches as it is being said. It is not interfered with by your mind; it is not interpreted by you, by your prejudices—not clouded by anything that, right now, is passing within you, because all these are distortions.

How do I make meditation part of every day life?
Dit boek maakt deel uit van de serie 'Life Essentials'. In 'Mindfulness English' benadrukt Osho dat technieken weliswaar bruikbaar zijn om je de weg te wijzen, maar op zich geen meditatie zijn. Mindfulness is de ultieme staat van zijn waarin we zowel in actie als stil kunnen zijn, van werk en spel en waarin we volledig in het moment kunnen zijn zoals het leven zich voordoet.
Mindfulness is een hot topic, een alom hoorbare kreet. De inhoud blijkt ook al eenvoudig tot Osho's visie te
behoren. Dit boek is uit 2014 en heeft als subtitel: How do I make meditation part of every day life?Het boek maakt deel uit van de serie: Osho Life Essentials. In Mindfulness in the Modern World helpt Osho ons om zowel de uiterlijke als de innerlijke obstakels te verkennen die ons hinderen om onze dagelijkse activiteiten meer meditatief te verrichten.
Osho's inzichten in de aard van de moderne mind met zijn neiging om te vergelijken en te oordelen, biedt een bruikbare ingang voor mensen die beginnen met meditatie als voor hen die er al langer mee bezig zijn. In het boek worden vele thema's behandeld en ook vijf technieken om je voordeel mee te doen in het leven van alledag.
'Mindfulness in the Modern World' is verkrijgbaar als boek en als ebook via de Boekhandel.
Review van 'Mindfulness English'
MINDFULNESS IN THE MODERN WORLD
How do I make Meditation Part of Everyday Life?
Mindfulness is een moderne kreet, je hoort ziet en leest die tegenwoordig overal om je heen. Maar de inhoud achter deze term is natuurlijk belangrijker. Wat wordt er nu echt mee bedoeld? 'Mind' is een verzamelnaam voor veel begrippen die zowel een negatieve als een positieve kleur hebben.
Niet voor niets kennen we de benaderingen van Osho als 'No mind' and 'Beyond the mind' waarbij hij wijst op de vaste patronen en de ballast van de mind. Het is maar het beste om aan deze toestand voorbij te zien te komen, zo geeft Osho aan.
'Mindfulness' behoort wel ook tot het gedachtegoed van Osho, al spreekt hij vaker over meditatie. De term 'meditatie' wordt in het Westen echter nogal divers geïnterpreteerd. Vaak hebben mensen het idee dat ze 'over iets' moeten mediteren. Maar meditatie is in feite een 'staat van zijn'. Waarschijnlijk zijn we hiermee geboren. Baby's hebben de verbondenheid, het één zijn, met het universum nog bij zich. Tijdens het opgroeien in een maatschappij die dit niet bevordert, raken mensen veel van de connectie met het Grote Geheel kwijt. Het meditatieve dat een jong kind nog vanzelf bij zich heeft, raakt steeds meer ingekapseld.
Wat kan Mindfulness English betekenen om weer dichter bij onze natuurlijke onderstroom, de meditatieve staat van zijn, te komen?
Er is in april 2014 een nieuw boek van Osho verschenen, een compilatie van relevante teksten, met de titel: Mindfulness in the Modern World en met als ondertitel: How do I make Meditation part of Everyday life?
Osho steekt in dit boek van wal met een inspirerend Zen verhaal. Hij heeft het over meditatie als 'calling yourself'. Het verhaal gaat over de techniek die een monnik toepaste en die inhield dat deze elke dag begon met zichzelf de vraag te stellen: "Meester, ben je er nog?". En dan antwoordde hij ook zelf weer met: 'Ja meneer, ik ben er'. En dan was er de volgende opmerking: "Gedraag je maar wat gewoner!"
Vervolgens komt er dan ook nog het advies, terwijl de communicatie binnen een en dezelfde persoon plaatsvindt, "om je niet gek te laten maken door de wereld om je heen."
Dit lijkt volkomen absurd, zoals het beschreven staat en toch kan het zeer behulpzaam zijn. Mindfulness
EnglishWe kunnen er namelijk wel zijn, maar zijn we ook authentiek? Of spelen we dezelfde spelletjes die in de maatschappij belangrijk zijn en die ons geaccepteerd maken? Want ze sluipen er heel snel weer in. En als het zo is, dat we wel bewust zijn en bezig zijn ons zo echt mogelijk te gedragen, dan probeert de wereld om ons heen ons wel naar het onechte toe te trekken.
Sinds ik geen tv meer heb en alleen programma's terugkijk, merk ik hoeveel onechtheid er via de media onze huizen binnenkomt. Dit gebeurt vooral ook door de eindeloze reeks van reclameblokken waarin gekunstelde mensen afgeschilderd worden. En dan zijn er de boodschappen die niet bij onze wezenlijke behoeften aansluiten, maar die ons alleen maar aangepraat worden en ons vervolgens 'gek maken'. 
Zinvolle Toepassingen?
 Bijvoorbeeld: Er bestaan al heel wat mogelijkheden om te betalen….en nu is er weer één bij gekomen:
'contact-loos betalen'. De argeloze klant gaat hierin mee en weinigen zullen nog naar de kritiek luisteren. Is een dergelijke manier van betalen echt nodig, worden we er gelukkiger van? Een criticus bespreekt, nadat het systeem al ingevoerd is, de achtergrond, namelijk dat de fabrikanten van chips hun overtollige geproduceerde materialen graag kwijt wilden. Dat is dus pure business en niet de wereld verheffen en mooier maken. Niemand zit daar op te wachten.
Een bewindvoerster geeft aan vóór alles grootmoeder te zijn van het zoveelste kleinkind. Kleinkinderen hoeven niet uitgebannen te worden, maar het zóveelste…? We zitten wel met een overbevolkte wereld en in een land waarin de problemen met betrekking tot de kwaliteit van leven steeds meer toenemen.
Maar het krijgen van kinderen door vrijwel iedereen, zonder enige aantals-beperking, is een ingeslepen automatisme. Vrijwel niemand staat hier tegenop en Osho is wat dat betreft een roepende in de woestijn.
Meditatie, mindfulness, helpt je om je van deze automatismen bewust te worden. Osho gebruikt in het boek de term mindful in de de betekenis van: alert, gewaar zijn. Het is in feite een al veel langer bestaande term die het begin van de meditatieve manier van leven aangeeft zoals Osho die voorstaat.
Zijn bepaalde mensen dommer dan andere?
 De vraag wordt gesteld of sommige mensen misschien dommer zijn dan anderen. En Osho geeft het antwoord, namelijk dat de mind zelf in principe dom is. Er kan weinig feitenkennis in zitten of veel, maar alles stamt vanuit niet gewaar zijn. De kern is het geen getuige zijn van wat je doet. Je bent blind bezig zonder je af te vragen waarom je iets eigenlijk doet. Het is een soort van 'in slaap zijn.' En als je in slaap bent, heeft dat domheid tot gevolg. Ontwaak je, dan kan voor de eerste keer echte intelligentie bij je opkomen. Kortom: we kunnen er zelf ook weer veel aan doen, namelijk om door middel van meditatie meer bewust te worden en onszelf uit de slaap te halen.
Osho gaat op veel vragen van zoekers die bij ons allemaal leven in en terwijl hij antwoord geeft, is hij vooral aan het bewust maken. Aan pasklare antwoorden heb je immers niets, want ze maken je mind alleen maar meer solide. Maar je wordt niet mindful, niet gewaar.
'Je niet identificeren met de mind' is een van de hints die Osho geeft, maar een beetje afstand ervan nemen zodat je kunt zien wat er allemaal gaande is daar, in dat gebied.
De inzichten zijn veelal geïllustreerd met belevenissen van Osho zelf, waardoor het boek aantrekkelijk leesbaar is. Aan het einde zijn technieken opgenomen die je meteen kunt toepassen en die bijdragen aan mindful worden. Het zijn methodes die ertoe leiden om meditatie deel te laten worden van je dagelijkse leven. Op die manier ga je steeds meer vanuit een meditatieve onderstroom leven.
Humor in het Boek
Ook van humor is dit boek Mindfulness English voorzien.
En dame uit New York ontving een telefoontje van de school waar haar zoontje Leroy op zat.
De directeur van de school wilde haar zo spoedig mogelijk spreken in verband met het gedrag van haar zoon. Zodra de dame tegenover de directeur in diens kantoor plaatsgenomen had, stak hij van wal. "Uw zoon Leroy" sprak de directeur afkeurend "heeft een ondermijnende invloed op onze school."
"Precies zoals zijn vader" antwoordde de dame.
"Hij steelt van andere kinderen." vervolgde de directeur.
"Net zijn vader…" antwoordde de moeder van Leroy.
"Als er op school gevochten wordt, is Leroy altijd van de partij."betoogde de directeur.
"Twee druppels water zijn vader." gaf de dame te kennen.
"Hij zit voortdurend achter de meisjes aan en maakt ze uiteindelijk aan het huilen." besloot de directeur van de school.
"Dat deed zijn vader ook altijd." zei de dame "mijn God, wat ben ik blij dat ik niet met die man getrouwd ben!"
MINDFULNESS IN THE MODERN WORLD, How do I make Meditation Part of Everyday Life? uit de serie Life Essentials