Messages from Existence
Existence is a constant reminder, according to Osho; one just needs to be sensitive and alert to pick up the messages. The selected quotes in one of Osho's most accessible books create an urgency very much in tune with a growing worldwide awareness that everything is not right with humanity and our beautiful planet Earth. These powerful meditations cover a wide range of subjects including love, death, friendship, and hate; together they remind us that we have only one moment in our hands, and that we must live it or leave it unlived.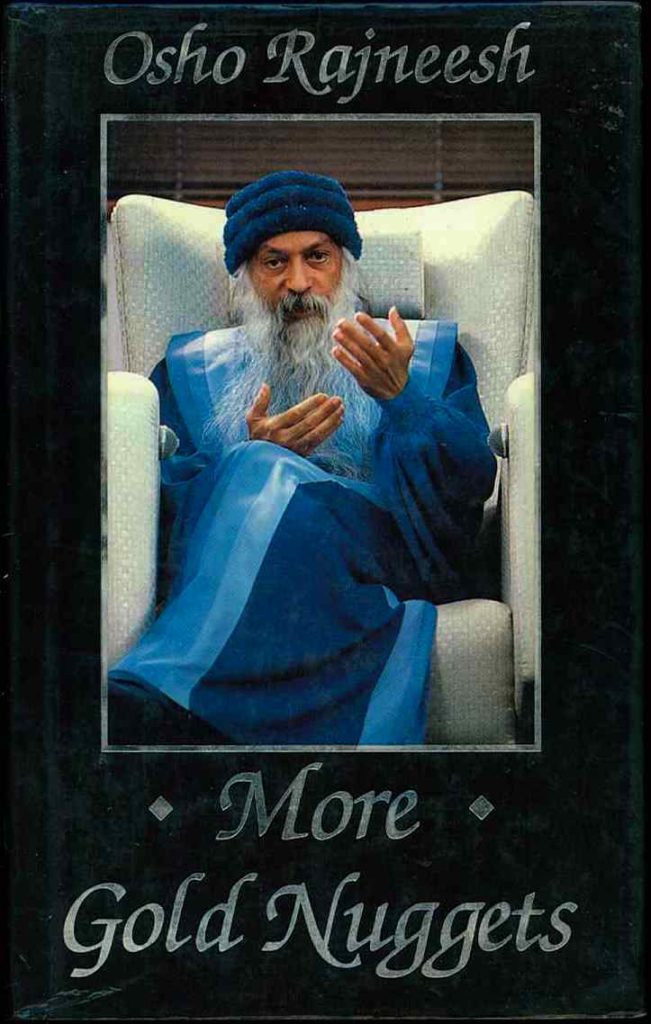 Messages From Existence
All you need is this very moment, do not go on postponing
Inmiddels zijn er van 'Gold Nuggets' al een paar uitgaven geweest. Het is absoluut een gouden greep voor je eigen collectie Osho boeken of als cadeau aan iemand.
Af en toe zit je immers voor een lezing van Osho en word je opeens diepe getroffen door een bepaalde uitspraak van hem. En hoewel hij nu ook weer niet zo snel spreekt, is de lecture alweer verder en ben je al
gauw de precieze formulering van de uitspraak kwijt.
Je zou die ene zin gewoon vast willen pakken en telkens tevoorschijn willen halen als je hem nodig hebt.
Maar het resultaat daarvan is, dat je half met je aandacht bij het vervolg van de lezing bent en voor de rest die ene uitspraak maar steeds probeert terug te halen.
Dat is van nu af aan niet meer nodig, want nu is er: Gold Nuggets. En dat zijn 80 bladzijden aan kernachtige stukjes waar je jezelf aan kunt opladen.
Het is zeer waarschijnlijk dat wat jou eens in een hele lezing trof hier wel met zoveel woorden bijzit.
Dit is hiervan een voorproefje:
"Live totally, live intensely, so that each moment becomes golden and your whole life becomes a series of golden moments. Such a person never dies, because he has the Midas Touch. Whatever he touches becomes golden."
Hier wordt duidelijk gedemonstreerd wat ik een sannyasin eens horen zeggen: "Osho spreekt de dingen op een bepaalde manier uit. En zoals Osho het zegt, kan niemand het zeggen." En als er iets duidelijk wordt uit de 80 gepresenteerde stukjes in Gold Nuggets, dan is het dat wel.
Het Boek Gold Nuggets is verkrijgbaar bij de Boekhandel.
Review van het boek Gold Nuggets
Er is altijd veel herkenning bij wat Osho zegt; daarvoor is het ook bedoeld.
"After all I am a very practical man." heb ik Osho horen zeggen.
Dus de inhoud van wat Osho hier beschrijft, komt ons regelmatig bekend voor.
Maar om het dan zo te verwoorden, dat je spontaan uitroept: "Aha!!" Dat is zijn unieke kwaliteit.
De uitvoering van het boek is eigentijds en geheel in harmonie met de kernachtige inhoud. Het boek heeft een goudkleurige omslag en binnenin zitten verfijnde illustraties als gouden bamboe takjes. Het is een prachtig handzaam geheel om onderweg bij je te hebben en op je plaats van bestemming vlakbij je neer te leggen. Iedere keer als je er behoefte aan hebt, pak je het op en dan kom je geheid het voor jou bedoelde fragment tegen. Het is te kust en te keur gaan en je telkens weer gevoed voelen door Osho's unieke Goudklompen.
De illustratieve bamboes's zijn bepaald kunstzinnig te noemen. Ze liggen in veelvormigheid uitgestrooid over de bladen van het boek, soms in goud, dan weer in zwart. De ene keer zijn ze vaag
afgebeeld en de andere keer veel duidelijker.
Ook zijn ze de ene keer natuurgetrouw en de andere keer heel erg vrij en speels weergegeven.
Ze zijn even gevarieerd als Osho's Gold Nuggets zelf zijn.
En dit maakt het tot het ultieme cadeau aan jezelf of aan iemand die je op een ongekende manier wilt verrassen.
Hier komen nog een paar voorbeelden van Gold Nuggets:
Deze Gold Nugget geeft wis en zeker herkenning:
"For the ego aloneness is never a joy. Ego enjoys only when it subordinates somebody, when it can say: "I am higher than you, bigger than you." Ego can never enjoy aloneness; in aloneness what is the point of having an ego?"
Maar bij de volgende wordt er toch wel een speciaal licht geworpen.
Die ontlokt eerder de reactie: "O, zit dat zo!"
"Love helps you to the place where trust is possible. Love is almost like a bridge which can collapse any moment, but still it is a bridge. If you can use it, it can take you to trust, but without it you cannot reach to trust directly. So love is a necessity, but unto itself not enough. Its use is a means; the end is the trust.
Bij het lezen van deze bladzijden kan er een bonte scharkering aan reacties en emoties loskomen.
Het is zoals Ramses Shaffy dat zo treffend zingt: Zing, vecht, huil, bid, lach, werk en bewonder…
Gold Nuggets van Osho zijn er voor iedereen, ze betreffen het leven in totale zin.
Gold Nuggets, Osho, ISBN 9780981834139, uitgegeven bij Osho Media, Pune, India