Windows to Eternity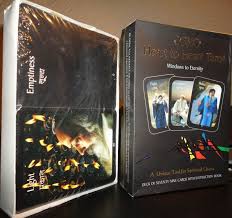 MAN IS A QUEST, AN INTERNAL INQUIRY, A PERENNIAL QUESTION
The Quest is for the energy that hold the existence together – call it God, call it truth, or whatsoever you like to call it. Who holds this infinite existence together? What is the center of it all, the core of it all?
The Question is the same
Science, philosophy, religion, all ask the same question. Their answer may differ but their question is the same. Religions call it God. Scientists will not agree with the word 'God'; it looks too personal. It looks too anthropomorphic, man-oriented. They call it electricity, magnetism, energy fields; but only the name is different. God is an energy field.
Different Names are Given to it
Philosophers go on giving different names to it; the ultimate stratum, the absolute, the BRAHMA. From Thales to Bertrand Russell, they have supplied many answers. Sometimes some philosopher says it is water, liquidity; sometimes somebody else says it is fire – but the quest has been eternal. What holds this infinite universe together?
Osho Heart to Heart Tarot is a tool to enrich one's inner understanding intuitively and playfully. Osho's words are merely a finger pointing to the moon, it may provoke us, it may hurt us also, but surely its purity and power may awaken us from our age long sleep and endless dreams. And it may help alight our path and prepare us for our journey within.
Layouts for Reading the Cards
We have suggested here some layouts for reading, but one should always listen to one's own intuition and may formulate layout as per need of the individual, for every person is unique unto oneself.
Deeper Understanding of Meditation Techniques
For deeper understanding and guidance on meditation techniques, one can always visit the nearest Osho Centers. One can also take help from innumerable Osho books and discourses which are available in all leading book stores and Osho Centers.
Ramen op de Eeuwigheid 
Osho Heart to Heart Tarot is een uniek instrument voor de persoonlijke zoektocht en transformatie ligt hier in dit deck met Osho afbeeldingen uit allerlei periodes. Indringend en ontroerend zijn deze kaarten en doen ze hun werk in ons. De afbeeldingen van

Osho drukken een bepaalde staat van Zijn uit. Er gaat een wereld voor je Open, als je hiermee voor jezelf of voor anderen gaat werken.
Je kunt elke dag een kaart selecteren en je laten voeden door de bijbehorende beschrijvingen.
Maar het is ook interessant om met dit deck geheel eigen patronen te leggen.
Het deck is verder niet in Nederland verkrijgbaar en nog beschikbaar voor een beperkt aantal liefhebbers.
Osho Heart to Heart Tarot is erg zeldzaam. Mogelijk is het te verkrijgen via internet.
Review van Osho Heart to Heart Tarot
Voor de echte liefhebbers is het Osho Heart to Heart Tarot, is hier het Osho Heart To Heart Tarot,
Windows to Eternity.
Het is een heel bijzondere set kaarten, om te ondersteunen bij Groei en Transformatie.
De doos bevat 80 glanzende kaarten en een instructieboekje.
De afbeeldingen van Osho drukken een bepaalde staat van Zijn uit. Er gaat een wereld voor je Open, als je hiermee voor jezelf of voor anderen de kaarten gaat leggen.
DE OSHO HEART to HEART, Windows to Eternity
JUST AROUND THE CORNER…….NET OM DE HOEK
"It is Just Around The Corner….." heb ik Osho regelmatig horen zeggen.
We zijn geneigd om de dingen ver van ons vandaan te zoeken. Het is aantrekkelijk om naar het exotische, dat wat geheel anders is, uit te reiken. En op zich is daar niet zoveel mis mee.
Ervaringen die minder voor de hand liggend zijn, geven rijkdom aan ons leven.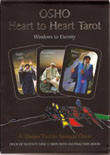 En meestal werkt het ook zo, bij mij althans, dat ik na ver weg geweest te zijn weer een diepere move in mezelf kan maken. Het is niet zo, dat dit je vooropgezette bedoeling moet zijn, want dan gebeuren de dingen meestal niet.
Als je naar de stem van je hart luistert en in het nu blijft, kun je vervolgens voor deze verrassingen komen te staan:een aangenaam bijverschijnsel dus.
Letterlijk ontdekte ik iets "Just around the Coner" toen ik in april/mei 2008 in het Osho Meditation Resort in Pune verbleef. Ik had een zeer hectische en vooral emotioneel uitputtende periode op mijn laatste school achter de rug.
Ondanks veel gepraat, of misschien juist daardoor, waren we als adjunct en docent in een padstelling beland.
En gelukkig was daar de extra lange voorjaarsvakantie waarin ik veel afstand van het geheel kon nemen.
Maar al in de taxi vanaf Mumbai airport naar het OMR in Pune merkte ik, dat er golven van woede in me oplaaiden.
Nu was ik duizenden kilometers verderop, maar de boosheid zat natuurlijk in mezelf en die had ik daar dus ook bij me.Ik sprak mezelf, zachtjes en diep in me, stevig toe.
Er moest aan die kwaadheid gewerkt worden, dat was zeker en dat zou ik ook doen, bij deze was dat afgesproken. Maar NU wilde ik van het aankomen in India genieten.
En dat is iedere keer weer zo'n speciale ervaring…..! Osho Heart to Heart Tarot
Het warmere en zachtere klimaat dat na uren vliegen bezit van je neemt, het ongewone straatbeeld, de geheel andere manier van bouwen, wonen en leven.
En dan is er ook nog een veelheid van geuren die op je afkomt, van uiterst onaangenaam tot aan aangenaam prikkelend waarbij je voelt: hier wil ik meer van.
En dan de hele range aan geuren die zich tussen deze uitersten bevindt.
En de hitte die er in april/mei heerst is ook een heel speciale belevenis.Niet eerder was ik tijdens die periode in India. In de eerste plaats is er het effect op je lichaam en geest
die deze verzengende warmte heeft.
Dus dat betekent: uiterst dunne kleding, je tempo tot in het extreme matigen en doorlopend water drinken.
Een paar stappen nemen zonder je waterfles als vaste attribuut is in feite ondenkbaar en ook onverstandig, zeker voor een westerling wiens lichaam deze hitte niet kent.
Het zijn allemaal dingen die even wat aanpassing vereisen en na een paar dagen weet je niet beter, merkte ik.
Maar wat ook een gevolg is van deze voor ons extreme warmte, is de speciale schoonheid aan bloeiende bomen en bloemen.
Het beeld van de totaal bloeiende gulmohar boom heb ik sindsdien in mijn hart gesloten.
De fel oranje bloemen die de boom dan vertoont, hebben nooit die volheid en intense kleur als juist dan.Af en toe maakte ik een wandeling en dan zag ik in de verte oranje door
groen schemeren.Het is zoals wij in Europa vanuit de verte de oranje daken van een boerderij door de bomen rondom kunnen waarnemen.En even verkeerde ik ook in de veronderstelling,
dat het hier om een dak van een huis ging waar ik naartoe liep, totdat ik dichterbij kwam……
Toen werd ik overweldigd door de oranje bloesempracht van de gulmohar boom. Deze pracht is in feite niet te beschrijven, die moet je gewoon zelf ervaren.Voeg daarbij de hele rijke en
intense bloei van de bougainville die werkelijk in allerlei kleuren te bewonderen is….. en je ervaart iets van het kleurenspectrum dat Pune in het voorjaar biedt.
Ik zat bij een vriendin in haar tuin en tot 's avonds laat waren deze kleuren zichtbaar en voelbaar, terwijl het in India toch al om 8.00 uur donker is.Het is iets waar ik niet op uitgekeken
raakte en ik ga het beslist nog meermalen ervaren door in die periode naar Pune te gaan.
Deze hele verrassing van de speciale uitdrukking van de natuur in Pune op dat tijdstip hebben al veel van mijn boosheid doen smelten.Waar maakte ik me eigenlijk druk om bij dat gebeuren in Nederland?…… borrelde er in me op.Ik wilde alleen maar 'ja' zeggen tegen wat ik hier in Pune aan wonderbaarlijke ervaringen had.
Hier was 'het' te vinden en als ik me door deze ervaring geheel liet reinigen en voeden, zou ik in Nederland wel zien hoe belangrijk het eventueel nog was.
En dat gebeurde ook: de verwrongen toestand die ik in Nederland op mijn werk had verdween steeds meer op de achtergrond.
Een space van lichtheid, luchtigheid en vreugde nam meer en meer bezit van.
In zo'n dartele stemming ontmoette ik op een ochtend een bekende in het OMR.
En we besloten samen met de rikshaw naar MG road te gaan. Dat was dollen onderweg en later shoppen en onderhandelen met de winkeliers.
En het was ook genieten van het prachtige aanbod aan (edel)stenen dat men in Pune kan vinden. Ondertussen was de bloody heat van het seizoen ook weer op komen zetten.
Dus gingen we na een maaltijd en veel water weer richting OMR.
In de straat tegenover OMR dook mijn gezelschap een internetgebouwtje in en ik liep rechtdoor, waar de weg omhoog gaat en….. ja, just around the coner vond ik HET.
Ik trof daar in een shop de Osho Heart to Heart Tarot aan. Een gevoel van verrukking trok door me heen.
Wat een ongekend mooie kaarten!
Veel vertrouwde afbeeldingen van Osho, maar ook enkele onbekende, met een heel bijzondere achtergrondDe ene keer is het een natuuropname en de andere keer is er een
ander toepasselijk beeld. En de foto's hebben niets met persoonsverheerlijking te maken, het gaat om een bepaalde staat van zijn.
Hiernaast zie je bijvoorbeeld de kaart Insecurity afgebeeld, nummer 21,
van Osho Heart to Heart Tarot
En bij de ervaring van Insecurity/ Onzekerheid is Osho's commentaar: een toestand van zekerheid brengt verveling. Het is net of je de zelfde film iedere keer maar weer ziet. Het leven is in de kern onzeker. En je zult het leven pas begrijpen als je inziet dat leven verandering is.
Je wilt alles zeker stellen en permanent door laten gaan. Maar onzekerheid houdt de mensen fris, levend en avontuurlijk. Men gaat er dan vanuit, dat alles veranderlijk is, ook al heb je daar niet zelf direct de hand in.
Je bent eenvoudig ingesteld op verandering en op transformatie. Een oud gezegde is: "The authentic man is one whom the sunrise never finds where the sunset leaves him".
Dit commentaar is, denk ik, al tamelijk veelzeggend.
Maar daarna is er nog het een en ander te lezen wat de situatie van Insecurity meer inhoud geeft.
En het is een juicy commentaar zoals we dat van Osho gewend zijn. Er worden verlichten en wijzen aangehaald en begrijpelijk gemaakt. Daarnaast krijgen we hierbij de mogelijkheid om anders tegen gebeurtenissen in het leven aan te kijken.
Deze Heart to Heart Tarot is een schitterend instrument voor zelftransformatie en dan vooral een spirituele zin.
Het is niet echt vergelijkbaar met andere Tarot sets en toch ook weer wel. Het zijn 80 kaarten die niet opgedeeld zijn in Arcana's.Je kunt losse kaarten trekken en bij elk kaarten gaat er al een wereld van inzicht voor je open.