Welcome to Osho books Discussed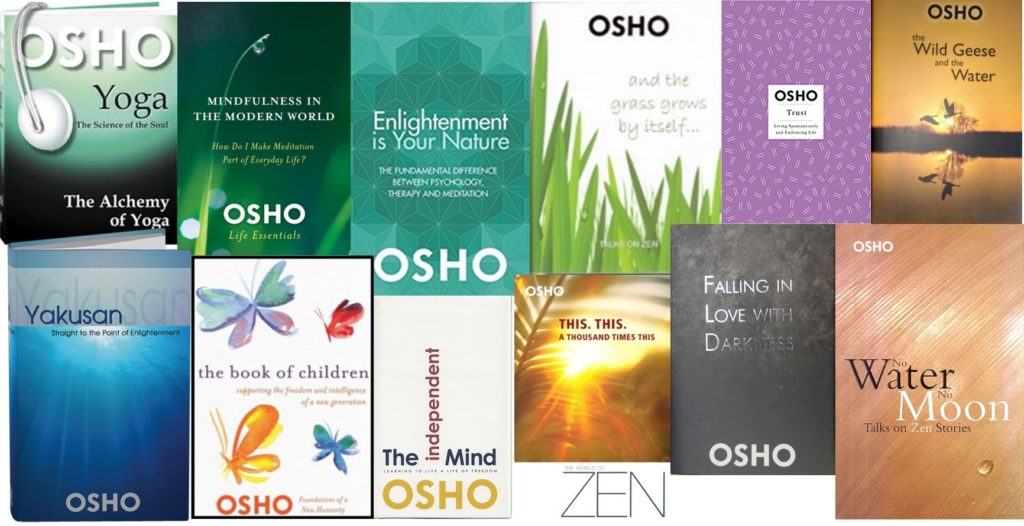 Osho's Books are the result of his innumerable speeches. They reflect the Spoken Word…which is alive. Almost 700 books are on Osho's name. Because the great variety in themes, everyone can find a favourite Osho Book. On this website you will find impressions of many books, so that you can choose. JUST ENJOY!
Welkom op Osho boeken Besproken
Met ruim 250 korte en langere beschrijvingen van Osho's boeken
Osho boeken zijn er meer nu dan 700 in totaal. Hierin wordt zijn visie weergegeven en de mogelijkheden om deze te realiseren. Over vrijwel elke thema in het leven, spiritueel, mondiaal of maatschappelijk is wel een boek te vinden waarin Osho zijn zienswijze ontvouwt en inzichten aangeeft voor het oplossen van problemen en om een betere wereld te scheppen met elkaar.
Boeken met het gesproken woord
Osho heeft talloze spontane talks gehouden tegen zijn gehoor. Het gesproken woord is het meest levendige wat er is. Deze toespraken, waarin vaak vragen van zoekers beantwoord worden, vormen de inhoud van Osho's boeken. Er gaat daarom een levendige energie uit van Osho's boeken.
Wereldwijde belangstelling voor tijdloze wijsheid
Veel mensen overal ter wereld zijn diep in hun hart geraakt door Osho's wijsheid die u
it zijn boeken spreekt en die tijdloos is. Ze zijn dan ook in talloos veel talen vertaald. ook in het Nederlands is in de loop van de tijd een groot aantal vertalingen verschenen.
Op Osho Boeken Besproken kun je veel titels van Osho's boeken vinden die kort beschreven worden, Engelse en Nederlandse. Door de pagina's heen wordt zoveel mogelijk de alfabetische volgorde aangehouden. En per boek kun je ook doorklikken naar een meer uitgebreide bespreking van het boek. Er zullen ook regelmatig aanvullingen plaatsvinden. In de rechter kolom staat vermeld welke Nieuwe boeken er zijn.
Gebruik de Zoekmachine in de rechter kolom of onderaan elke pagina door de titel van het boek waarvan je de beschrijving zoekt, in te typen.
Ook bied ik enkele boeken aan om je collectie eventueel mee aan te vullen, op: Osho Boeken kopen
Osho's Boeken zijn veelal uitgegeven bij Osho Media in Pune, India, www.osho.com. Maar ook andere uitgeverijen publiceren zijn boeken. Verder worden op mijn Facebook pagina regelmatig Osho boeken gepresenteerd, voorzien van Nederlandse tekst.
Osho about his Books
"I have 500 books, but what I wanted to say I have not said yet. I am trying hard, hoping that in some way in some moment whether I say it or not
you will hear it. Perhaps I may not be able to say it, but I may be able to show it. You may not hear it, you may see it." Osho, Straight to the point of Enlightenment
drs. Donna van der Steeg, auteur van de website Osho Boeken Besproken, contact
Met grote dank aan Adheera Westerman, voor adequate coaching en deskundige technische ondersteuning