The Joy of Living Dangerously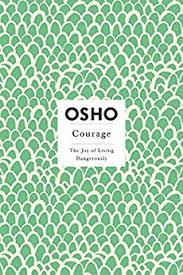 "Courage is not the absence of fear, says Osho. It is, rather, the total presence of fear, with the courage to face it. his book provides a bird's-eye view of the whole terrain–where fears originate, how to understand them, and how to find the courage to face them." Osho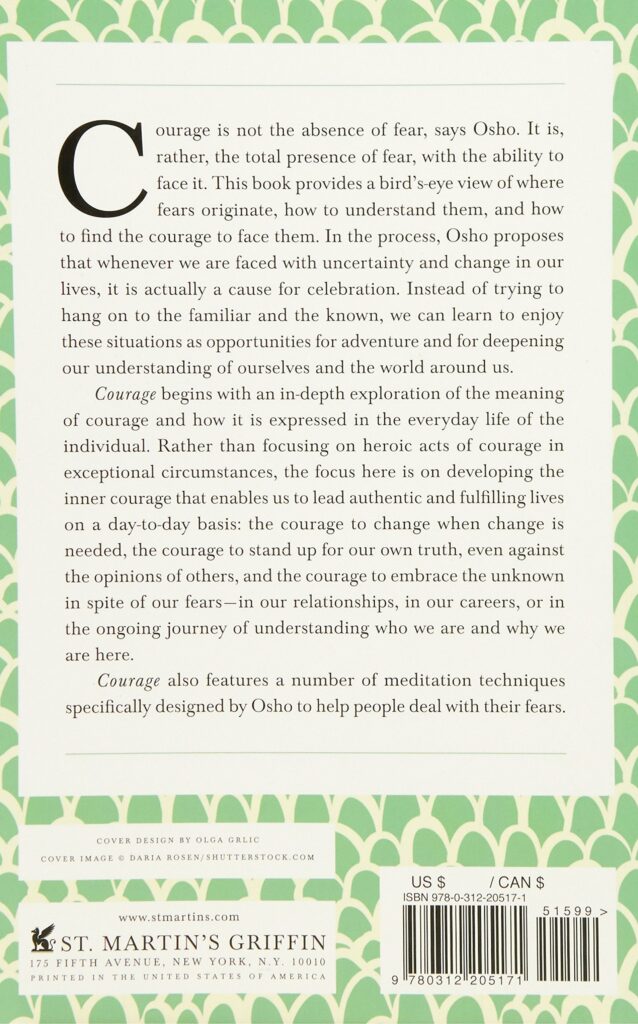 The Joy of Living dangerously
De inhoud van het boek Courage geeft bespiegelingen op een andere manier van leven, een geheel nieuwe manier van leven zelfs. Osho's visie is in dit opzicht maar al te duidelijk.

Zo wordt er een fragment uit Om Mani Padme Hum, Het Geluid van de Stilte, de Diamant in de Lotus, aangehaald: "Ik zeg je niet dat je moet kiezen, wat goed is en datgene laten vallen wat slecht is. Het hoort allemaal bij elkaar; je kunt eenvoudig geen keuze maken. Het verleden moet gewoon uitgevlakt worden, alsof we voor de eerste keer op aarde zijn en er geen geschiedenis geweest is.
Dat is de enige manier om een mooie wereld vol liefde, vol geur te scheppen met diep respect voor iedereen. In het verleden draaide alles om haat. De toekomst kan er alleen zijn als zij om liefde draait. Het verleden is onbewust geweest. De toekomst kan alleen maar bewust zijn."
Een radicale breuk met het verleden is dus nodig om tot een echt nieuw leven te komen. Hier is Moed voor nodig, de Moed om risico's te nemen in je leven. En het boek Courage is een geweldige leidraad hierbij.
INHOUD van het boek COURAGE
'Moed betekent niet de afwezigheid van angst' zegt Osho. Het is eerder zo dat er sprake is van totale angst, maar dat men het vermogen heeft deze onder ogen te zien. Dit boek geeft een haarscherp 
beeld van hoe angsten ontstaan, hoe ze begrepen kunnen worden en hoe je de moed kunt vinden om de confrontatie ermee aan te gaan.'
Het boek 'Courage' bevat een diepgaande verkenning van het verschijnsel 'moed'. Daarbij gaat het dan niet om uitzonderlijke heldendaden, zoals die meestal aan 'moed' gekopt;d worden. Nee, Osho
legt de focus op de innerlijke moed die ons in staat stelt om dagelijks een authentiek en vervullend leven te leiden. Dit houdt in dat we de moed hebben om te veranderen als verandering noodzakelijk is.
Verder betreft 'moed' dat we voor onze eigen waarheid staan, wat de mening van anderen ook is. En verder is 'moed' het omarmen van het onbekende ondanks de angst die er speelt binnen onze relaties, voor onze carrière 
of tijdens de doorgaande reis om te begrijpen wie we zijn en waarvoor we hier zijn.
In het boek zijn ook verschillende technieken opgenomen die Osho speciaal voor mensen ontwikkeld met het oog op om te gaan met hun angsten.
Het boek Courage is verkrijgbaar in de Boekhandel of via internet.
Review van het boek Courage
Ook bij niet-sannyas uitgeverijen is de belangstelling voor Osho's boeken groeiende, zoals bij St Mattin's Griffin. Dus: het gaat goed met de verspreiding van Osho's woorden. Ik heb Osho horen zeggen, dat hij graag wilde dat zijn boodschap tot in alle uithoeken van de aarde bekend zou zijn.
En zoals bij een steen die in het water gegooid wordt, worden de cirkels rond Osho's visie steeds groter.
Dat is om blij van te worden. Ik blijf het een voorrecht vinden en het maakt me steeds weer intens gelukkig om iets te kunnen bijdragen aan het doorgeven van Osho's licht en liefde.
Osho drukt dit gebeuren zelf zo mooi uit als hij spreekt over "Transmission of the lamp", het licht doorgeven. Dat wil zeggen: proberen om met dat wat jou zo doet tintelen van vreugde ook anderen te raken. Courage
In het leven zijn er volop gelegenheden waarop wij elkaar iets willen geven.
En deze boeken zijn bij uitstek cadeautjes die betaalbaar zijn en waarmee je mensen kunt laten kennis maken met een heel nieuw soort spiritualiteit, fundamenteel anders dan wat zij die ene keer met kerst in de kerk denken 
te vinden.  En, door zo'n cadeau te geven, geef je jezelf ook zo veel. Je laat iets uit je gaan, waardoor het in jezelf kan gaan stromen en er komt in jou dan ruimte voor iets anders, iets geheel fris', iets nieuws….
Soms moet je daar ook gewoon moed voor putten.
Je weet immers niet hoe het boek aan zal komen.
En dit boek is je daarbij van harte tot steun.
Er is altijd meer uit het leven te halen.
Maar als je geen risico's neemt, zul je dat niet echt uitvinden.
Ik heb een tijdje geleden twee collega's van mij allebei een cadeautje gegeven; de een gaf ik een fles whisky van een gerenommeerd merk en de ander gaf ik een Osho-boek. Die fles whisky gaf ik deels als vergoeding. Tijdens onze werkweek van school, in Engeland, heb ik namelijk een rare fout gemaakt. Ik heb een bekertje whisky van hem weggegooid in de veronderstelling dat het koud geworden thee was en dat het dus wel weg kon…..lachen, ja, maar niet als je erg dol bent op whisky.
Met die andere collega was ik al steeds een beetje aan het dollen over HET NIETS en over het 'afbreken van je ego', omdat we daar, spontaan, al pratend op kwamen.
Toen heb ik maar eens moed verzameld en hem de van nieuwe cover voorziene uitgave van "Als de Schoen Past" van Osho gegeven. Dit boek was al een tijdje aantrekkelijk geprijsd, dus dat kon er nog wel af.
Nou, om de reacties van beide collega's samen te vatten: over die fles whisky, hoewel die ook met zorg was uitgezocht, heb ik nooit meer iets gehoord.
Met de collega die ik het boek gaf, heb ik sindsdien wel een paar maal in de week
even contact : je hebt nu gewoon iets met elkaar.
En dat terwijl hij in zijn eerste reactie had gezegd: Wim geef je een fles whisky en ik krijg een boek…..Wat heeft hij dat ik niet heb?
WHAT is COURAGE?
Courage is not the absence of fear, says Osho. It is, rather, the total presence of fear, with the courage to fact it. This book provides a bird's-eye view of the whole terrain-where fears originate, how to understand them, and how to find the courage to face them. In the process, Osho proposes that whenever we are faced with uncertainty and change in our lives, it is actually a cause for celebration. Instead of trying to hang on to the familiar and the known, we can learn to enjoy these situations as opportunities for adventure and for deepening our understanding of ourselves and the world around us.
In-depth Exploration of Courage
The book begins with an in-depth exploration of the meaning of courage and how it is expressed in the everyday life of the individual. Unlike books that focus on heroic acts of courage in exceptional circumstances, the focus here is on developing the inner courage that enables us to lead authentic and fulfilling lives on a day-to-day basis. This is the courage to change when change is needed, the courage to stand up for our own truth, even against the opinions of others, and the courage to embrace the unknown in spite of our fears-in our relationships, in our careers, or in the ongoing journey of understanding who we are and why we are here.