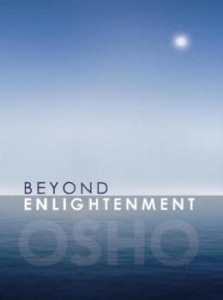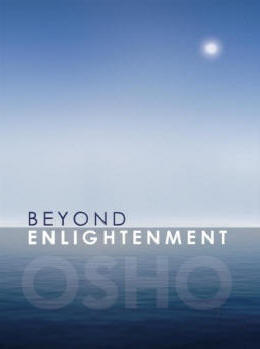 RESPONSES TO QUESTIONS
You are doing perfectly well. Just forget all about enlightenment, – says Osho as he responds to questions ranging from the spiritual to the intensely personal. These talks are not about enlightenment, they are the words of a man who has known enlightenment – and left it far behind. Osho reveals that enlightenment is a goal of human beings, an experience of the individual. Beyond that there is the universal, the disappearing of individuality, the dissolving of one's separation from existence – silence. Enlightenment, says Osho, happens when you are not there.
" So just forget about spirituality, enlightenment, God – they will take care of themselves. That is their business. They are sitting there without customers. You need not worry. Do the best you can do with life – that is your test, that is your worship, that is your religion. And everything else will follow on its own accord." – Osho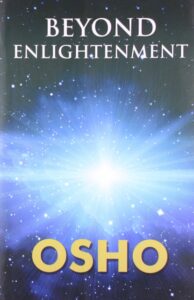 On Enlightenment and more
In dit lijvige werk Beyond Enlightenment staan 32 lezingen die indertijd gehouden zijn in Mumbay, toen Osho aan het einde van zijn World Tour was. Osho zegt: "Vergeet alles over spiritualiteit, verlichting, God – die zullen voor zichzelf zorgen. Dat is hun zaak. Ze zitten zonder iets te doen te hebben. Daar hoef je niet over in te zitten. Haal het beste leven wat je kunt uit je leven. Dat is je test, dat is je eredienst, dat is je religie. En de hele rest gaat dan vanzelf volgen." Osho
Review Beyond Enlightenment
In Beyond Enlightenment wordt door Osho onder andere gesproken over de alchemie van Verlichting.
Door een sannyasin die vanaf zijn kindertijd bij Osho was, wordt de vraag gesteld of Osho niet altijd al een Verlicht wezen is geweest. Als hij terugkijkt op zijn jaren met Osho dan ziet hij bij deze altijd al de kenmerken van een Verlicht persoon.
Osho antwoordt, dat dit goed gezien is, maar toch niet helemaal overeenkomstig de waarheid.
Iedereen wordt als een goddelijk wezen geboren, als een boeddha. Maar daarna is iemand zichzelf vergeten en aan het dromen geslagen.
Op het moment dat je uit je slaap raakt en je droom stopt, zie je dat de schat die je nagejaagd hebt, in je zelf ligt. Er blijkt helemaal geen God te zijn die je uit de Hof van Eden kan verjagen, want de Hof van Eden is jouw eigen wezen.
Verlichting verandert de betekenis van alles wat hij ervaart, zij geeft hem een andere kleur, een nieuw licht en een nieuwe pracht. Dezelfde gebeurtenissen beginnen een geheel andere betekenis te krijgen.
Natuurlijk zijn de lezingen uit deze boeken ook bijna allemaal op videotape te vinden. Als je die ziet kun je de totale presence van de Meester beleven. En dat is een heel bijzonder smakend genoegen.
En er is daarnaast een themavideo uitgebracht onder het thema Enlightenment. De titel is:
ENLIGHTENMENT, The Rebellious Path, uit de lezingen serie "From the False to the Truth".
Een maatschappij kan niet tot Verlichting komen, zo stelt Osho in deze lezing. Een maatschappij kan namelijk niet revolutionair zijn, zij moet gevestigd raken en niet rebelleren.
Dat is alleen aan rebel voorbehouden. De rebel kan puur zijn; hij kan in zijn onschuld tot rebellie komen.
Deze lezing is ook daarom zo verrassend, omdat Osho alle bestaande ideeën omtrent Verlichting opblaast. Van mensen die als Verlicht bekend staan, gelooft hij niet eens, dat ze het zijn. De mensen die het van de daken schreeuwden, waren zeer waarschijnlijk niet eens Verlicht.
En de mensen die vermoedelijk wel tot Verlichting kwamen, hielden zich stil.Met mij, zo gaat hij verder, begint een nieuw tijdperk van Verlichting. Ik ben de eerste die durft te zeggen, dat een Verlicht iemand niets buitengewoons heeft. Hij is gewoon, eenvoudig en natuurlijk, als je begrijpt wat ik bedoel."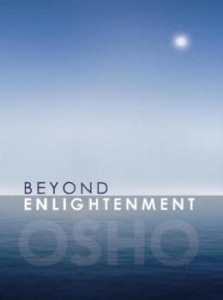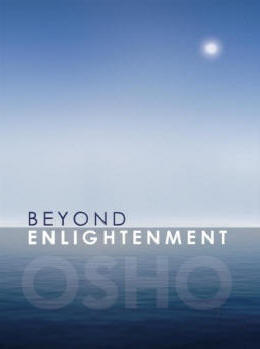 En dan is daar ook nog de volgende mop.
Ik heb gehoord dat toen de Amerikanen voor de eerste keer de maan bereikten en ook op de maan liepen, zij een verrassende ontdekking deden. Ze konden in feite hun ogen niet geloven!
Want daar zaten al een paar Indiërs die bhajans aan het zingen waren. "Hare Krishna, Hare Rama" zongen ze. De Amerikanen dachten: "Mijn God! Wij hebben er zoveel energie, kennis en geld in gestopt om de maan te bereiken.- hoe hebben die idioten dat klaar gespeeld?"
Ze vroegen het aan de Indiërs. En deze zeiden:" Dat is niet zo moeilijk. We zijn de een na de ander op elkaars schouders gaan staan en tenslotte zijn we tot aan de maan gekomen."
Het was dus geen kwestie van spiritualiteit, maar gewoon van veel inwoners hebben.