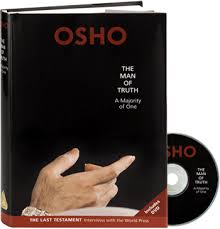 About The Man of Truth A Majority of One Osho responds to questions from the worlds media. Facing the most remarkable interviewee they are ever likely to meet, a few journalists are seen to flounder as they sense they are losing their grip on the proceedings. But many become fascinated and delighted by the realization that they are spending precious time with a unique and extraordinarily ordinary being who is sharing his inimitable vision of world events, human relationships, and the art of being a seeker whilst living in the thick of the challenges of the contemporary world.
The Majority of ONE
"That's what I have been doing all my life: standing all alone – the majority of one against the whole world. And the reason why I can manage to be against the whole world is because I have found my own life source. I don't depend on anyone. I don't need any admiration, any compliments, any rewards, any Nobel Prizes. I am enough unto myself."
"I am a man of contradictions and I am proud of it. Only an idiot is always consistent: the intelligent person goes on growing finding new ground, new spaces. And when I go on finding new groovy spaces, naturally I have to talk about them. And if they contradict my past so what? The past is dead anyway. " Osho
Osho inspires millions of people Worldwide
Osho is one of the most provocative mystic of our time and inspires millions of people worldwide in their individual search for meditation and transformation amidst the everyday challenges of contemporary life. His proposal that we celebrate the whole of our humanity both our inner and outer worlds encompasses both the timeless wisdom of the east and the highest potential of western science and technology.
Osho, An Oracle of Modern Times
Osho who has been described by the international press as "an oracle of modern times, yet who describes himself as simply an "ordinary man responds to questions from the world's media.
A Majority of One
Het boek The Man of Truth bevat persconferenties die Osho aan een internationaal gezelschap van journalisten gaf.
De persconferenties die Osho in de jaren '80 aan journalisten gaf vanuit de hele wereld, waren een genot om bij te wonen.

Wij kennen journalisten als mensen die bijna tegen elke prijs nieuws willen vergaren. En de ondervraagden houden dan, zo mogelijk, de lippen stijf op elkaar om informatie niet voortijdig te laten uitlekken. Osho maakt van de persconferentie een waar feest. En hij geeft zulke antwoorden, dat journalisten zich verheugen om in zijn nabijheid te zijn. Zijn humor en sprankelende schokjes naar bewustwording zorgen voor een unieke serie persconferenties.
Daar kun je door deze prachtige set, boek en DVD,van genieten. The Man of Truth
Het boek The Man of Truth is, mogelijk tweedehands,  verkrijgbaar bij de Boekhandel. Als audiobook is het in verschillende delen via internet te bestellen.
Review van The Man of Truth
A Mayority of One, boek en DVD
Interviews met de wereldpers, ook verschenen onder de titel: The Last Testament. 
In zijn tijd in Amerika heeft Osho verschillende persconferenties gegeven. Dit gebeurde veelal voor journalisten uit allerlei landen van de wereld.
En dit waren bepaald geen saaie gesprekken.
De journalisten, zowel mannen als vrouwen, stelden vragen die bij veel mensen leven. 
En Osho weet daar zijn ongeëvenaard frisse commentaar op te geven, dat doorspekt is met humor.
Daarnaast neemt hij ook de kans waar om de mensen tot meer bewustzijn te brengen.
Als hij dus een antwoord geeft, stopt hij daar vaak een leerzaam verhaal in.
En zo worden we bij deze interviews getrakteerd op verhalen over zijn jeugd. Ook toen al nam hij de mensen "te grazen", maar altijd vanuit het oogpunt van 'voor de waarheid te gaan'.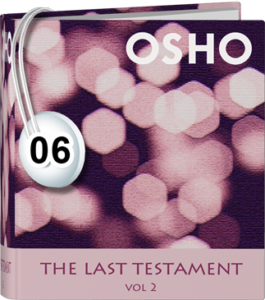 Als jongen vond hij het een sport de zogenaamde zwakke plek bij mensen op te sporen.
Sommige mensen hebben bijvoorbeeld de neiging om dingen tot in het oneindige te checken.
Dat is natuurlijk gebaseerd op een fundamentele onzekerheid.
En deze vindt vaak zijn oorsprong in vervelende ervaringen uit het verleden.
Als hij mensen uit zijn geboortedorp hiermee wil confronteren, leidt dit tot allerlei hilarische situaties.
Hij doet dit vanuit de beste bedoelingen en de desbetreffende mensen zijn uiteindelijk veel beter af in hun leven. Het is zeer vermakelijk om te lezen hoe dit zich allemaal afspeelt.
Deze serie lezingen van Osho in The Man of Truth zijn ook belangrijk vanwege de vele wildwest verhalen die over hem en de beweging bestaan.
Zijn antwoorden zijn een waar tegengif tegen de hele rimram die ook heden ten dage nog wel de ronde doet.
Hoe kun je immers op het nieuws uit deze anti-propagandamachine blijven afgaan, als je Osho zelf in de ogen kijkt en er door hem zo liefdevol op je vragen wordt ingaan?
Het is echt een verrukking om te lezen hoe hij op de meest uiteenlopende zaken commentaar weet te geven.
En die illustreert hij dan met wijsheid over bijvoorbeeld Boeddha of Ramkrishna.
Je ziet de verbazing en de geboeidheid waarmee deze journalisten, die van zeer diverse pluimage zijn, naar
Osho luisteren.
Zo is er ook een journalist uit Nederland bij, die spreekt namens de Persunie. Hij stelt thema's aan de orde als de wereldarmoede en het gebruik van kernwapens.Osho antwoordt in termen van het kritisch en creatief gebruik weten te maken van de wetenschap.
Daarnaast komen er thema's aan de orde als liefde en verlies van ego en wat die twee met elkaar te maken hebben. Osho toont aan hoe mooi we een samenleving kunnen maken.
Op dit moment is het zo, dat mensen in de samenleving niet volledig tot hun recht komen.
En dan ontstaat er de zogenaamde zwakke plek waarover we het eerder hadden.
Mensen kunnen leren om deze zwakke plek onder ogen te zien.
Iedereen zou, op welke leeftijd dan ook, hiervoor een aantal lessen psychologie moeten kunnen volgen.
En de basis hierbij moet dan onvoorwaardelijk meditatie zijn.
Maar de huidige Westerse psychologie lijkt zichzelf nog steeds niet echt open te stellen voor meditatie.
En daarom zullen die lessen psychologie alleen door mensen gegeven kunnen worden die meditatie ervaring hebben.
Er komen veel verhelderende en indringende inzichten in The Man of Truth aan de orde.
Osho heeft het over de liefde van God en het geloof, dat God tegen geboortebeperking is.
Hoe zijn die twee met elkaar te verenigen?
Is God zo liefdeloos, dat hij zoveel kinderen armoede en voortijdig sterven toewenst?
Ook het verband tussen celibaat en seksuele perversie wordt uitgelegd.
En zo wordt meer en meer duidelijk, dat Osho zelf een Man of Truth is. Hij is er één die zijn leven lang tegen de vastgeroeste ideeën van de massa heeft gesproken.
Als verrassing zit er achter in dit boek een Dvd met daarop een van de gehouden interviews.
En dat is natuurlijk meteen ook het mooiste contact met Osho. De journaliste vraagt of Osho vriendinnen heeft. En hij antwoordt, dat hij er vele heeft, wel duizenden.
En hij zegt, dat de journaliste welkom is om ook zijn vriendin te worden.
Hij onderdrukt immers niets, zoals hij zelf aangeeft.
En daarom nodigt hij haar gewoon uit.
Het is zeer de moeite waard om van dit interview met eigen ogen te kunnen genieten, via de bijgeleverde DVD dus.
Osho zegt over zijn karakteristieke manier van zichzelf tegenspreken het volgende:
'Ik ben een man van tegenstellingen en daar ben ik trots op. Alleen een idioot is altijd consistent: de intelligente persoon blijft groeien en vindt nieuwe grond, nieuwe ruimtes. En als ik nieuwe interessante gebieden blijf ontdekken, moet ik er natuurlijk over praten. En als deze mijn verleden tegenspreken, wat dan nog? Het verleden is hoe dan ook dood.' Osho