What is Real Rebelliousness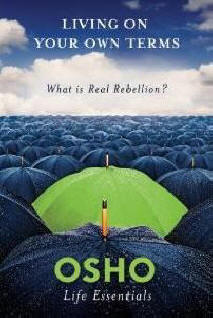 "People can be happy only in one way, and that is if they are authentically themselves. Then the springs of happiness start flowing; they become more alive, they become a joy to see, a joy to be with; they are a song, they are a dance." Osho
A new generation is again challenging and rebelling
Decades after the rebellions of the 1960s a new generation is again challenging and rebelling against outdated structures and values, focusing on political and economic systems and their failings. But this generation has the opportunity and responsibility to move the development of human freedom to the next level. Living on Your Own Terms will support this new generation in expanding its understanding of freedom and pushing toward new systems for humanity.
The Osho Life Essentials series focuses on the most important questions in the life of the individual. Each volume contains timeless and always-contemporary investigations and discussions into questions vital to our personal search for meaning and purpose, focusing on questions specific to our inner life and quality of existence.
Difference between Rebellion and Revolution
"The first thing to be understood is the difference between rebellion and revolution.
"Revolution is an organized effort to change the society forcibly, violently. But the trouble is, you cannot change the society through violence, because it is violence that is the very life current of the society. That's why all the revolutions have failed. And there is no possibility of any revolution succeeding, ever.
Rebellion is individual, nonviolent, peaceful
"Rebellion is individual, nonviolent, peaceful. It is out of love. Rebellion is not against something, but for something. Revolution is against something, but not for something. Revolution is so much engaged in being against, it forgets for what all this fuss is being made. It is anger. But anger cannot create a better society. Rebellion is not oriented against the society, but is oriented toward a new man, a new humanity.
"Revolution is fighting with the past.
"Rebellion is meditating for the future.
Rebellion is out of love, silence, understanding, compassion
"I have said rebellion is out of love, silence, understanding, compassion—all the qualities that make a person divine. Revolution is based on all the qualities that make man again an animal. Because rebellion is individual, there is no need of any struggle, of any fight. The society will not even be bothered by one individual being different than others.
Hoping for a New SUNRISE
But even single individuals meditating, loving, hoping for a new sunrise, can create the possibility of a new society. Their very presence will be enough to transform others. Their love cannot fail—love never fails. Their understanding, their intelligence, their compassion are bound to succeed." Osho
Living on your Own Terms Nederlands
Wat is echte Rebellie?
Een geheel eigentijdse uitgave betreft het hier, bij dit nieuw uitgebrachte themaboek van Osho.'Living on Your Own Terms' helpt de nieuwe generatie om tot verruiming van inzicht te komen en op basis daarvan nieuwe systemen door te zetten die tot heil van de mensheid zijn. Living on your Own Terms maakt deel uit van de serie Life Essentials.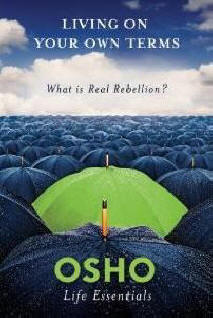 Het boek heeft als ondertitel: wat is echte rebellie? Het antwoord is, dat het de moed betreft om vanuit je echte unieke wezen te leven. Dan ontstaat er geluk. Mensen komen meer tot leven, ze zijn een genot om te zien en om mee te maken. Ze worden een song en een dans op zichzelf.
Rebellie kan tot verandering leiden, nadat iemand eerst wezenlijk zelf getransformeerd is.
En dit staat in schril contrast met revolutie waarbij het alleen maar om een wisseling in het beheersen van de leidende posities gaat. Het bijzondere design van dit boek valt ook op: de frisse groene paraplu te midden van alle grauwe exemplaren, zeer symbolisch voor de inhoud.
Het boek Living on your own terms is verkrijgbaar bij de Boekhandel.
Review van Living on your Own Terms
Daar stond ik dan, op de Koorddanser 'Alles is Liefde'- dag in Wajid, het Osho meditatiecentrum in Den Haag, voor de tafel, waarop heel wat boeken van Osho uitgespreid stonden, de meditatie- en muziek CD's en het Osho Zen Tarot kaartendeck.
Voor een paar boeken was het bordje "NIEUW" aangebracht.
"Haha" grapte een jolige vrouw "Osho brengt al lang geen nieuwe boeken meer uit en toch staat er Nieuw". En we gingen na, dat het zo ontzettend wonderbaarlijk is, dat Osho in 1991 zijn lichaam verliet en dat er nog steeds nieuwe input in boekvorm van hem afkomstig is. Hoe kan dat?
In de eerste plaats zijn dat natuurlijk de herdrukken van Osho's boeken. Ze hebben een veel meer eigentijdse uitstraling gekregen en kunnen daarom ook een veel breder publiek aanspreken. Osho is een groot voorstander van vernieuwing omdat dit getuigt van de evolutie waartoe de mens in staat is.
Verder komen er nog steeds boeken van Osho in het Engels uit die eerst in het Hindi verschenen zijn. Er is pas de laatste jaren tijd om ze te vertalen en ze zijn daarom gewoon nieuw. Want voor een Engels lezend publiek waren deze woorden van Osho voorheen niet toegankelijk. En daarom zijn ze er nu dus voor 't eerst.
Dan hebben we, last but not least, de compilaties die er van Osho's werk gemaakt zijn. Bij een actueel thema wordt vanuit de verschillende delen van Osho's werk, meer dan 700 in totaal, zijn visie weergegeven. Het is inspirerend en heerlijk om te lezen, als een actueel issue op zijn originele wijze wordt uitgediept. Je neemt er altijd zoveel van mee, is mijn ervaring. De verfrissende kijk die eruit Osho's woorden spreekt, geeft je een stimulans om je weg op basis van zelf-verworven inzichten te vervolgen. Niet wat er van buiten komt, is je richtsnoer, maar wat meditatie voor jou als waar openbaart.
Een dergelijke compilatie ligt hier voor me. Het is het boek met de titel: "Living on your own terms, what is real rebellion?" En het maakt onderdeel uit van de serie: Life Essentials. In deze serie gaat Osho in op de belangrijkste vragen die er voor het individu spelen in zijn/haar leven. Het innerlijk leven en de kwaliteit van het bestaan krijgen hierbij accent.
De cover van dit boek vind ik eenvoudig ongekend prachtig. Er zijn allemaal donkerblauwe paraplu's afgebeeld, waar de regen lustig op los klettert. En te midden van al dat kleurloze donkerblauw is er die ene frisgroene paraplu die er in totale eigenheid durft te zijn en die zich in zijn/haar anders-zijn durft te tonen.
De rebel leeft onder zijn/haar eigen paraplu en die heeft een heldere kleur omdat zijn/haar eigen verse inzichten inzichten doorslaggevend zijn en niet wat er, van buitenaf, door anderen aangereikt wordt. Die kunnen voor deze bepaalde persoon waardevol zijn, maar dienen voor ieder ander op basis van eigen innerlijk onderzoek te ontstaan.
Osho gaat in het boek Living on your Own Terms eerst in op de vraag: wanneer ben je een Rebel?
Veel mensen verwarren de betekenis van 'rebel' met die van revolutionair of van oproerkraaier. Een rebel is niet gewelddadig, terwijl een revolutionair of een oproerkraaier dat zeker wel kan zijn. Een revolutionair is tegen iets, maar hij is niet duidelijk voor iets.
Osho zegt in alle stelligheid: "Een rebel is iemand die leeft vanuit grote onschuld, hij/zij is totaal niet egoïstisch." Hij/zij wil nergens bijhoren, niet bij enige religieuze stroming, omdat hij/zij een onderzoeker is. Hij/zij wil zijn eigen waarheid vinden en van daaruit leeft hij/zij dan. De rebel wil puur blijven en zich niet laten bederven, zodat hij/zij vrij is van allerlei vooropgezette ideeën en meningen. En de rebel wil zeker niet imiteren: daar is hij/zij wars van.
Een volgend kenmerk van de rebel is, dat hij/zij in het NU leeft. En dat gebeurt met zoveel alertheid en bewustzijn als maar mogelijk is. Hij/zij laat zich niet verleiden om naar het verleden terug getrokken te worden en gaat ook niet alvast de toekomst invullen, want die is er nog niet.
Verder is de rebel ook vrij van enige lust om te overheersen. "Macht" zo geeft Osho aan "heeft zoveel vernielingen bij de mensheid aangebracht en heeft tot geen enkele vorm van creativiteit geleid."
En dan haalt hij een van Aesopus' fabels aan, over een schaapje en een machtige leeuw. Daarin wordt prachtig verteld hoe een klein schaap zo'n sterke leeuw kan confronteren en 'te kijk' kan zetten. Zeer de moeite waard om te lezen en om tot je door te laten dringen.
Kernachtig stelt Osho in Living on your Own Terms: "Revolution is fighting with past. Rebellion is meditating for the future."
Rebellie vindt plaats vanuit liefde, stilte, begrijpen, compassie, kortom: vanuit al die kwaliteiten die mensen goddelijk maken. En een gevecht is niet nodig, want een rebel leeft en is bezig vanuit individualiteit. De maatschappij maalt niet om een enkele rebel die zich onderscheidt van anderen. Maar veel afzonderlijke individuen bij elkaar, die mediteren, een liefdevolle houding hebben en hoop hebben voor een nieuwe dageraad kunnen de mogelijkheid voor een nieuwe samenleving creëren.
Alleen al door zijn/haar aanwezigheid kan een rebel veranderingen bij een ander op gang brengen. De liefde van een rebel zal altijd succes hebben, want liefde heeft, vroeg of laat, altijd succes.
Rebellie is een spiritueel verschijnsel, het is niet iets dat tegen de maatschappij als zodanig is. Maar het is het inzicht dat in de maatschappij zoals die nu georganiseerd is, eenvoudig niet de geboorte van de Nieuwe Mens kan plaatsvinden. De samenleving is verworden, versleten en is bezig zichzelf te ondergraven.
De rebel gaat zich niet organiseren, want dan ga je dezelfde structuur en regels hanteren als de maatschappij doet.
Wat de rebel WEL doet is, dat hij zichzelf gaat transformeren in de Nieuwe Mens. Hij wordt zijn eigen nieuwe visie. Op die manier wordt aangetoond dat die nieuwe visie geen utopie is, maar een realiteitskarakter heeft. De rebel begint zijn visie in realiteit om te zetten.
Er staat een schat aan informatie in dit boek over hoe je het leven volgens je eigen voorwaarden kunt realiseren. Zo komen onder meer de volgende thema's aan bod: Inzicht leidt tot vrijheid, Moed is er vanaf onze geboorte, Je weg creëren door hem te gaan, Als alle stemmen in je stil worden. En deze worden door Osho behandeld aan de hand van vragen die we allemaal herkennen. Het is een zeer lezenswaardig boek voor wie zijn/haar eigen weg wil zoeken in het leven.
Twee kleine jongens hadden het er samen over om van huis weg te lopen. "Maar" zei de ene jongen "Als onze vaders dat merken, zullen ze ons grijpen en ons klappen geven".
"Nou" zei de andere jongen "Als dat gebeurt, dan slaan we gewoon terug."
"Dat kan echt niet" zei de eerste weer "In de bijbel staat duidelijk, dat je je vader en moeder moet eren."
"Okay" zei de tweede jongen "Dan weet ik het goed gemaakt. Jij slaat mijn vader en ik de jouwe." Living on your Own Terms.