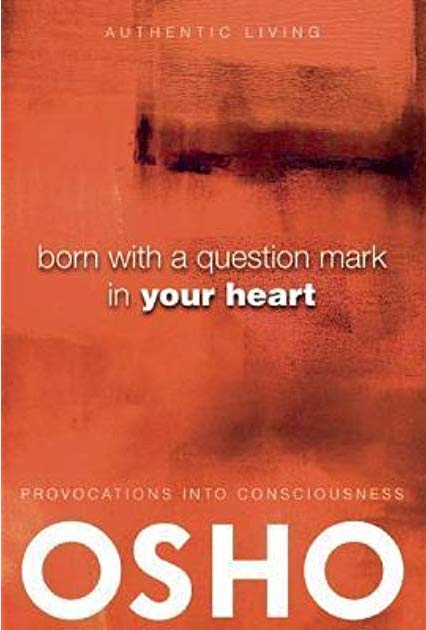 Boek met Osho lecture op Dvd bijgesloten
Het is mooi dat mensen vragen kunnen stellen, het maakt hen daardoor tot een absoluut unieke soort op deze aarde. De dieren, zoals bijvoorbeeld buffels of vogels, hebben de situatie te accepteren zoals hij is, ze kunnen er geen enkele vraag over stellen. Maar een mens is geboren met dit vermogen en daarom noemt Osho dit boek: "Man is born with a question mark in his hart", De mens wordt met een vraagteken in zijn hart geboren.
Natuurlijk is het wel gemakkelijk en lekker rustig om geen vragen in jezelf te laten opkomen. Maar een dergelijk vreedzaam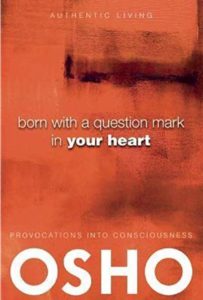 klimaat gaat dan wel ten koste van veel wezenlijke dingen. Het is niets anders dan doodse vrede, want je verliest je levendigheid en je intelligentie stompt af. Tenzij je bereid bent om vraagtekens te blijven zetten, zegt Osho, zul je niet weten wat mystiek is. En dat is heel wat anders dan de dingen mystificeren.
Tot op de Bodem van je Wezen
Bij mystiek ben je bereid om met je vragen tot op de bodem van je wezen te gaan. En mystificatie vindt dus plaats als je, onnodig, een geheimzinnige waas over iets legt waardoor het ontoegankelijk wordt. Je geeft klakkeloos aan anderen door wat er gepredikt wordt en je staakt elk verder eigen onderzoek, waarmee de vraagtekens dus vernietigd worden.
Het was om die reden dat geloofsverkondigers meestal in een taal spraken die de mensen niet kenden, zoals bijvoorbeeld in het Sanskriet. In gewone taal omgezet verloren de heilige boeken dan veel van hun zogenaamde glorie. 
Boeddha sprak bewust in het Pali  
Boeddha wilde mensen tot zelfonderzoek aanzetten en hij sprak daarom bewust de taal van het volk, het zogenoemde Pali. Door deze benadering was hij in staat om de bestaande geloofsverkondigingen te demystificeren.
Veel vraagtekens zijn inmiddels uit het leven verdwenen. Kinderen zitten vol met vragen, maar voordat ze die hebben kunnen uiten, worden ze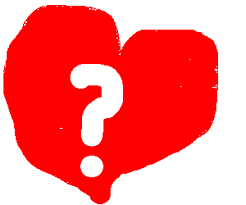 vaak al volgestopt met pasklare antwoorden. Verder doorvragen wordt op deze manier helaas al heel jong de kop ingedrukt.
Het leven is een mysterie en dit inzicht zie je bij echte meesters dominant aanwezig.
Het boek en het ebook "Born With a Question mark in your Heart" zijn verkrijgbaar bij de Boekhandel of via internet.
Impressie van Born with A Question mark in your Heart
'Born with a Question Mark in Your Heart' continues the AUTHENTIC LIVING series by Osho with talks by the contemporary mystic during his stay in the United States. Osho says: "It is fortunate that man is born with a question mark, otherwise he would be just another species of animal."
Old Religions Destroyed Your Privilege
"The old religions have been trying to destroy your privilege. They have been forcing you down to the level of the animals. That's what they call faith, "undoubting faith". They want you to be buffaloes, donkeys; but not men – because the only special quality that defines man as separate from animalhood is the question mark. Yes, it is a turmoil.
To Live Without any Question Mark is a Dead Peace
"Certainly to live without any question mark is peaceful, but that peace is a dead peace, it has no life in it. That silence is the silence of a cemetery, of the graveyard. I would prefer man to be in a turmoil, but alive. I would not like him to become a graveyard. That peace, that silence is at a great cost: you are losing your life, you are losing your intelligence, you are losing your all possibility of discovering an ecstatic way of life. That question mark is not there without significance. It is not the work of the Devil that each child is born with doubt and not with faith. Doubt is natural.
Each Child Asks a Thousand and One Questions
"Each child asks a thousand and one questions. The more a child asks questions, the more potential he shows that he will be able to discover something. There are dumb children too – not literally dumb, but psychologically dumb. Parents like them very much because they don't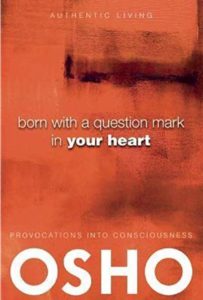 create any trouble, they don't ask questions – even a small child can destroy all your knowledgeability." Osho
THE CONTENT
This volume is a radical questioning of traditional belief systems in religious, political, and social dimensions. Here Osho encourages readers to ask questions that are immediate and existentially significant — not borrowed or intellectual questions, but questions with an existential significance. Born With a Question Mark in Your Heart promotes personal transformation through experience and spirituality without organized religion. The enclosed DVD gives a direct experience of a contemporary mystic at work with his audience."