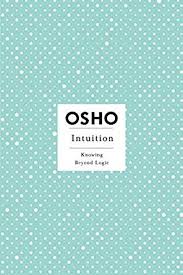 Intuition deals with the difference between the intellectual, logical mind and the more encompassing realm of spirit. Logic is how the mind knows reality, intuition is how the spirit experiences reality. Osho's discussion of these matters is wonderfully lucid, occasionally funny, and thoroughly engrossing.
All people have a natural capacity for intuition, but often social conditioning and formal education work against it. People are taught to ignore their instincts rather than to understand and use them as a foundation for individual growth and development-and in the process they undermine the very roots of the innate wisdom that is meant to flower into intuition.
In this volume, Osho pinpoints exactly what intuition is and gives guidelines for how to identify its functioning in others and ourselves. You will learn to distinguish between genuine intuitive insight and the "wishful thinking" that can often lead to mistaken choices and unwanted consequences. Includes many specific exercises and meditations designed to nourish and support each individual's natural intuitive gifts.
Knowing Beyond Logic – Weten Voorbij Logisch Denken
Osho geeft in dit boek Intuition scherp het verschil aan tussen intellect en intuïtie.
Intellect is het meest oppervlakkig in ons: het helpt ons om het leven van alledag goed door te komen en onsin de marketplace te redden. Intuïtie is voor het alledaagse leven in de maatschappij niet nodig, want daar gaat het niet om liefde, om gevoelig zijn.

Daar is het verstand, de mind in tel. Maar bij het intuitieve gaat het om het hart. En bovendien betreft intuïtie niet een of ander proces. Nee, bij intuïtie maak je een sprong van de kwestie waar het om gaat naar de conclusie. Het is een kortere weg, een flits.
Het boek Intuition is te bestellen bij de  Nederlandse Boekhandel.
Review van het boek  Intuition
Mooi en fris is de schildering op dit boek. Een levendig cirkel- en waaierpatroon in aquamarijn van verschillende tinten is te zien met kleine paarse segmentjes. En de transparantie in het geheel geeft diepte en speelsheid. Deze cover is zeer de moeite waard om even extra aandacht te geven. Ik ervaar het als meditatie. Als ondertitel bij 'Intuition' wordt gegeven: knowing beyond logic, inzicht dat voorbijgaat aan logisch denken.
Intuïtie is iets dat mijn hele leven een rol heeft gespeeld, vooral in heel precaire situaties, als elk redeneren me op dood spoor bracht. En hoewel mijn ontwikkeling altijd in intellectuele richting is geweest, voelde ik pas echt te leven als ik intuitief kon zijn. Intuitie is een eigenschap die speciaal aan vrouwen wordt toegekend, maar die nou niet echt hoog aangeschreven staat. 'Intuition'
Verschil Mannen en Vrouwen
Niet voor niets concludeert Osho in dit boek 'Intuition' dan ook, dat intuitie zowel een eigenschap van mannen is als van vrouwen. Maar, zo gaat hij verder, de intuitie van vrouwen is veel minder aangetast. Bij mannen is ze bedorven door maatschappelijk opgelegde patronen. Maar vrouwen kunnen een voorgevoel van iets hebben, een soort van ingeving krijgen. En hoewel daarop vaak schouderophalend op wordt gereageerd, blijken deze voorgevoelens over iets dat staat te gebeuren maar al te vaak uit te komen.
De mannelijke mind, zegt Osho, is vooral logisch maar de vrouwelijke mind heeft gratie. En op den duur zal, als er constant strijd is, efficiency het winnen van het gracieuze. Maar als het zo ver komt, dat gratie gaat verdwijnen ten koste van efficiency, is dit een groot verlies. Dan heb je namelijk het contact met je eigen wezen verloren.'Intuition'
Ik mijmer een beetje over wat ik zelf ervaar bij het woord intuitie en als ik door het winterlandschap naar het 'hoge noorden' spoor, ervaar ik iets waarbij mijn intuitie ontwaakt. Namelijk: ik zie af en toe boven de bevroren slootjes een witte damp hangen, een ijle wolk…….soms is die ijzige damp er en verder op is hij er niet. Het is bijna een zeldzaamheid dat je het opmerkt. Veel mensen zullen het niet eens zien. Maar dit natuurgebeuren dat mij niet tot verklaren aanzet, maar doet verwonderen en stil zijn: wat een mooie en verheven impressie is dit…..nodigt mij uit om intuitief zijn. Ik kan de kou, de frisheid en de mystiek niet voelen en toch ervaar ik die als ik het beeld in me opneem. En ik voel een intense rust, dankbaarheid en vrede in mijzelf, dat deze schoonheid met me meereist.
Osho geeft in dit boek scherp het verschil aan tussen intellect en intuitie. Intellect is het meest oppervlakkig
in ons: het helpt ons om het leven van alledag goed door te komen en ons in de marketplace te redden. Intuitie is voor het alledaagse leven in de maatschappij niet nodig, want daar gaat het niet om liefde, om gevoelig zijn.
Daar is het verstand, de mind in tel. Maar bij intuitie gaat het om het hart. En bij intuitie gaat het niet om een proces. Nee, bij intuitie maak je een sprong van de kwestie waar het om gaat naar de conclusie. Het is een kortere weg, een flits.
Het gevoel van intuitie zijn we veelal kwijt geraakt, vooral mannen dus. Hoe kunnen we dat terug krijgen?
Osho wijst ons daarbij op zes filters die onze waarneming voortdurend onscherp maken. We denken dat wat we ervaren echt is wat er is, maar onze waarneming wordt voortdurend gefilterd. En het is de kunst om je je van deze filters bewust te worden.
Het is heel erg verhelderend om te lezen hoe Osho ons wijst op alles wat wij tussen onszelf en het leven plaatsen.
De Zes Filters bij onze Waarneming
Zo noemt hij als eerste de fysieke filter. We denken dat onze zintuigen ons niet bedriegen, maar ook onze zintuigen zijn getraind. Dit is bijvoorbeeld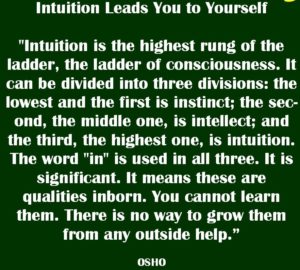 het geval bij ruiken. Ons geur-vermogen is enorm afgestompt. En dit heeft alles met het onderdrukken van seks te maken.
Dan is er de filter van conditioneringpatronen. Er zijn je allerlei opvattingen opgedrongen over hoe je je behoort te gedragen, hoe een man moet zijn, hoe een vrouw moet zijn, een ouder, een kind. De verschillende geloofssystemen spelen hierbij een grote rol.
Als derde filter kan genoemd worden: rationalisatie. Het gaat hierbij om alle zogenaamde verklaringen, de uitwijdingen, de excuses die we geven. En er is er geen enkele van ons zelf; we hebben ze overal elders opgepikt, maar niet in onszelf. Op die manier lijken we erg rationeel te zijn, het geeft een goed gevoel, maar het is onecht. Twee grappen zijn erg illustratief en maken deze wijze van filteren glashelder.
Ergens in een rivier spartelde een man rond die dreigde te verdrinken. En hij begon hard te schreeuwen: "Help! Help! Ik kan niet zwemmen!" "Dat kan ik ook niet," zei een oude man die aan de oever van die zelfde rivier zat en hij ging verder met zijn tabak te pruimen "maar ik zit er niet zo over te jammeren".
Ze hebben het allebei over hetzelfde, maar de context is heel verschillend. Dus, je kunt niet zomaar herhalen wat een ander zegt. Als Boeddha iets zegt en je herhaalt dat klakkeloos, dan is dat wat jij zegt een holle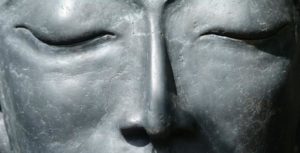 uitspraak. Het gaat er niet om wat je zegt, maar om wat je bent. Ook de volgende grap maakt dit weer heel duidelijk.
Donnegan zat in het biechthokje. "Vader", begon hij te klagen, "Ik heb zoiets slechts gedaan, dat u me nu vast uit de kerk gaat gooien." Wat heb je dan gedaan, mijn zoon? vroeg de priester.
"Gisteren "zei Donnegan, "zag ik mijn vrouw voor me rond flaneren en ik werd er zo opgewonden van dat ik haar vastpakte, haar de kleren van het lijf rukte, haar op de grond drukte en toen hadden we precies daar, op dat moment seks met elkaar.
"Dat is een beetje ongebruikelijk" zei de priester "maar het is geen reden om iemand in de ban te doen." "Weet u zeker dat u me niet uit de kerk gaat gooien?" "Natuurlijk niet" "Wel", zei Donnegan "ze gooiden ons wel uit de supermarkt". Het gaat dus om de context, legt Osho uit, om wie je bent, waar je bent. Het draait om over welk gezichtspunt je het hebt en over welke ervaring. Voor het krijgen van inzicht in de overige door Osho aangegeven filters kun je in het boek te rade gaan. Heel veel stof zit er dus in dit boek om 'de ui verder af te pellen', om meer en meer echt te worden en je intuitie geheel of gedeeltelijk terug te vinden. 'Intuition'
IMPRESSION of INTUITION 
Intuition versus Reason
"Intuition means just that – that's why reason denies it. Reason denies it because reason is incapable of encountering it. Reason can only encounter phenomena that can be divided into cause and effect.
"According to reason there are two realms of existence, the known and the unknown. And the unknown means that which is not yet known but someday will be known. But mysticism says that there are three realms: the known, the unknown and the unknowable. By the unknowable, the mystic means that which can never be known.
"Intellect is involved with the known and the unknown, not with the unknowable. And intuition works with the unknowable, with that which cannot be known. It is not just a question of time before it will be known – unknowability is its intrinsic quality. It is not that your instruments are not fine enough or your logic not up-to-date, or your mathematics primitive – that is not the question. The intrinsic quality of the unknowable is unknowability; it will always exist as the unknowable.
This is the realm of intuition
"When something from the unknowable comes to be known, it is a jump – there is no link, there is no passage, there is no going from one point to another point. But it seems inconceivable, so when I say you can feel it but you cannot understand it, when I say such things I know very well that I am uttering nonsense. "Nonsense" only means that which cannot be understood by our senses. And mind is a sense, the most subtle.
"Intuition is possible because the unknowable is there. Science denies the existence of the divine because it says, 'There is only one division: the known and the unknown. If there is any God, we will discover him through laboratory methods. If he exists, science will discover him.'
"The mystic, on the other hand, says, 'Whatever you do, something in the very foundation of existence will remain unknowable – a mystery.' And if the mystics are not right, then I think that science is going to destroy the whole meaning of life. If there is no mystery, the whole meaning of life is destroyed and the whole beauty is destroyed.
"The unknowable is the beauty, the meaning, the aspiration, the goal. Because of the unknowable, life means something. When everything is known, then everything is flat. You will be fed up, bored. "The unknowable is the secret; it is life itself." Osho