Meditative and Transformative Coloring Book
Dit boek The Colors of Your Life bevat 77 mystieke afbeeldingen die oorspronkelijk gecreëerd zijn door Deva Padma. Zij deed dit voor de Osho Zen Tarot – Het Transcendente Zen Spel. Dit tarot deck werd een bestseller in de tarot-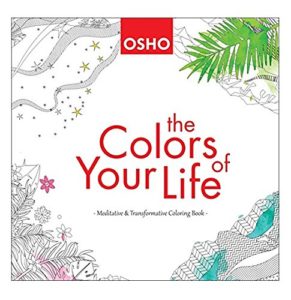 wereld en de afbeeldingen zijn beroemd in de wereld van meditatie.
Het is een kleurboek dat je, al kleurend, bij overwegingen omtrent de kleuren van je eigen leven brengt.
Positieve en Negatieve aspecten
En daarbij gaat het niet alleen om de 'gemakkelijke' en 'positieve' aspecten die gepresenteerd worden. Dit zijn bijvoorbeeld Playfulness, Courage,Celebration, Creativity en andere. Maar we kunnen ook leren om letterlijk en figuurlijk kleuren te vinden voor de wat moeilijkere aspecten. Dit zijn bijvoorbeeld: Alleen zijn, Schuld, De Last, Stress, Uitputting en Verdriet.
Terwijl we onze eigen kleuren aanbrengen bij al deze aspecten, kan er een ongelofelijke verrijking plaatsvinden van het inzicht in onszelf en van wie we zijn.
Voorzien van Osho's Inzichten
Bij al deze kleurplaten staan Osho's inzichten in de vorm van korte teksten die het thema van de kaart betreffen. Het zijn weer andere inzichten dan die welke we in de handleiding van de Osho Zen Tarot aantreffen. Een overall inzicht van Osho dat hij ons aanreikt, is bijvoorbeeld dit: Wij mensen zijn in deze wereld geboren als pure vrijheid zonder enige identiteit, als een bepaalde expressie van het bestaan. Welke kleur we aan ons leven gaan geven en welke schildering we ervan maken, is aan ons.
Twee Therapeutische Benaderingen
Dit unieke kleurboek biedt een combinatie van twee therapeutische benaderingen: Het inkleuren van de afbeeldingen is een ontspannende en voldoening gevende bezigheid. Ze brengt ons terug naar de sfeer van onze kindertijd die totaal was en onschuldig. Daarnaast creëren de inzichten ruimte voor een gezonde reflectie en positieve associatie met veel aspecten van ons leven. We kunnen zodoende al deze aspecten leren kennen en ze vervolgens omarmen en integreren. Zo kunnen we datgene tot uitdrukking brengen wat uniek is in ons en oorspronkelijk waardoor we onze kinderlijke, maar niet 'kinderachtige', onschuld terugvinden.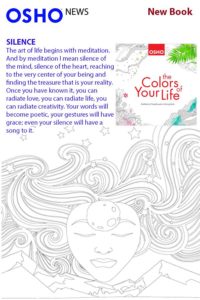 STILTE:
Levenskunst begint bij meditatie. En met meditatie bedoel ik de stilte van de mind, de stilte van het hart die het centrum van je wezen bereikt en die de schat vindt die je realiteit is.
Als je die eenmaal hebt leren kennen, kun je liefde uitstralen, kun je leven uitstralen en kun je creativiteit uitstralen. Je woorden zullen poëtisch worden,
je gebaren zullen gracieus zijn, zelfs je stilte zal een lied in zich dragen.
Het boek 'The Colors of Your Life' is te bestellen bij de Boekhandel
Impression of the Colors of Your Life
Color these beautiful images inspired by Osho's insights – they are lessons on the most important aspects of life.
This coloring book features 77 mystical images and has been originally created by Deva Padma. These images were meant  for the OSHO Zen Tarot-The Transcendental Game of Zen. This Tarot deck became a bestseller in the tarot world and made these images famous in the world of meditation.
We are not only coloring these images but we are encouraged to reflect on the colors we give to our lives to all aspects. These are not only the 'easy' and 'positive' aspects represented here by images such as 'Playfulness', 'Courage', 'Celebration', 'Creativity and others. We also learn how to literally and metaphorically find colors for aspects we might not value so much. For example, such as there are the images representing 'Aloneness', 'Guilt', 'The Burden', 'Stress', 'Exhaustion', 'Sorrow' and more.
Adding our own Colours
Adding our own colors to all of these aspects thus becomes an invaluable enrichment to our understanding of ourselves and who we are. Those aspects we like or value as 'positive' become more individualised. Besides that the aspects that we label negative, we learn to integrate and to recognise them as experiences and expressions of ourselves. This way they will have their own place, their own lessons to teach us.