A Comprehensive Collection of Meditations, Exercises and Other Practices for Well-Being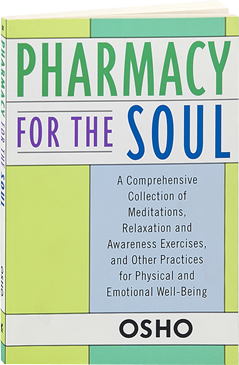 Meditations, Relaxation and Awareness Exercises
A comprehensive collection of meditations, relaxation and awareness exercises, and other techniques for physical and emotional well being. Organized in a user-friendly format and addressing issues such as relieving stress and physical tension, building self-confidence, enhancing emotional and physical vitality, mood swings, sexuality and diet, Pharmacy for the Soul has been compiled from transcripts of Osho's one-on-one talks with people of all ages and backgrounds from around the world.
Remedies for emotional or physical problems
Each section of the book begins with a description and diagnosis of an emotional or physical problem, and then lists a number of prescriptions. Arranged by ailment and area of the body, remedies include stretching techniques, meditations, laughter and breathing exercises, vocalizations, visualizations, massage and meditations. Practical suggestions for dealing with everything from nailbiting to loneliness, from sleeplessness to feeling spaced out, are offered in these pages with illuminating insight, humor and compassion.
Your Miraculous and Mysterious Body
"If you become aware of all the functions of your body, you will be surprised. You have never thought about what your body has been doing. It is so miraculous, so mysterious. But you have never looked into it. You have never bothered to become acquainted with your own body – and you pretend to love other people? You cannot, because those other people also appear to you as bodies.
The body is the greatest mystery in the whole of existence. This mystery needs to be loved – its mysteries and its functioning need to be intimately inquired into." Osho
Uitgebreide verzameling van meditaties, oefeningen en andere toepassingen voor welzijn
Een fris boek is 'Pharmacy for the Soul', met een verrassend uitgangspunt. Wat biedt Osho ons allemaal om onszelf te genezen?
Er worden middelen en meditaties aangereikt om tot stress vermindering te komen, aan je zelfvertrouwen te werken, verandering in stemmingen aan te pakken en zaken op het gebied van seks en voeding anders te benaderen. Het boek is erg leuk opgezet en er worden eigentijdse benamingen gebruikt voor onze talrijke kwaaltjes. Ieder onderdeel begint met een beschrijving en een diagnose en vervolgens worden er een aantal voorschriften en adviezen gegeven.
Zoals je een huisapotheek hebt voor lichamelijke akkefietjes, zo is dit boekje even onmisbaar voor je zielekwalen.
Het boek 'Pharmacy for the Soul' is verkrijgbaar in de Boekhandel.
ONS LICHAAM ALS MYSTERIE
Osho wijs ons op het fantastische verschijnsel dat ons lichaam is.
'Als je je bewust wordt van alle functies van je lichaam, zul je verrast zijn. Je hebt nooit nagedacht over wat je lichaam heeft gedaan. Het is zo wonderbaarlijk, zo mysterieus. Maar je hebt er nooit naar gekeken. Je hebt nooit de moeite genomen om je eigen lichaam te leren kennen – en je doet alsof je van andere mensen houdt? Dat kunt je niet, omdat die andere mensen ook aan je verschijnen als lichamen.
Het lichaam is het grootste mysterie in het hele bestaan. Dit mysterie moet bemind worden – de mysteries en het functioneren ervan moeten grondig worden onderzocht.' Osho
Review van 'Pharmacy for the Soul'
In het boek 'Pharmacy For the Soul' kom je veel tips tegen, om je het (spiritueel) reizen gemakkelijker te maken.
Het is een soort van spiritueel medisch handboekje, zal ik maar zeggen, waarmee je aan bewustwording kunt werken, waardoor de pijn langzaam kan oplossen.
Het is ook handig om bij de hand te hebben, als je een echt vakantiereisje maakt en op de rand van je hotelbed een van de oefeningen uit dit boekje kunt doen.
Het vrijmaken van de keel
Een van de klachten die je tegen kunt komen, als je in een periode van ontspanning zit, zoals in je vakantie bijvoorbeeld, is, dat je keelpijn krijgt.
De keel is het centrum van je expressie; je slikt er niet alleen dingen mee door, je brengt er ook dingen mee tot uiting.
Maar veel mensen gebruiken die keel alleen maar om er dingen mee weg te slikken. Als je dat doet, gebruik je alleen de helft en dat is half werk. Dat wat in feite nog belangrijker is, de expressie, blijft achterwege.
Als je sinds je kindertijd je niet hebt kunnen uiten, zoals dat zou hebben gemoeten, je hebt de dingen niet kunnen zeggen, die je wilde zeggen en je hebt ook de dingen niet kunnen doen waarvan je dat wilde, dan raakt die ongebruikte energie opgekropt in je keel.
AAN DE KEEL WERKEN
Je moet dus aan die plek werken, wil je meer expressief worden. En dat ga je als volgt doen, terwijl je eerst thuis even kunt oefenen. Als je van iemand houdt, zeg dan alle dingen die je wilt zeggen, ook al lijken ze stompzinnig te zijn. Wees gewoon een beetje gek daarin.
En zeg vervolgens ook meteen die dingen die in je op komen (die heb je dus niet geoefend), hou je niet in. Dus, als je iemand lief hebt, geef hier dan totaal uitdrukking aan en doe dat ook als je boos op iemand bent: laat je volledig gaan. Voor echt hete woede hoef je niet bang te zijn, wel voor woede die koud is, want die gaat deel uit maken van je systeem.
DE LIJFELIJKE AANPAK
Het volgende, wat je kunt doen om je keel vrij te maken, is, dat je je lijf laat zwaaien. Je zit met je billen op de grond en als je naar de ene kant zwaait, dan blijf je met een bil op de grond. Zwaai je naar de andere kant, dan houdt je andere bil contact met de vloer. Er moet bij ieder zwaai maar een bil de grond raken. Dit is een hele oude methode om de energie, vanaf de onderkant van ruggengraat, te treffen.
Als er nog altijd energie zit opgehoopt in de keel, dan ben je dus bezig geweest om die onder controle te houden. Er zijn meer vloedgolven van energie nodig, opdat de energie op die keelplek niet meer te houden is. En doe dit zwaaien twintig minuten lang. Zo zul je je keel vrij maken om tot natuurlijker expressie te komen.
SPECIALE REISGENOOT
Dit boek is een hele speciale reisgenoot, Zowel op je vakantiereis als op je Spirituele reis. 'Pharmacy for the Soul'