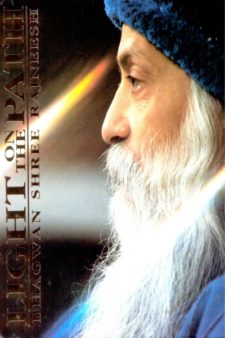 The First talks after Osho leaving the USA
"Light on the Path" contains the first series of talks after Osho′s departure from the USA. They provide a rare glimpse of Osho′s efforts to create a New Man – during the most uncertain times for his work and people. From his suite in a hotel in Kathmandu, Nepal, Osho speaks extensively on the connection between Gnosticism and anarchy. He also explains the significance of a "buddhafield," and the future of communes worldwide. He revisits old questions in light of new times, as well. These include the function of a spiritual master, the work of his therapists, and the "psychology of the buddhas" as applied to inner growth.
De Eerste serie toespraken nadat Osho de USA had verlaten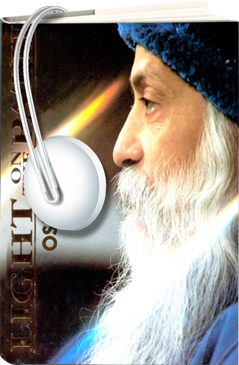 Het boek "Light on the Path" bevat de eerste serie toespraken van Osho nadat hij de Verenigde Staten had verlaten. Ze bieden een zeldzame kijk op Osho's pogingen om een Nieuwe Mens te scheppen – in tijden van de grootste onzekerheid voor zijn werk en voor zijn mensen. Vanuit zijn hotel suite in Kathmandu, Nepal, spreekt Osho uitvoerig over het verband tussen Gnosticisme en anarchie. Hij legt ook de betekenis van het bestaan van een "boeddhaveld uit," en de toekomst van communes op wereldwijde schaal. Hij behandelt verder oude vragen in het licht van nieuwe tijden. Deze betreffen de functie van een spiritueel meester, het werk van zijn therapeuten en de "psychologie van de boeddha's" voor zover deze van toepassing zijn op innerlijke groei.
Het boek "Light on the Path" is op het moment verkrijgbaar als audiobook.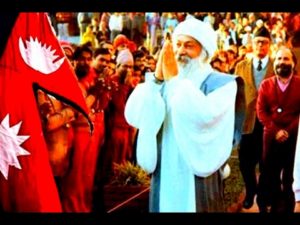 Impressie van het boek "Light on the Path"
"People are living half-heartedly, people are living in a lukewarm way: not intensely like Zorba the Greek, not with a healthy flavor but with a sick mind. One has to live, so they are living. One has to love, so they are loving. One has to do this, to be like this, so they are following; otherwise there is no incentive coming from their own being.
"They are not overflowing with energy. They are not risking anything to live totally. They are not adventurous – and without being adventurous, one is not healthy. Adventure is the criterion, inquiry into the unknown is the criterion. People are not young, from childhood they simply become old. Youth never happens.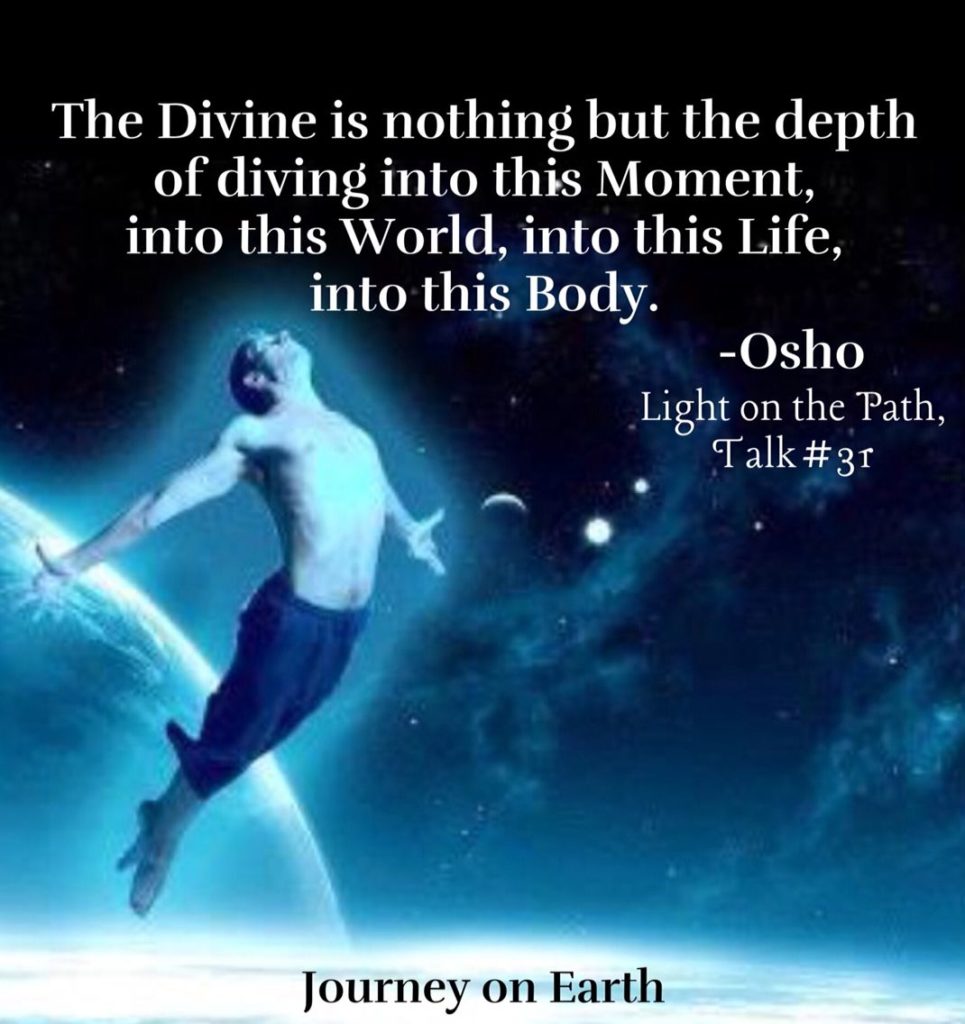 Westerse Therapeutische Methodes
"The Western therapeutic methods cannot help you to grow spiritually, but they can prepare the ground. They cannot sow the seeds of flowers but they can prepare the ground – which is a necessity. This was one reason why I included therapies.
"There is also another reason: I want a meeting of East and West.
Oosterse methodes voor Meditatie
"The East has developed meditative methods; the West has not developed meditative methods, the West has developed psychotherapies. If we want the Western mind to be interested in meditation methods, if you want the Eastern mind to come closer to the Western, then there has to be something of give and take. It should not be just Eastern – something from the Western evolution should be included. And I find those therapies are immensely helpful. They canbt go far, but as far as they go, it is good. Where they stop, meditations can take over.
"But the Western mind should feel that something of its own development has been included in the meeting, in the merger; it should not be one-sided. And they are significant; they cannot harm, they can only help.
De aarde moet Politiek en Spiritueel ÉÉN zijn
"And I have used them for the last fifteen years with tremendous success. They have helped people to cleanse their beings, prepared them to be ready to enter into the temple of meditation. My effort is to dissolve the separation between East and West. The earth should be one, not only politically but spiritually too." Osho
As you become Aware, your Conditionings will start falling This Way and That Way…
"When I entered the university, on the gate of the university there was written: "Truth is God." Just on the main gate – that was the motto of that university – "Truth is God." I had one other friend with me who had come to join the university. I told him, "First I will see the vice-chancellor, and then I will think about whether to join this university or not – because from the very gate they have started lying. They cannot even wait for the person to enter the university." The university is almost two miles away from the main gate. Then there are professors' houses, then botanical gardens, then the departments, and then at the end comes the vice-chancellor's office. I went to the vice-chancellor and I said, "I want to talk with you about this sentence, 'Truth is God.' I had come to join the university but that sentence prevents me." He said, "What! Why should that sentence prevent you? Don't you think truth is God?" I said, "No. Truth has nothing to do with God – truth is simply truth. Why are you managing to bring God behind truth? Truth is not God – God is a lie. This is the truth. You will have to prove to me that God is not a lie; otherwise I will have to find another university. This one seems to be from the very beginning based on lies." The old vice-chancellor was in shock. He was a believer in God; that's why he had written that sentence: "Truth is God." But he said, "It is difficult for me to prove that God is not a lie because I have never experienced God." Then I said, "I will enter the university only on the condition that that sentence is removed from the main gate. And if you don't remove it, I will remain here – I will not enter the university but I will approach every student, every professor and ask the same question that I have asked you. And you are inviting unnecessary trouble. The best way is just remove that sentence." He said, "I will have to think about it. People will ask, 'Why are you removing it?' It has been there since the university has been founded.'" I said, "That is not my concern. If it is a lie, the sooner it is removed, the better. And what can you think about it? You don't know God. How are you going to think about something you don't know? Do you know truth? What are you going to think about these things which you don't know? Better you remove that sentence.
He was really a gentleman, he agreed to remove it. And he said, "You join the university. I love your straightforwardness, and I love your sincerity. Perhaps you are right, but you have disturbed not only the board, you have disturbed my whole life. I have been worshipping God every morning – now tomorrow I will hesitate. Even if I worship, the old faith will not be there." I said, "Faith is not needed at all. What is needed is a trust that arises out of your visions, out of your awareness." So as you become aware, your conditionings will start falling this way and that way. Christianity, Hinduism, Buddhism – they will start disappea