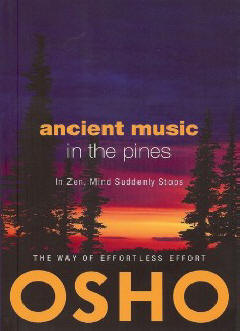 In Zen Mind Suddenly Stops
Today, humanity is caught up in the mad complexity of the mind and there is an urgent need to rediscover simplicity and innocence. Here, the contemporary mystic Osho brings to life the inherent and timeless wisdom of traditional Zen stories, showing that Zen is a way of dissolving philosophical problems, not of solving them ? a way of getting rid of philosophy, because philosophy is a sort of neurosis. Zen is for those intelligent enough to understand the limitations of the intellect and ready to recognize the significance of intuition in the world of mysticism.
Zen is the Way of Intuition
"Zen is the way of the spontaneous–the effortless effort, the way of intuition. A Zen master, Ikkyu, a great poet, has said: 'I can see clouds a thousand miles away, hear ancient music in the pines.' This is what Zen is all about. You cannot see clouds a thousand miles away with the logical mind. The logical mind is like glass, too dirty, too covered with the dust of ideas, theories, doctrines; but you can see clouds a thousand miles away with the pure glass of intuition–with no thoughts, just pure awareness–the mirror is clean and the clarity supreme.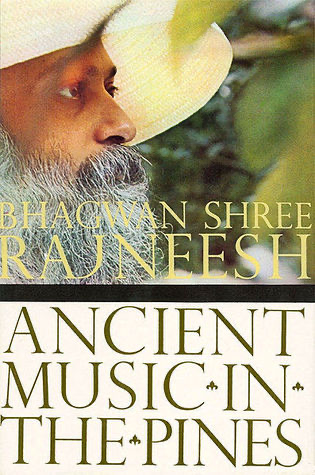 How can you hear Ancient Music?
"You cannot hear ancient music in the pines with the ordinary logical mind. How can you hear the ancient music? Music once gone is gone forever, but I tell you, Ikkyu is right: you can hear ancient music in the pines–I have heard it–but a shift, a total change, a change of gestalt, is needed. Then you can see Buddha preaching again, and you can hear Buddha speaking again. You can hear the ancient music in the pines because it is eternal music, it is never lost–you have lost the capacity to hear it. The music is eternal; once you regain your capacity, suddenly it is there again. It has always been there, only you were not there. Be here now and you can also see clouds a thousand miles away, and hear ancient music in the pines."Change more and more toward the right hemisphere, become more and more feminine; more and more loving, surrendering, trusting; more and more closer to the whole. Don't try to be an island–become part of the continent." Osho
Ancient Music in the Pines Nederlands
The Key of Effortless Effort
In Ancient Music in the Pines staan hele mooie Zen-verhalen.
Osho geeft als toelichting bij 'ancient music' het volgende:
Als het denken je niet meer verwart, dan zijn gedachten alleen maar golfjes op het meer en dan zijn stiltes alleen maar: het ontbreken van golfjes, er is alleen ZIJN.
Plotseling word je je dan bewust van muziek die je altijd omringd heeft.
Plotseling komt die muziek van alle kanten op je af. Je wordt er door overweldigd, je wordt er door geboeid.
Het boek is gemakkelijk verkrijgbaar in de Boekhandel.
Review Ancient Music in the Pines
Dit Zen-boek bevat lezingen van Osho uit zijn vroege werk, dus door hem gehouden in de vroege periode. En het is sindsdien al tweemaal opnieuw uitgebracht. Het is ook uitgevoerd in een fris spel van helder groene bladeren met de Meester enigszins verscholen tussen de bladeren in een serene houding. Osho draagt het hoedje dat zo kenmerkend is voor de vroege periode, uiterst simpel.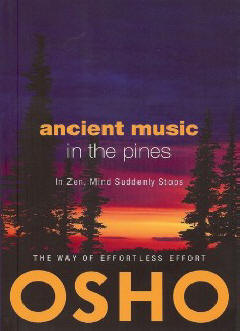 De huidige uitgave heeft een mysterieus karakter en er is bovendien een Dvd bijgesloten.
Hele mooie Zen-verhalen staan er in dit boek. We komen hier later op terug.
Als we de titel van het boek nader bekijken, Ancient music in the pines…… dan zie je het voor je, je hoort het ruisen van hoge eeuwenoude bomen en je ruikt de geur. Dit doet me sterk denken aan de plek waar ik vaak kom, het woonoord van (ex)-psychiatrische mensen.
Deze instelling bestaat al honderd jaar en er staan hele oude, oneindig hoge naaldbomen Majestueus, totaal onafhankelijk, onaantastbaar in hun schoonheid en de geur die ze verspreiden, .zo fris en doordringend. Je blijft vanzelf stil staan en je kijkt automatisch omhoog. Dan probeer je de toppen te vinden, ondertussen steeds diep de dennengeur opsnuivend. Het is zoals mijn vader dat uitdrukte: "Als ik zo'n grote boom zie, dan ben ik gewoon onder de indruk." Geen woorden, slechts de 'muziek' van de bomen.
Als Osho het over de Ancient Music in the Pines heeft, neemt hij ons mee naar een dieper niveau.
Hij zegt als toelichting van ancient music het volgende:
Als het denken je niet meer verwart, dan zijn gedachten alleen maar golfjes op het meer en dan zijn stiltes alleen maar: het ontbreken van golfjes, er is alleen ZIJN.
Plotseling word je je dan bewust van muziek die je altijd omringd heeft. Bij dit boek zit een Dvd met lezing bijgesloten.
Plotseling komt die muziek van alle kanten op je af. Je wordt er door overweldigd, je wordt er door geboeid.
En, zo gaat Osho verder, je zult niet in staat zijn om de waarheid te weten tenzij je naar de oude muziek van OMKAR luistert. Je kunt alleen de tempel van het goddelijke binnengaan via deze muziek.
Vanuit jezelf ben je er niet toe in staat, maar deze muziek vormt een brug.
Als altijd heeft Osho het over de mind die ons in de weg zit om tot het werkelijke leven door te dringen. De mind staat dan tegenover de oeroude muziek. De mind vormt als het ware een muur. Dit is niet in werkelijkheid zo. Die muur bestaat alleen in je gedachten.
En zelfs dan gaat die muziek nog door en probeert zij bij je binnen te dringen. Misschien luister je er niet naar, maar…..en let er eens op hoe beeldend en grappig Osho dit verwoordt. Hij zegt: deze oeroude muziek is alsmaar bezig om je hele wezen te masseren. Ze is je alsmaar aan het voeden, ze geeft je leven en ze verjongt je steeds weer.
Jouw hart klopt namelijk in het zelfde ritme als het hart van het grotere Geheel.
Overal is deze oeroude muziek en als we haar mislopen, dan is dat geheel en al aan ons zelf te wijten.
Gaan we over tot het eerste Zen-verhaal, dan raakt ons dat vrijwel meteen. Het raakt zoals de oeroude muziek waar Osho het over heeft, mits we het dus niet vanuit de mind tot ons laten komen.
Dit verhaal is als het ware Zen in-een-notedop.
Toen de zoon van een inbreker zag dat zijn vader een dagje ouder aan het worden was, vroeg hij zijn vader of die hem het vak wilde leren, opdat hij als zoon het familiebedrijf zou kunnen voortzetten als zijn vader zou stoppen met werken.
De vader ging daarmee akkoord en die nacht gingen ze samen inbreken in een huis.
In het huis zagen ze een grote kast staan en de vader zei tegen de zoon dat hij in de kast moest gaan om kleding te pakken. Zodra de jongen in de kast was, deed de vader de deur op slot en maakte vervolgens een heleboel lawaai zodat iedereen in het hele huis wakker werd.
En toen sloop de vader weg.
De zoon die in de kast zat was woedend en doodsbang; hij vroeg zich af hoe hij in vredesnaam uit die kast kon komen.
Toen flitste er een idee door hem heen en hij maakte het geluid van een kat.
De familie commandeerde de dienstmeid om met een kaars poolshoogte te gaan nemen in de kast.
En toen de kast open gemaakt werd, sprong de jongen eruit, blies de kaars uit, duwde de verbaasde dienstmeid op zij om weg te komen, en rende naar buiten.
Toen de jongen een bron ontdekte die vlakbij de weg lag, gooide hij daar een dikke steen in en daarna verdween hij in het donker.
De achtervolgers gingen allemaal om de bron heen staan om te zien hoe de inbreker zich zelf aan het verzuipen was. Toen de jongen thuis kwam, was hij boos op zijn vader en hij probeerde hem te vertellen wat er gebeurd was.
Maar zijn vader zei: 'Vermoei mij niet met de details van je verhaal. Je bent hier – je hebt de kunst van het inbreken geleerd.'
Ben je nieuwsgierig geworden? Ik hoop het!
In het boek "Ancient music in the Pines" staan nog meer van deze boeiende zen-verhalen.
En in alle verhalen klinkt door zoals Osho Zen beschrijft. Hij zegt: "Zen is het leven zelf. Geen filosofie, geen leer, maar puur ervaren, puur zijn."
Osho concludeert na dit verhaal het volgende. Het wezen is een geheel, de wereld is een veelheid. En hier tussen in zit de mind die verdeeld is. We zien dus ook alles vanuit deze verdeelde mind. Dit wordt ondersteund door wetenschappelijk onderzoek. Onze hersenen zijn verdeeld in twee helften, de rechter hemisfeer en de linker hemisfeer. De rechter hemisfeer is verbonden met de linker hand en de linker hemisfeer is verbonden met de rechter hand; er is dus een kruislingse verbinding. De rechter hemisfeer staat voor de gevoelsmatige, de dichterlijke en de linker hemisfeer voor het logische, mathematische, wetenschappelijke. En deze twee hemisferen zijn constant in conflict met elkaar. Dat wat zich in de wereld aan politiek gesjoemel afspeelt, vindt in feite in onszelf plaats hoewel we ons daarvan vaak niet bewust zijn.
Onze wereld in ingesteld op de rechtshandige mens, op het intellectuele, wetenschappelijke.
Tien procent van de kinderen wordt linkshandig geboren. De linkshandige mensen worden in onze maatschappij onderdrukt. Lees hoe Osho dit verder uitwerkt en welke consequenties dit voor de maatschappij en voor de linkshandige mensen zelf heeft.
Osho raadt ons aan om ons van de tweespalt in onze mind bewust te zijn. Hij zegt, dat het verschijnsel als een boom is. De boomstronk is een geheel en daarna gaat de boomstronk zich splitsen in takken. Als je dit beseft, kun je alles wat zich aan conflicten rondom je en in jezelf af speelt beter begrijpen. Je ziet dat de bron hiervan ligt in de verdeelde mind.
Maar in dit boek Ancient Music in the Pines worden ook vragen door de Meester beantwoord. Bijvoorbeeld: U vertelt me dat mijn mind onrijp is. Wat betekent het om een mind te hebben die wel rijp is?!
En wie interesse heeft in het onderwerp 'rijp zijn', kan ik met plezier het boekje 'MATURITY' aanraden dat geheel aan dit onderwerp gewijd is.
Oud worden, wil niemand. Maar rijpen, de totale verantwoordelijkheid nemen voor je leven en daarin volkomen jezelf zijn, tot volle bloei komen op alle terreinen van het leven, daarover vind je uitgebreider antwoord in deze paperback 'Maturity' die je in een ruk uit zult lezen. In dit boekje geeft Osho inzicht in een nieuwe manier van leven.
Vaak kom je al gravend in Osho's boek opeens tot een nieuwe manier van kijken. Je laat je oude (voor)oordelen achter je En dit geeft een gevoel van intense vreugde en ontspanning.