Ordinary enlightenment for extraordinary times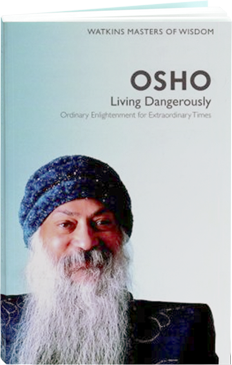 Osho Created the Combi Rebellion and Enlightenment
"The idea of rebellion is not new," says Osho,"but the idea of rebellion combined with enlightenment is absolutely new – it is my
contribution."
Living Dangerously Nederlands
Osho vertelt in 'Living Dangerously' dat het zijn werk is om ieder individu compleet te reinigen van zijn/haar mind. Alle vooroordelen, alle denkwijzen – politiek, sociaal religieus – alles moet losgelaten worden. Gewoon
een onbeschreven blad en dan ben je in het gebied van No mind aangeland. En No mind is de grootste rebellie die ooit plaats gevonden heeft.
Ook na twee decennia blijft de invloed van Osho' s werk groeien, meer dan ooit in feite. Dit boek dateert uit 2011, maar is relatief onbekend. Osho geeft als devies: "Wees creatief. Wees simpel. De gouden regel voor het leven is dat er geen regels zijn."
Als altijd maakt Osho met zijn uitspraken een directe connectie met het dagelijks leven. Dit compendium "Living dangerously", "Leven met risico's" waarin Osho aspecten van 'gewone verlichting in een buitengewone tijd' behandelt, komt zijn inspirerende visie pregnant tot uiting. Hij presenteert o.a. zijn visie over onderwerpen als: geloof, verantwoordelijkheid, relaties, welfare en de ongekende kracht die 'bewustzijn' heeft.
Het boek Living Dangerously is verkrijgbaar bij de Boekhandel.
Impressie van het boek Living Dangerously
Osho's Wisdom relates to the every day Reality of our Lives
"Be creative. Be ordinary. The golden rule for life is that there are no golden rules." The wisdom of Osho, one of the best-loved spiritual teachers of our time, connects simply and directly to the everyday reality of our lives. His insights will touch an ever-wider audience through this essential compendium of his inspiring views on such subjects as Belief, Responsibility, Relationships, Doing Good, and the Power of Consciousness.
"The idea of rebellion is not new," says Osho,"but the idea of rebellion combined with enlightenment is absolutely new – it is my
contribution."
This book shows the accuracy of this self-assessment. The talks collected here present an overview of the key teachings of his revolutionary credo of "living dangerously." Critical of traditional religions for rules and doctrines that impose a "psychological slavery," Osho instead emphasizes personal responsibility and freedom.
Partial revolution is no Revolution
"Partial revolution is not revolution. Only the total revolution – and total revolution has to arise from your very center.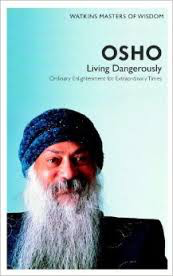 "That is my work here. I want every individual to clean the past from his mind completely. All his prejudices, all his thoughts – political, social, religious – everything has to be dropped. Just a clean slate, and you have arrived to the space of no-mind.
No-mind is the Greatest Rebellion
"No-mind is meditation, and no-mind is the revelation, and no-mind is the greatest rebellion that has ever happened.
"In the past only very few people… a Gautam Buddha here and there, thousands of years pass and then comes one person who blossoms into a buddha. But now there is no more time. You cannot postpone for tomorrow. Whatever you want to do has to be done now!
Either becoming a buddha, or moving towards death
"For the first time the present is becoming more and more important. Each day you are coming closer to choosing the alternative: either move towards becoming a buddha, or move towards becoming a corpse. "I don't think anybody wants to die, particularly when all life is at risk.
"This third world war cannot happen. We are going to prevent it!
Osho Spiritual Terrorist
"Our ways are very different… that's why I love your expression for me, a 'spiritual terrorist.' I don't have any weapons, I don't have any nuclear missiles, but I have something greater and something far more effective. It is not to kill, it is to bring life to those who are living almost as if they are dead. It is bringing awareness to those who are behaving like somnambulists, walking in their sleep, talking in their sleep, not knowing exactly what they are doing and why they are doing it.
A Vertical Growth: deep and high
"I want people to be so awake that their whole consciousness goes to the deepest part of their being, and also to the highest peak. A vertical growth – just like a tree grows. Its roots go down into the earth, and its branches spread towards the stars. Its blossoms flower into the sky, its nourishment comes from the deepest part of the earth. It is always balanced: the higher the tree goes, the deeper the roots. You cannot have a cedar of Lebanon tree, four hundred or five hundred years old, rising so high in the sky, with small roots. It will fall down immediately.
Bringing your Grace as a Buddha
"Life needs a balance between the depth and the height. I teach you both simultaneously. In your entering to the center in meditation, you are growing your roots deeper into the cosmos. And bringing the buddha out from the hidden center is bringing your fragrance, bringing your grace, bringing your ecstasy higher, where it can blossom into the sky.
From a Sad Affair to a Celebration
"Your ecstasy is a movement towards the height and your meditation is a movement towards the depth. And once you have both, your life becomes a celebration.
"That is my work, to transform your life from a sad affair into a celebration." Osho